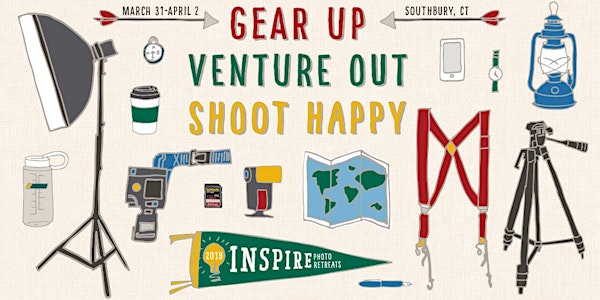 Inspire Photo Retreats - 2019
When and where
Location
Heritage Hotel and Conference Center 522 Heritage Road Southbury, CT 06488
Description
Spend three days with a kick-ass crew who'll help you grow and cultivate your business through community-building, hands-on photo walks, classroom talks, small business courses, roundtable discussions, lighting and editing demos and much more!


---
Is Inspire for you?
• If you want to keep your CREATIVE SPARK burning brightly
• If you are looking for YOUR community, your PEOPLE
• If you need to RECHARGE and gear up
• If you are open to and excited about learning NEW SKILLS
• If you love to SHARE your story and your TALENT
• If you want to work on your CRAZY IDEAS
• If you crave FRESH concepts and exciting GOALS
• If you are ready to LAUGH so much it hurts your sides
Then yes, Inspire is for you!
---
• Paypal Credit
Are you pumped to join us but would like up to six months to pay for the ticket? Follow this link and apply for Paypal Credit today → http://www.inspirephotoretreats.com/financing/
• Canteens & Trail Mix
We are super stoked to include two vouchers for a full breakfast buffet! Use at your leisure, and enjoy a wide variety of morning goodies.
Your ticket also includes two buffet lunches, both with vegetarian and gluten-free options.
Our Welcome Party will include a tasty diner buffet spread and dessert bar.
• The Trade Supply
We'll be kicking off the retreat with our Trade Supply registration station, where you can enjoy mimosas and snacks while you meet our speakers and sponsors, reunite with past attendees, and make friends with new ones.
We are putting together the best crew of photography-related businesses for our attendees to explore at The Trade Supply. With Sunday during the day and Monday morning open for wandering around, chatting up the sponsors and sitting in on portfolio reviews, Q&A's and talks, you'll leave Inspire armed with more information and ways to build your business than you know what to do with!
• Camping Badges
The coolest headshot sessions will be set up during the retreat so you can nab yourself a killer portrait to use on your site and social media! Our Hair and Makeup team will be available to zjush you up beforehand with specially priced mini-makeovers at an additional fee and on a first come, first served basis.
• Your Guides
Peep all the speakers and instructors, then create your own custom 6-class schedule plus hands-on photo walks and wrokshops for the earliest signups, and editing and critique classes, so you can focus on what you and your business need most.
Many classes and workshop will have limited seating and are filled on a first come, first served basis.
• Pizza around the Fire
Monday night is Dine-Around night; get your crew together and venture out on the town for some grub! Or, join us upstairs for a Pale Ale & Pizza Party [cost: $25] with all-you-can-eat pizza and beer until we run out. The Tavern inside the hotel will also host a special dinner menu for you to enjoy.
After dinner, everyone better join us for After Hours at The Tavern, where we will have entertainment, Happy Hour Specials and lots of shenanigans!
• Under The Stars
Before we end our adventure, spend a night under the stars in your comfiest pajamas, lounging around, enjoying every new friendship made and getting competitive with board games galore.
And if you're really competitive?? Put together a team and head upstairs to The Tavern for Trivia Night!
---
Terms and Conditions
• Changes in Schedule/Speakers
The current lineup of speakers, presenters and sponsors are confirmed but may be subject to change. Inspire Photo Retreats reserves the right to make any changes to the schedule and speakers for any reason.
• Refunds, Cancellations and Ticket Transfers
No refunds will be issued for cancellations, but your ticket is transferable, up until seven days prior to the event date. If you need to transfer your registration, please contact info@inspirephotoretreats.com. This policy applies to all ticket types, including but not limited to Dine-Arounds and Intensive classes.
• Waiver of Rights
Attendee, on behalf of Attendee and any heir, assign, personal representative, or next of kin, waives the right to recover from Inspire Photo Retreats and Laura Dee for any and all losses, personal injury, death, or damage that Attendee may sustain as a result of Attendee's presence at or participation in classes et al, whether caused by the fault of Attendee, Inspire Photo Retreats, Laura Dee, or any third party.
• Suitcasing
Suitcasing (a practice in which companies will gain access to an event by obtaining some type of event credential [attendee badge, expo-only badge, etc.]and then solicit business in the aisles or other public spaces used for the conference) is not allowed.
• Harassment
Ensuring the appropriate behavior of all attendees, speakers, sponsors and other persons in order to create a safe and welcoming environment for all attendees at the event is very important to us. In the event any person experiences any inappropriate, threatening, hostile or offensive behavior from any guest or other person at the event (including, but not limited to, unwelcome sexual advances and verbal or physical conduct of a sexual nature) we will have a zero-tolerance policy, and the offending person may be removed from the event at the discretion of the event planner and the harmed party.

• Indemnification
Attendee agrees to be responsible for, indemnify and hold Inspire Photo Retreats and Laura Dee harmless from any and all claims, losses, and/or occurrences which may arise from or in connection with Attendee's presence at or participation in classes et al during retreat, including, but not limited to, losses, personal injury, death, damage, or rights of any third party. This indemnification of Inspire Photo Retreats and Laura Dee by Attendee is to include, but is not limited to, attorneys' fees and any other expenses incurred by Inspire Photo Retreats and Laura Dee in pursuing, defending, or processing any claim resulting from Attendee's conduct or Attendee's failure to act.