Inspire ME Conference- Being Fishers of Men 2016

Saturday, May 21, 2016 from 10:00 AM to 6:00 PM (PDT)
Event Details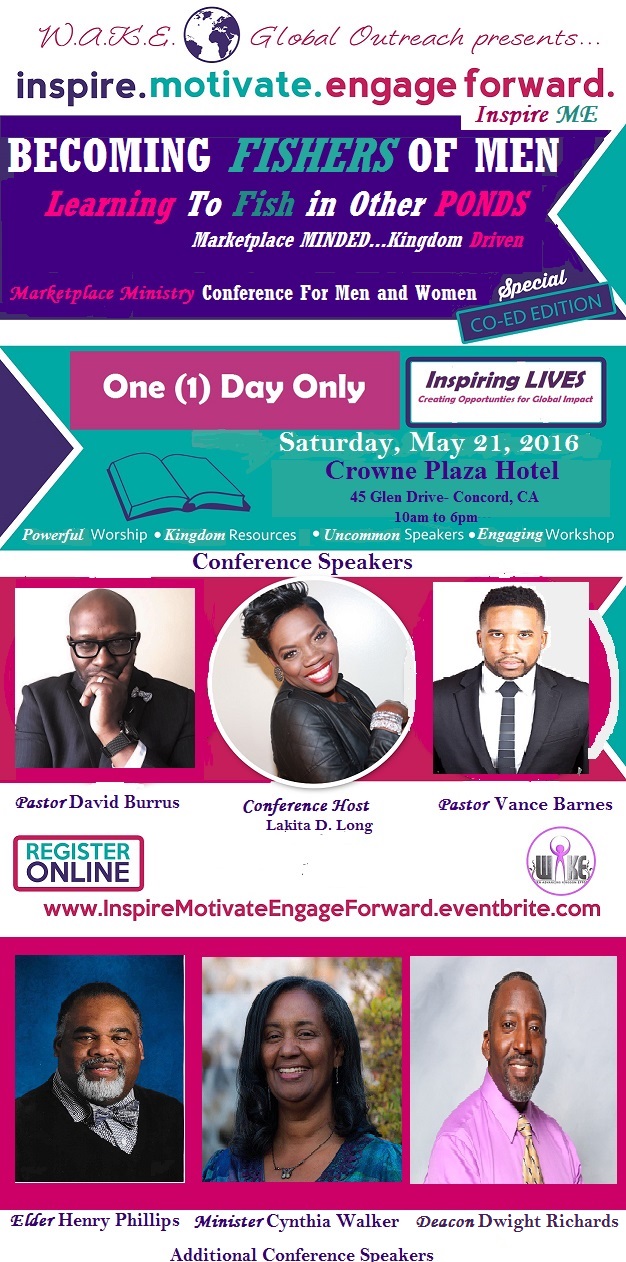 A powerful Kingdom Exchange, of equipping, and providing relevant information for those who know that the time is now to INSPIRE. MOTIVATE. ENGAGE FORWARD (Inspire ME) the plans of God in the earth.  With the full engagement of God's word, your spirit of Expectation and God's faithfulness to reveal His plan for His people...we are in for the most powerful exchange ever!  We are living in "FORWARD MOTION". 
INSPIRE. MOTIVATE. ENGAGE FORWARD (Inspire ME) is about the way in which we think and operate and make decisions.  More so, the need to recondition our thinking to align with our personal and professional desires. Many decisions we make are fear based, learned and come from a place of not thinking that we have enough. It is this thinking that causes many to delay or even procrastinate doing things that are necessary for things to do take place in their life. 
Conference Theme: Becoming Fishers of Men: Learning To Fish In Other Ponds
Understanding the current and endtime Economic impact, Social implications and Spiritual Reformations that are necessary to advance God's Kingdom in the earth we must be willing to fish in other ponds. We must use the instruments and tools that God has given us, but we must go to the other side and fish. We desire to soundly prepare people to know and live out their Kingdom right and have dominion over their area of influence.  By any means necessary we must get Inspired. Motivated. Engage Forward and do the works of the one that sent us.  
Speakers for the Event: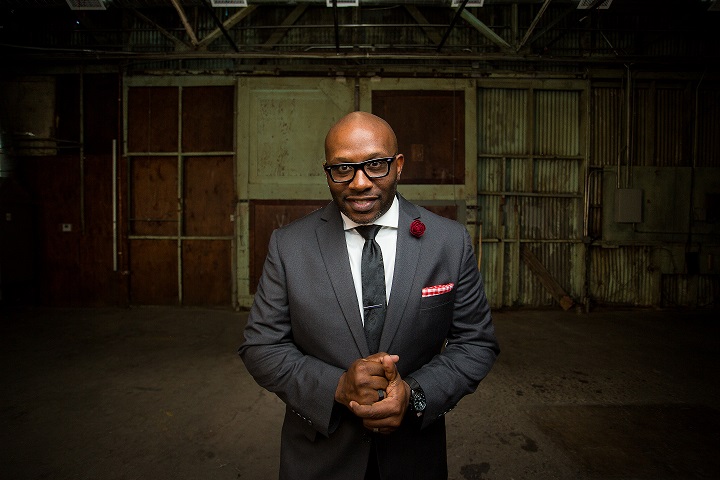 David Burrus, Pastor/Teacher, Author, Speaker :
David is a dynamic marketplace mindset speaker, and trendmaster around how to  perfect and master the plans of God for your life, business and ministry. An  author of several books, he has counseled, coached and imparted life  changing biblial principles to help thousands advance God's Kingdom. He is a husband a father to two boys. This is his greatest marketplace.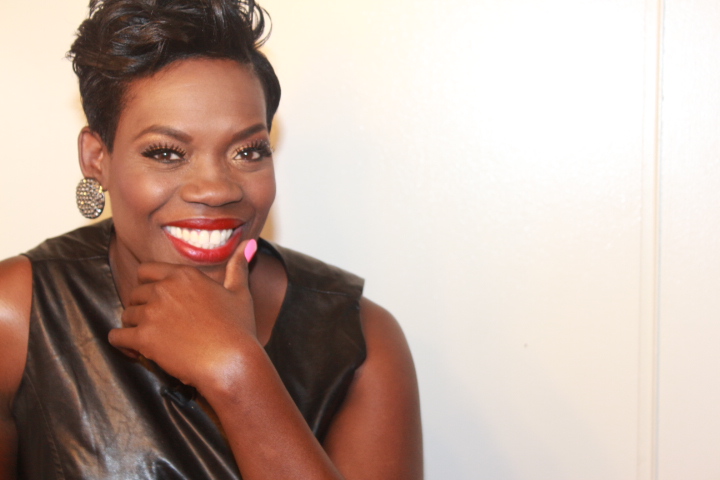 Lakita D. Long, Minister/Trainer, Author, Speaker :
 Visionary servant leader of WAKE Global Outreach Ministries, desiring to use ever gift, skill, talent and ability to advance God's kingdom. As a trainer and  teacher she inspires you to use the full extent of God's word, and win those in the marketplace daily. She is affectionately known as "The Peoples  Therapist" and "Marketplace Evangelist" loving People and pointing them back to God. 
and Other Speakers...... Bio's and Photos to Come. 
What's Happening and When:
Saturday, May 21st- This will be a full day training that will speak to several things that will help you to ENGAGE FORWARD in your personal, ministry and business life as it pertains to being a Fisher of Men and Learning to "fish" in other ponds. We are sometimes to accustom to seeing and doing the same things, but it is time for us to branch out and engage the world by the Holy Spirit and show them God.  The God given strategies will not only help you expand, but will give you the necessary energy to do it. It promises to offer you a different edge and perspective for the remaining months of the year. Starts @ 10am (registration at 9:30am) and will end at 6pm. 
WAKE Global Outreach wants to help you be successful in all areas of your life, but its primary goal is to be a resource for you to make the necessary steps in being an excellent marketplace evangelist. Expand your territory and leave a legacy. We want to make biblical principles a househould name, and we do that by incorporate the sacred scriptures in our secular endeavors in order to get spectacular results.  
The Inspire.Motivate.Engage Forward (Inspire ME) Conference for 2016 will serve as an opportunity for us to gather, to learn, discuss, and become spiritually enlighten in how to move progressively forward under all circumstances.  It will be a powerful exchange of information and to share what steps we must do that creates steady progression.  
***Please note that our focus will not be to network as we deem it necessary but it will be to come together to learn, strategize and do the steps required for us to advance the Kingdom of God in the earth. Please share with others that might need to be apart of community of learners and inspiring individuals.  We are so looking forward to seeing you at the next WAKE Monthly Momentum Training Saturday June 11th, 2016
WAKE's Global Outreach Mission and Vision
Learn the biblical way

to deal with everyday issues.

To be a powerful Leader at home, job, business and ministry.

To be

motivationally inspired

 and spiritually empowered to increase your influence on every level.

To advance Gods Kingdom in the earth.
  Who should attend:
Every man and woman who are Kingdom participators and want to  knows that leadership is more than just know how.

All women who hold leadership roles in the workplace, community, business, and faith based organizations.

Women who are ready to be sharpened, empowered, and motivated to expand their life's assignment.

Women who are not sure what on earth they should be doing.

Women who know what they should do, but need inspiration, resources, and an environment that helps foster success.

 ------------------------------------------------------------------------------------------

     WAKE (Women Advancing  Kingdom Efforts) is all things Empowering, Educational, Inspiring, Spiritual, and Business.  WAKE is a tool and premier resource to encourage women of faith everywhere, while exposing all women to topics that are relevant for their home, workplace, business and ministries. It is designed to strengthen, sharpen, and inspire women to take greater risks on a life worth living. 
WAKE's job and primary mission is to help you make known your passion, call and efforts using biblical principles so that others are completely successful in all areas of their life.
----------------------------------------------------------------------------------------------------------------------------------
Any questions, please call us at 925-238-8711 or email us at  Staff@wakewoman.com
 FAQs
 What can/can't I bring to the event?
Please do not bring ANY children. It is disruptive for the learning process. 
 Where can I contact the organizer with any questions?
You can contact the organizer at 925-238-8711 or email staff@wakewoman.com
 Do I have to bring my printed ticket to the event?
No, you do not have to bring your printed ticket.
When & Where

Conference Facility: Crowne Plaza
45 John Glen Dr.
Concord, CA


Saturday, May 21, 2016 from 10:00 AM to 6:00 PM (PDT)
Add to my calendar
Organizer
 Lakita Long is the Founder and Creative Energy behind WAKE (Women Advancing Kingdom Efforts) and brings more than 20 years of encouraging, inspiring and motivating people to not only feel good about themselves but become better in every area of their life.  Having had major setbacks, and devasting traumas in her own life, she brings a depth of emotional, spiritual and psychological practicality that will bring you to desiring to give more, offering yourself as a . She is a author of several books including her newest one "Starting Over and Loving It". She is a national speaker, consultant, Certified Anger Management Trainer and Facilitator, and is affectionately known as "The People's Therapist" with the only purpose of creating an atmosphere where Real Talk, becomes Life Talk and this becomes the opportunity for others to thrive successfully!

**WAKE is a program of Inspiring You Ministries, Inc.

Inspire ME Conference- Being Fishers of Men 2016