Description
_

Make 2014 your Best Year EVER!
Passion*Progress*Profit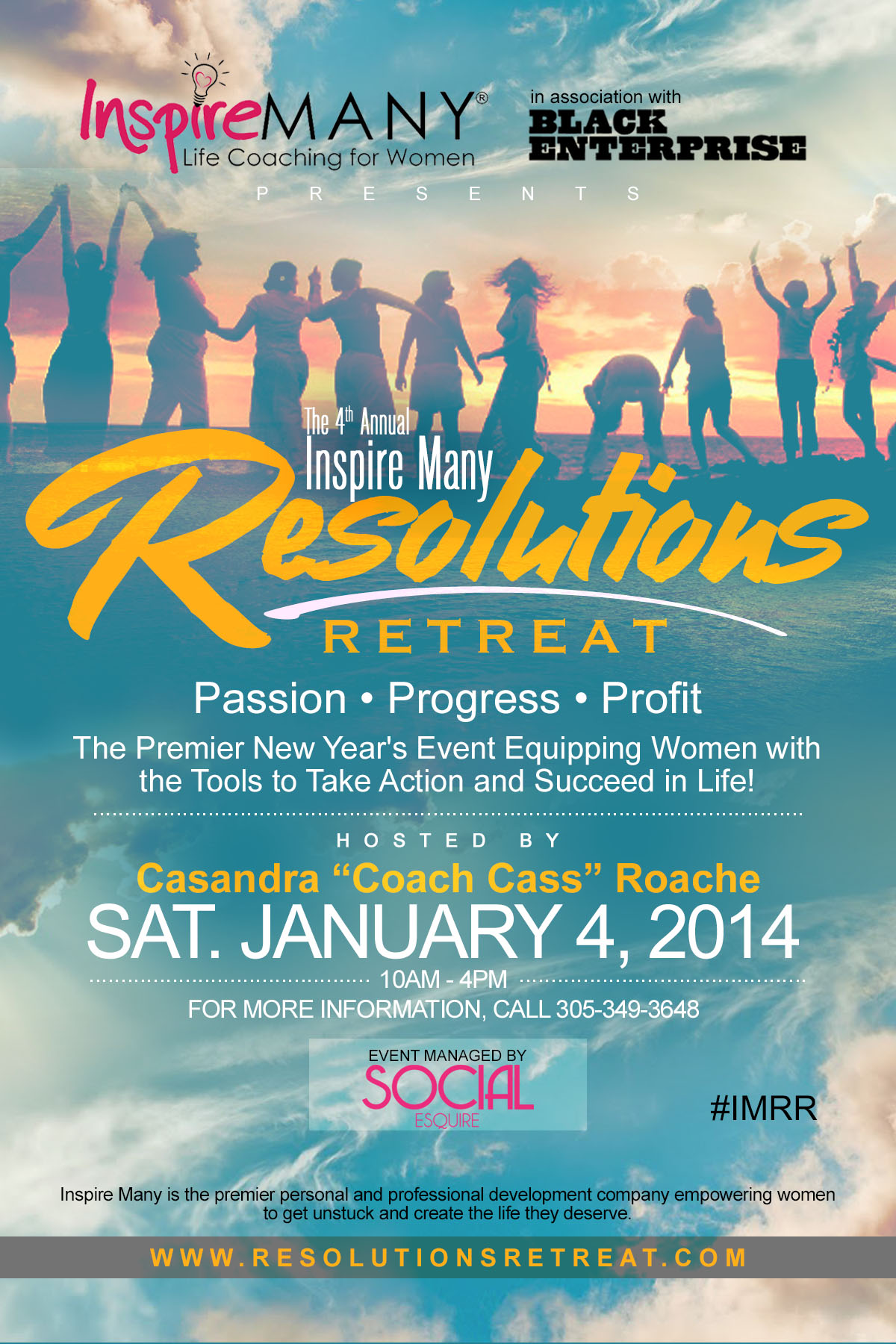 We are pleased to announce the Fourth Annual Inspire Many Resolutions Retreat, in Sunny South Florida ,which will take place on Saturday, January 4, 2014. The retreat will focus on strategies on educating, motivating, and inspiring women in business to start their own business, do the activities they love, stay consistent with goals, and to celebrate life.
We will have dynamic speakers who will host interactive workshops to empower attendees and give them the tools to succeed.
The Inspire Many Resolutions Retreat is quickly approaching. This is the place where you'll find answers to your questions, resources to tackle your challenges and make lasting connections.


It's a full day guaranteed to empower and equip you to take your business and your life to the next level.

At the Inspire Many Resolutions Retreat, you will join savvy female business leaders and seasoned experts with diverse backgrounds, passions, and pursuits for a special day long program filled with candid conversation, provocative thinking, innovative ideas, and workable solutions.
What's Included:
Power-networking lunch
Fabulous speakers
Experienced business experts
Interactive discussions
Peer to peer education
and much more

!
Interested in becoming a sponsor/vendor? www.InspireMany.com/AccessAwesome
Vicky Joseph: The Art of Expression
Kay Richardson-Unleash Your Passion and Turn It Into Profits
Luly B- Balance is Bull$h!t
Andy Henriquez: Unlock the Power of Story
Louis Moorer- The Comeback Expert-Dealing With The Hits in Life
Casandra "Coach Cass" Roache
CEO, InspireMany.com- Get Unstuck!
Www.InspireMany.com
* We guarantee your satisfaction with this investment, and as with all of our programs, offer a full no-questions asked money-back guarantee.
Connect to the Cause:
Last June, Coach Cass went on a journey to Africa to serve people in need. Along that journey she was truly touched by a story of hope amongst the largest slum in Africa, Kibera.
There is a great need to help this community and the best way for a person or child to get out of this type of situation is education. The school that Coach Cass visited has been building grade by grade as the kids advance in years. Right now they need to build a brand new school. They only need $5,411. To make this happen.

Help Coach Cass and Inspire Many make this school happen. Instilling Hope! Portion of ticket sales willgo towards building a school as well as any donations. Thank you so much.

Coach Cass
We're offering a 100% risk free guarantee. That's right. If you show up and don't find it valuable,We'll return your money.
Organizer of Inspire Many's 4th Annual Resolutions Retreat: Passion*Progress*Profit
About Inspire Many:
Our Mission:
Provide a positive, educational, and supportive environment for breakthroughs and triumphs to empower Successful Single Women to be true to themselves as they find the one.
 
Our Vision:
To be a company that creates lasting positive change in the lives of women, through tailored education, empowerment, personal development, and coaching.
About founder Dr. Casandra "Coach Cass" Henriquez:
Coach Cass is an author, sought after speaker, featured in Fast Company , Woman's Day and so many more.. Her passion is creating positive lasting change in the lives of those who seek her assistance. The time is now to create the life you deserve.