Description
Hi, I'm Sharelle and I teach women how to discover their God-given power to transform their relationships and lives. Now married, the number one question that I get from single women who want to be married, can essentially be summed up into one word, HOW? I remember spending years trying to figure out how to get married. How to get men to recognize me as a suitable wife and most importantly, how to attract the right man!
Then, there was a moment in my singleness where I really payed attention to the patterns and circumstances in my life. I also observed other stuck single women. From my experience and observation, I discovered the answer. Not only did I discover the answer that took me from single to married, I recognized that I had a gift to be able to explain to other women how to move forward in the same way.
I'm sure you are curious to know the answer, so I am going to tell you. The answer that changed my life forever is before I could begin with where I was, I first had to start with who I was. In discovering who I was, there lied the how to get there. How to not only get married, but have a fulfilling life overall.
If your life does not match up with your desires, it's likely that the power deep down inside of you has not been unleashed. Discovering your unique power is all connected to every outcome of your life, including attracting and marrying the right man for you. If this doesn't make complete sense to you now, it will after taking this workshop. Not only will it make sense, but you'll also learn practically how to continue progressing. I can guarantee you, you'll be transformed and your life will never be the same!
WANT TO KNOW MORE?
Here are a few topics we will address:
Discovering the powerful reasons why woman was created and why you probably overlooked them
How to activate your innate and unique power and influence as a woman
Discovering your individual purpose and power of singleness

Discovering the hidden relationship barriers that are keeping you from the relationship you desire

Discovering the keys to inspiring a man to commit to you

Begin healing from past trauma, hurt and pain which is hindering your progression forward
WHAT TO EXPECT?
The style of this workshop is experiential, which means that you will learn by doing. I could tell you how to ride a bike, but it would be more effective to actually put you on a bike and guide you through the process. This workshop will consist of about 25% lecture and 75% experiential exercises and interaction. Some of the exercises will include, small groups, dyad discussion, self-reflection and large group discussion. Each exercise is carefully crafted to bring an awareness and a breakthrough. You will leave with a clarity that you didn't even know existed.
This workshop will have a very intimate setting. As a by product of the work we will do together, you might come as strangers but will leave as family.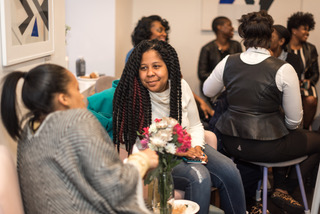 HOUSE RULES:
Come willing to step outside of your comfort zone

All of the personal stories shared at the DiscovHer workshops are to remain confidential.

Please keep phones in your purse or pocket out of respect for your experience and others. There will be time allotted to check in with loved ones.
WHY SHOULD YOU TRUST ME TO HELP YOU?
I am gifted in helping others transform their relarionships and I have been called to touch the lives of women. I plan to give my life serving you with the upmost excellence, which is why I created the DiscovHer workshop series. You can trust that I will facilitate in love and compassion. You will leave feeling empowered and transformed. I will listen, witness and guide you through life with care and wisdom. There is so much relationship advice out there, but much is lacking the opportunity for true and permanent life transformation. What I am going to teach you has proven to work for me and other women, so I know it can work for you too.
Here is a little about my training and education: I hold a research oriented Master's degree in Human Development and Family Studies, and I am also in the final stages of completing a PhD in the same field. Additionally, I've earned a combined 150+ hours of completed coursework/client hours in a Master's in Marriage and Family Therapy. Please note that I am not a licensed therapist.
Follow me on Instagram to keep in touch @sharelleguyton
WORKSHOP DISCLAIMER:
My role is to support and assist you in reaching your own goals, but your success depends primarily on your own effort, motivation, commitment and follow-through. I cannot predict and I do not guarantee that you will attain a particular result, and you accept and understand that results differ for each individual. Each individual's results depend on his or her unique background, dedication, desire, motivation, actions, and numerous other factors. You fully agree that there are no guarantees as to the specific outcome or results you can expect from using the information you receive on or through this workshop. The DiscovHer workshops are not to be used as a substitute for individual therapies, professional mental health or medical services.