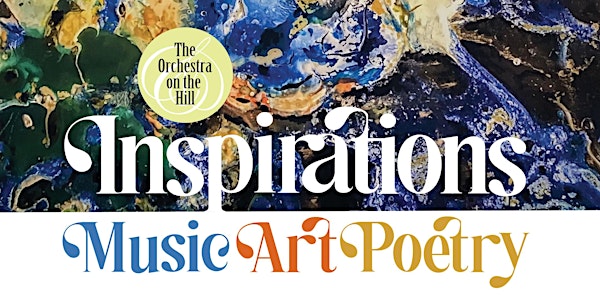 Inspirations
Music, Art And Poetry Inspired Orchestra On The Hill Concert
By The Orchestra On The Hill
Date and time
June 10 · 7:30pm - June 11 · 2:30pm EDT
Location
Gordon-Conwell Theological Seminary 130 Essex Street Hamilton, MA 01982
Refund Policy
Contact the organizer to request a refund.
Eventbrite's fee is nonrefundable.
About this event
INSPIRATIONS
Thomas Palance, Artistic Director
Saturday June 10th at 7:30 and Sunday June 11th at 2:30
Gordon-Conwell Kaiser Chapel
The Orchestra on the Hill continues to premiere new exciting collaborative musical and visual creations.
Our June concerts feature new works by Mary Montgomery Koppel, Thomas Palance, G. Paul Naeger and Chris Florio. Soloists include violinist Bengisu Gökçe, flutist Eileen Yarrison, clarinetist Julie Stuckenschneider and vocalists Rhiannon Hurst and Mary Montgomery Koppel. All music takes inspiration from the imagery of B. Aline Blanchard and Roberta (Bobbi) Gibb, as well as the poetry of Pascale Petit and Kerry Zagarella
Thomas Palance, Artistic Director and founder of the Orchestra on the Hill, continues to explore the musical vibrations of amino acids, especially cystine which is believed to be responsible for the beginning of life on Earth. Palance has composed Asah Mitéra meaning creation and mother in an ancient language. The work is inspired by the visual art, scientific knowledge and philosophical thoughts of Bobbi Gibb, the first woman to complete the Boston Marathon, as well as by a poem from Kerry Zagarella, an Ipswich author. Mr. Palance interweaves the vibrations of the planet itself, known as Schumann resonances with the vibrations of the amino acid cysteine. This provides the foundation for his tribute to Mother Earth.
Mary Montgomery Koppel has re-orchestrated her work called HeLa, which is inspired by the story of Henrietta Lacks, whose cells were taken without her knowledge or consent in the 1950s. The cell line was used to develop treatments and cures for hundreds of illnesses and brought in billions of dollars for pharmaceutical and biotech companies. Meanwhile, Henrietta's identity was erased, and her family lived in considerable poverty. MMK's work explores the erasure of Lacks's identity, alongside the world-altering contribution made by her immortal cells.
G.Paul Naeger has written a double concerto for flute and clarinet and chamber Orchestra in multi movements. Each movement is inspired by a work by Aline Blanchard: three paintings and one poem and will feature Eileen Yarrison on Flutes and Julie Stuckenschneider on Clarinets. Since the inception of the orchestra, Aline's works have served to inspire Naeger. In 2021, the B. Aline Blanchard chair for Composer in Residence was established by The Orchestra on the Hill, with G. Paul Naeger being named its first occupant.
Chris Florio, will be premiering a two movement piece in collaboration with the poet Pascale Petit. The poems used in this piece are from her book "Mama Amazonica" which won the inaugural Laurel 2020 prize and 2018 Royal Society of Literature Ondaatje Prize. Pascale unites the themes of the threatened Amazon Rainforest with her very personal story of her relationship with her mother. The piece features the vocal talents of Rhiannon Hurst as well as the unique skills of the members of the Orchestra on the Hill to convey the dense and rich images and emotions in Pascale's work.
For more information about the artists that inspired this concert see the links below:
https://en.wikipedia.org/wiki/Bobbi_Gibb
http://marymontgomerykoppel.com
http://www.pascalepetit.co.uk/
This event will be held at Gordon-Conwell Theological Seminary in their wonderful chapel.
Perfomances
Saturday June 10th at 7:30pm
Sunday June 11th at 2:30 pm MATINEE
About the organizer
The Orchestra On The Hill is a community organization based in Ipswich, MA that is in support of professional music performances and performers. Our mission is to enrich the culture of Ipswich and the surrounding communities through exceptional concerts of orchestral music, and collaborations with other local artists such as visual artists, dancers, poets, animators, and photographers to share their work with the community. The Orchestra will also provide opportunities for Non Professional adult musicians to grow and share their musical abilities mentoring sessions with professional conductors and players. It is our hope that these activities will inspire in them a desire to grow and share their musical abilities while realizing their full potential as musicians and active supporters of the arts.