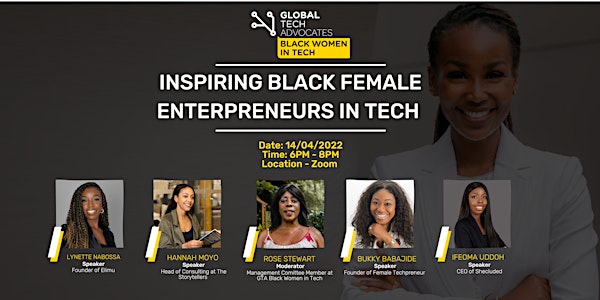 Inspirational Black Female Entrepreneurs in Tech
GTA Black Women in Tech runs events open to everyone with an interest in technology.
About this event
Inspirational Black Female Entrepreneurs in Tech
As black women we were often made to feel like our dreams were impossible to accomplish. So many of us have been presented with situations that have discouraged us from pursuing our dreams. This narrative ends now.
We want to highlight Black women who have destroyed glass ceilings, rose above the stereotypes and have found great success in their career. Join GTA Black Women In Tech at our April event and get to know some of the most talented Black women in the tech industry and leave feeling capable of conquering the world!
Meet our Speakers: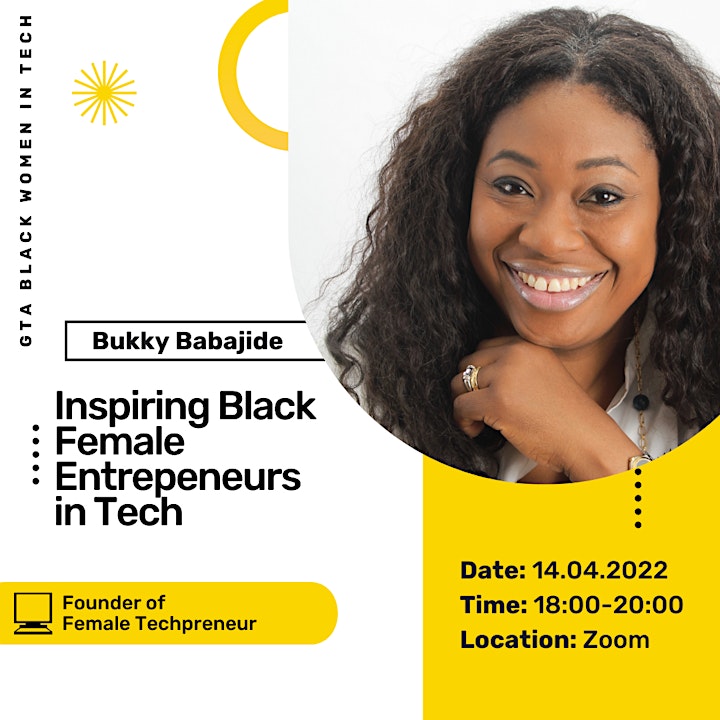 Bukky Babajide is an educator, a senior business analyst and certified scrum master with over 10 years' experience within the Tech industry. She Mentors both start-up entrepreneurs and professionals on leveraging technology and growth.
Bukky is the founder of Female Techpreneur, a networking and resource community for Female Tech Founders to launch & scale their start-ups, we connect monthly to network, matchmake founders to investors and grow our tech start-ups. FeTech also run bootcamps for career starters and changers into tech space, including internship opportunities.
She is a coach and trainer for all things Business Analysis, her company Crystal Options Ltd Offers Business Analysis as a Service (BAAS), Training and Recruitment.
She is on a mission to help more females into tech especially the underrepresented.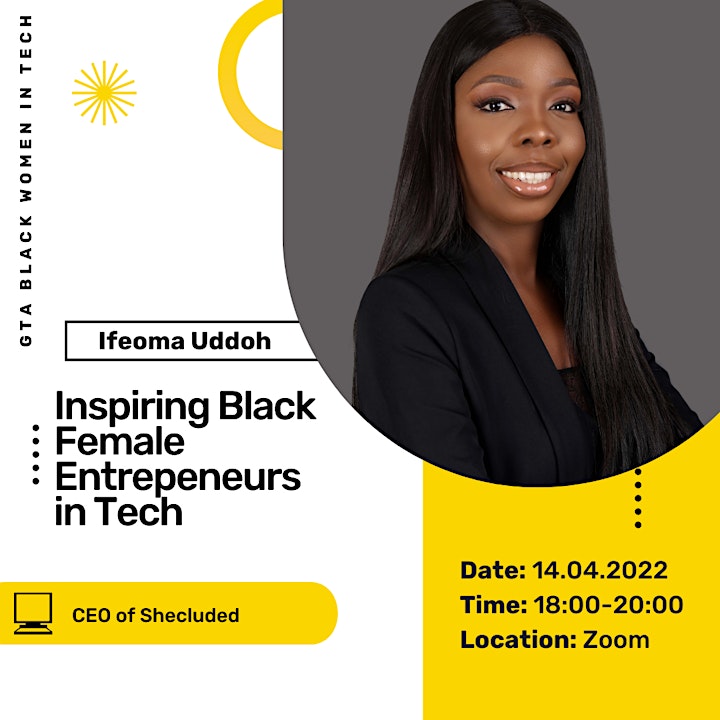 Ifeoma is a social entrepreneur and the founder of the first FINTECH for women in Nigeria- shecluded. Growing up in a single-parent home after her dad died and her work experience in seed funding where women were notably absent made her passionate about creating a company that provides more female entrepreneurs the capital and resources to grow.
Her career experience spans over a decade in Strategy Consulting, Analytics and Seed funding for notable companies such as PwC, IROKO Partners Ltd., among other notable technology companies.
Since its launch in 2019, Shecluded has become a UK Tech Hub company (2020). The company was one of thirteen companies selected for the NASDAQ Milestone Makers (Spring 2021) – a program focused on reducing inequalities (one of the UN Sustainable Development Goals).
As a result of her hands-on experience with gender-lens financing, Ifeoma has been featured on several entrepreneurship panels and masterclasses hosted by First Bank, EDC, FinTech Asia, Global Entrepreneurship week, John Hopkins University, Tekedia Institute, etc.
Ifeoma has an BSC in industrial mathematics and an MSC in Management Science and Operations research.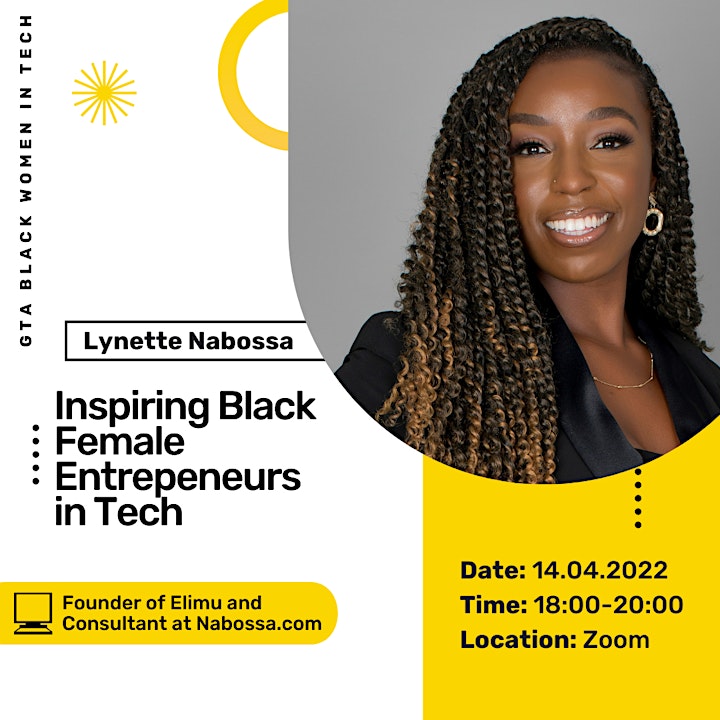 Lynette is a business academic, strategic consultant and social entrepreneur. She is the Founder of Elimu, a platform that champions Black futures by connecting members and providing entrepreneurship and employability programmes.
Through her doctorate, Lynette is designing and evaluating a framework which aims to develop the social capital of Black youth through Elimu's Launchpad entrepreneurship programme. Upon completion of her doctorate, she plans to disseminate the framework for use in interventions and programmes that work with underserved youth.
Lynette also holds leadership positions as a school governor and as a member of the Mayor of London's Commission for Diversity in the Public Realm.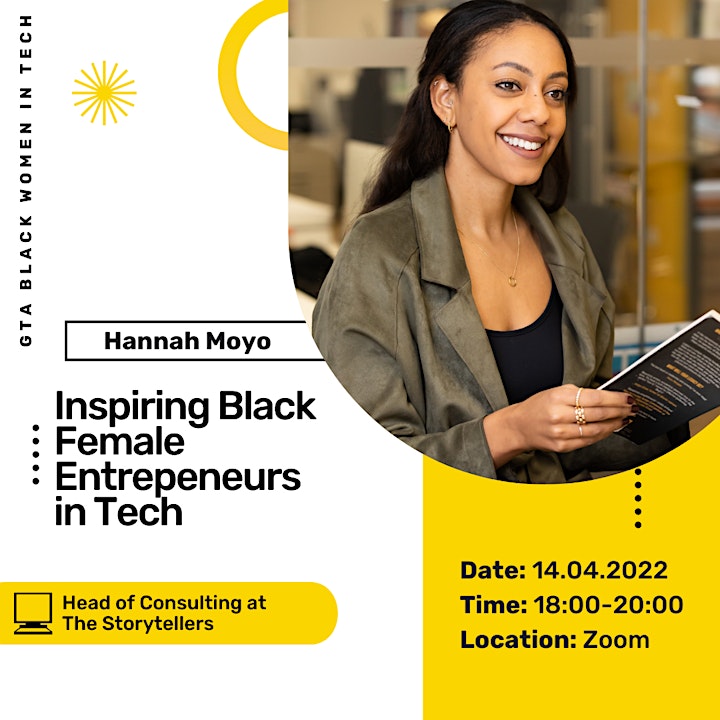 Hannah holds a wealth of experience in working with large, complex organisations, helping them to navigate through times of uncertainty and accelerate key performance metrics. Hannah has always been inspired to help organisations adopt new technologies, unlock new ways of working and motivate people to champion change. After experiencing many technology services and transformation programmes, she wholeheartedly believes that connecting people rationally and emotionally to the journey is the way to drive results.
Hannah started her career at Capgemini, where she supported a wide range of global clients, in both the private and public sector, on their transformation journey. This included business process analysis and improvement, operational effectiveness and change management interventions. Following this she moved on to Hewlett Packard Enterprise where she headed up the UK and Ireland Education and Business Change Services business. This involved a focus on innovative learning and development solutions combined with technology adoption and culture change programmes.
As Head of Consulting at The Storytellers, Hannah is committed to truly understanding clients' needs and working with our interdisciplinary team to tailor impactful programmes, with our unique, story-driven change methodology at the centre.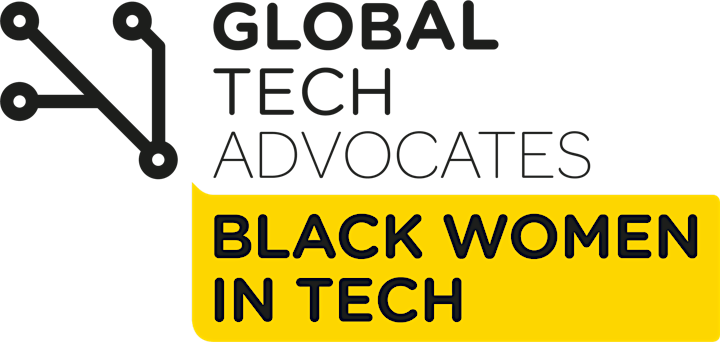 About GTA Black Women In Tech
GTA Black Women In Tech, formerly known as TLA Black Women In Tech, is a not-for-profit organisation global organisation, based in London, dedicated to building bridges of opportunities in tech by enabling black female talents to excel and companies to have access to black women of talent. We are a community of black women tech advocates of all levels and allies who support and empower diversity and inclusion.
Our mission is to inspire, support, connect the tech sphere to allow more black women to excel and tech companies to perform better through diversity & inclusion.
We partner with companies to improve diversity at the junior to board level. We advise tech companies on embedding inclusion and diversity into the DNA of their organisations. We elevate black women to inspire others to put themselves forward to new opportunities so they can change the dynamic in the tech space. We help organisations identify hidden bias and provide information on reducing bias and thus inclusive.
You can visit our website here.
About Our Monthly Events
GTA Black Women in Tech hosts monthly events to bring together business professionals, and entrepreneurs and companies. The networking event is a great opportunity to meet other like-minded technology and digital businesses/individuals.
Please save those dates. Our events, virtual or in-house, are on the 2nd Thursday of the month from 18:00 to 20:00. Within our amazing community, we are fortunate to have many professionals willing to speak or host the events.
From 2021, our events will be featured around these 3 pillars, ensuring the subjects are relevant to tech entrepreneurs, tech companies and professionals in tech.