Description
From 9:00 AM - 6PM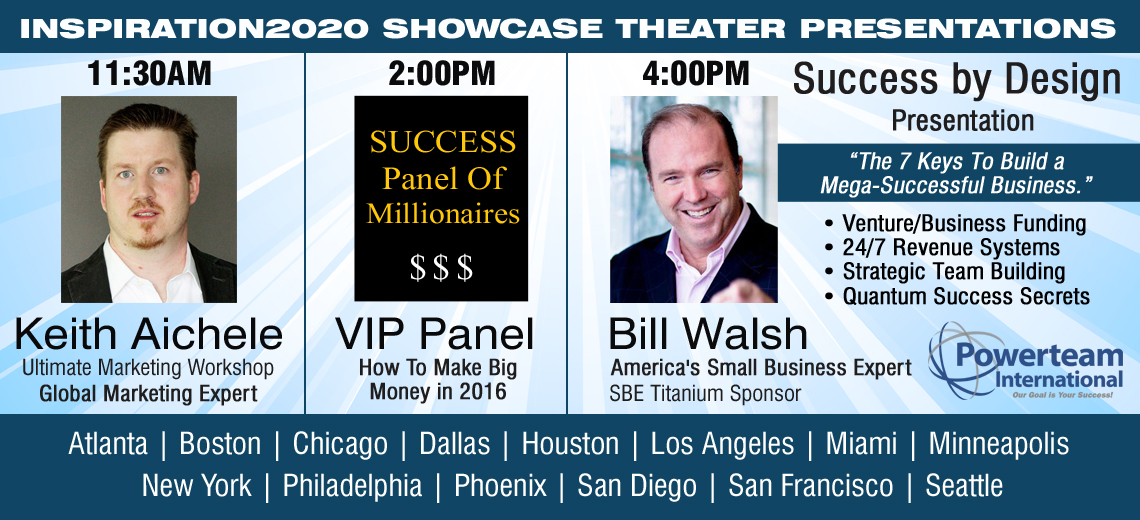 What the Inspiration2020 conference is all about.
The focus of the Inspiration2020 Success Conference is to help entrepreneurs understand specifically what it takes to create massive success in today's global economy! PTI will host several speakers that will share priceless information for anyone that is serious about launching or building a successful company! A number of the speakers will be sharing super content and giving away complimentary consultations during the event including a VIP session for business funding & public speaking!
Learn specific Content on building a Successful Business.
Meet amazing contacts from all over the United States.
Leave with a much better plan to Build your Business.
Learn about exciting new ways to make money!
Huge increase in your Productivity & Time Management
Here's what you will
discover

:
How to cleanse your mind of toxic thoughts…ignore this and you're doomed to failure even before you get started.
Techniques of developing a mindset which guarantees success…your building blocks to financial freedom!
Secrets to transform a struggling business into a thriving cash machine!
A proven formula to get other successful businesses to promote your products and services to their customers…yes, it may sound crazy, but you will discover exactly how it's done.
The latest techniques to drive qualified prospects to your website…never worry about pandas, penguins or other ways Google can conjure up to sabotage your online success
Internet marketing strategies to finally get your online business to rake in the money…now you can stop wasting money on expensive courses which just don't deliver results
Mistakes you should avoid while investing in property…make these mistakes and you could spend a lifetime in debt
Insider secrets to help you identify property pockets which can actually make you money…yes they exist…only a few know where…you could be the next property millionaire
The golden secret to finding your passion to succeed in whatever field you choose. An everyday three letter word which holds the key to a life of purpose…AND MORE!