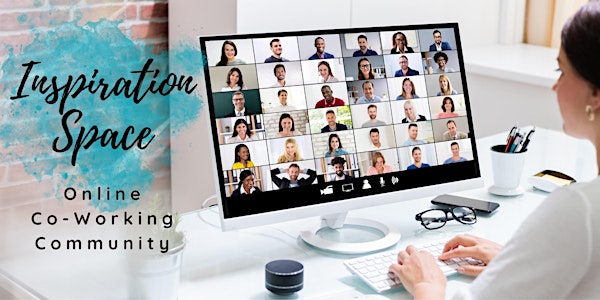 Inspiration Space online Co-Working Community Workshop- 18 Oct 22
A supportive co-working community that takes mindful, creative brain breaks. For women creatives, biz owners and aspiring entrepreneurs.
About this event
Want to find a creative community online? Find it hard to juggle networking while getting your work done?
Wouldn't it be nice to have a dedicated time and supportive space that you can focus on doing those things that never get done while also meeting other women and creatives?
What if we could help you deliver on your 'to do' list so that you finally get it done?
Get some accountability, creative inspiration and a community of support in our Inspiration Space- run live online twice a month on a Tuesday morning AEST.
So far, in our online co-working Inspiration Space community, we've had:
email newsletters written
blogs crafted
product shots taken for social media and e-news
social media posts scheduled
a new e-course set up on Teachable
character development work for a new novel.
There's a loose structure to each workshop with time for interaction and connecting with others in the community, as well as getting our work done.
We start with a positive visualisation to get everyone focused,
after one work session we take a mid-way creative break to re-energise ourselves and
then after another work session finish up with a short debrief on all we've accomplished during that time.
It's a great way to get your work done and meet other small business owners and people working from home. Making business connections is encouraged.
Natalia Walker, founder of Inner Creative, will also be there on hand throughout to brain storm and talk you through any roadblocks that you're facing in getting this work or project done.
The Inspiration Space workshops are held on the 1st and 3rd Tuesday of each month (apart from Nov). Check the Event listing for detailed dates.
Perfect for women professionals, visionaries, creatives, and aspiring business owners, small business owners, and entrepreneurs.
Let's create community and get done those things that matter to you!
For more information go to innercreative.com.au/coworking/.