Join this mini-retreat with Gen Rinzin to learn how to transform everyday occurrences into opportunities for inspiration and blessings!
About this Event
When we are inspired, we can do amazing things. With inspiration, we can love and forgive, put bad habits behind us, and achieve new heights - even enlightenment. Inspiration doesn't have to be a random, haphazard experience; we can tune in to inspiration whenever we wish by learning to receive blessings. In this mini retreat, Gen Rinzin will define blessings and explain their transformative power, and then will elucidate methods for receiving blessings. We will then engage in a traditional Buddhist meditation for receiving blessings into our heart, and finally learn how to transform ordinary activities, such as eating, into opportunities to be inspired.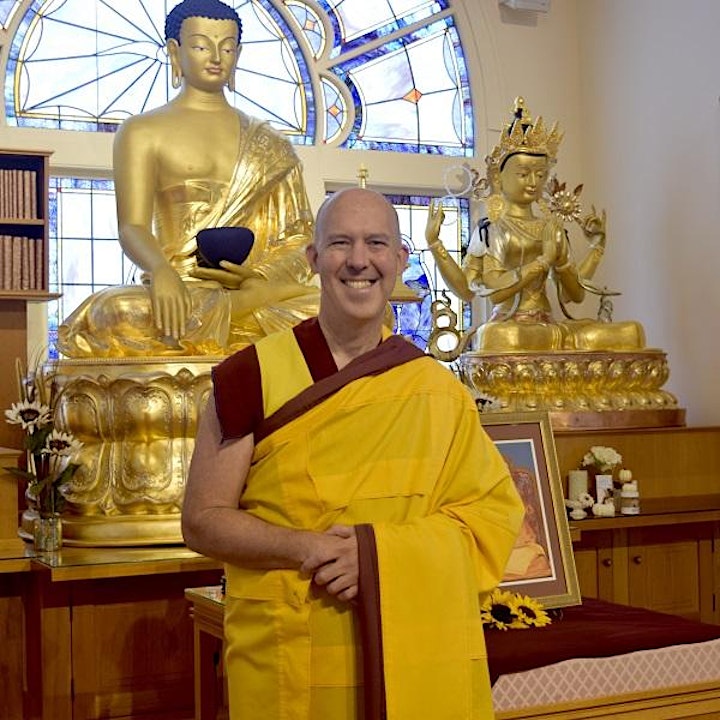 About the Teacher
Gen Kelsang Rinzin was ordained as a Buddhist monk in 2004 and taught at Heruka Buddhist Center in Fort Collins for 15 years. He was appointed to the Resident Teacher position at Kadampa Meditation Center Washington in October 2020. Gen Rinzin communicates his love of Dharma with a down to earth approach and humor that helps others to appreciate and understand the teachings and put them into practice. His teachings are clear and practical so that the listener can readily integrate the methods for keeping a peaceful mind into their busy, modern life.
Schedule
Session 1 | 9:30-10:30am | What are blessings?
Session 2 | 11:00am-12:00pm | A spiritual guide at our heart
Session 3 | 1:00-2:00pm | Mindful eating and related practices
Registration
$35 ($25 for monthly supporters of Kadampa Meditation Center WA).
This event is being offered by live-stream for those in the Pacific Northwest region of the US (including WA, ID, MT & AK; outside this area? Find a Kadampa Center near you). Registrants will receive a link enabling them to watch and listen by phone, tablet or computer.