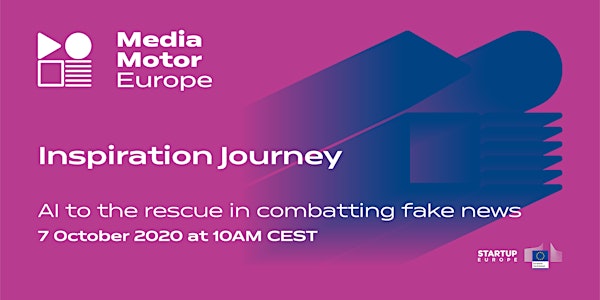 Inspiration Journey on Fake News
How can we fight fake news using new tech and new innovations?
About this event
Journalists across the globe are constantly exposed to misinformation, disinformation and fake news. In this webinar we will be addressing an increasingly important battle – news desks versus misinformation and fake news. We will be asking news desks and fact checkers on how they check news stories and the tools at their disposal.
How do journalists carry out fact checking? What are the tools available and which are missing from their toolbar? Are there opportunities for startups to bring to the market new deep tech solutions that can help check the veracity of incoming stories?
In this Inspiration Journey we will have insights from the news desks across Europe, the work carried out by news desks and fact checkers to reveal the real stories behind the headlines. How do they work to ensure that we can trust the news we read?
You will meet:
Mrs Polya Stancheva – Programme Director, Bulgarian National Radio
Mr Vincent Merckx - Editor and factchecker, VRT NWS, Belgium
Mr Pericles Vassilopoulos - Journalist and radio host, Greek Broadcasting Corporation (ERT), Former co-ordinator of Citizen's Communication Center, the Corporate Social Responsibility Committee and the Citizens' Social Audit Councils.
Dr Anestis Fachantidis - co-founder of Medoid AI and Adj. Lecturer at Aristotle University of Thessaloniki - AUTH, Greece, teaching Business Intelligence and Machine Learning
Mr Tommy Shane – Head of Policy and Impact, FirstDraft, UK
Moderator: Dr Carl-Gustav Lindén, Associate Professor, University of Bergen, Norway, will be moderating the discussion.
The Inspiration Journey on Fake News on 7 October is part of a series of digital events by MediaMotorEurope – the EU funded project helping startups and scaleups develop deep tech solutions for the media of tomorrow
The webinar is hosted by Media City Bergen, the Norwegian media cluster, in the framework of the EU funded project MediaMotorEurope. The project supports startups and scaleups using deep tech to develop the media solutions of tomorrow. Fake news has been identified as one of five priority areas of the project. For more on MediaMotorEurope, please visit the website.