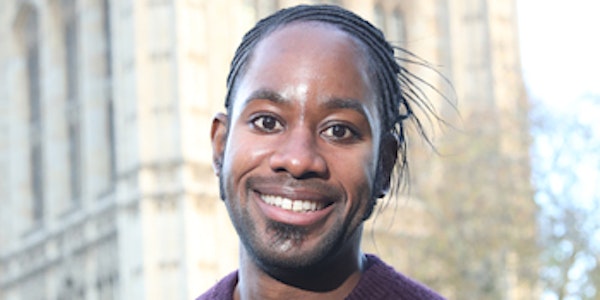 Inspiration, Courage and Change: Jason Arday in Conversation
Jason Arday in conversation with Rajani Naidoo on his inspirational life journey and how we can work together to transform universities
About this event
Jason Arday discusses his inspirational life journey, growing up on a council estate in Clapham, South London navigating autism (Asperger's syndrome and global development delay), the shock of his first encounters of racism as a child, fundraising and the impact of popular culture and music on his life. He will share with us how he drew on his inner resources, the strength of his mother, and a significant tutor to become one of the youngest Professor's in the UK upon taking a Professorial Chair at the University of Glasgow. Drawing on his extensive research and life experience, the discussion will include the trauma of racism, mental wellbeing and how universities can develop contextually appropriate mental health interventions. Jason will also share his his research, outlining how together we can transform culture, curricula and access to create equitable and inspirational universities.
Jason Arday is Professor of Sociology of Education at the University of Glasgow, School of Education, College of Social Sciences. Previously, Professor Arday was Associate Professor in Sociology at Durham University in the Department of Sociology and the Deputy Executive Dean for People and Culture in the Faculty of Social Science and Health. He is a Visiting Professor at The Ohio State University in the Office of Diversity and Inclusion and an Honorary Professor at Durham University in the Department of Sociology. Jason holds other Visiting Professorships at Coventry University, London Metropolitan University and Nelson Mandela University. He is a Trustee of the Runnymede Trust, the UK's leading Race Equality Thinktank and the British Sociological Association (BSA). Jason sits on the Centre for Labour and Social Studies (CLASS) National Advisory Panel and the NHS Race and Health Observatory Academic Reference Group. Jason is a Fellow of the Royal Society of Arts (RSA).
Professor Rajani Naidoo is Vice-President (Community and Inclusion), UNESCO Chair and Co-Director of the International Centre for Higher Education Management in the School of Management at the University of Bath. Before this she was an inaugural member of an innovative institution that set out to develop an alternative model of higher education for post-apartheid South Africa. Her research is multi-level and comparative, linking global, national and organisational levels to understand the impact of competition and collaboration on research and education and strategies for universities to contribute to the global good. She is a Visiting Professor at Nelson Mandela University in South Africa and sits on steering committees for the British Council and the European Foundation for Management Development. She is featured in the Stanford/Elsevier top 2 per cent most highly cited scholars in the social sciences worldwide.