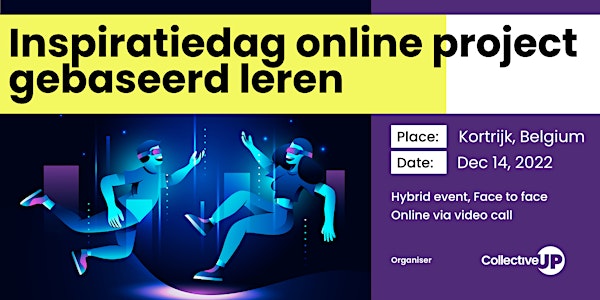 Inspiratiedag over online projectgebaseerd leren
English/Dutch event: Neem deel en leer hoe je beter online teamwork en projectgebaseerd leren mogelijk maakt
When and where
Location
RHIZO Hotelschool Kortrijk 1 Senator Coolestraat 8500 Kortrijk Belgium
About this event
Tijdens deze inspiratiedag willen we leerkrachten en directieleden inspireren met de mogelijkheden en voordelen van online projectwerk, door gebruik te maken van verschillende pedagogische processen en technologiëen. Doorheen de dag brengen we een reeks keynotes die innovaties in projectonderwijs met jullie willen delen. Daarnaast is het een uitgelezen kans om te netwerken met enthousiaste leerkrachten en directieleden om jouw kennis en noden omtrent projectwerk te delen.
De inspiratiedag is een hybride event. Je kan enkele keynotes online volgen doorheen de dag of fysiek aansluiten als je alle keynotes wil horen en op zoek bent naar meer interactie met de sprekers of deelnemers.
Het event is gratis om online of fysiek bij te wonen. Voor de deelnemers die fysiek aansluiten voorzien we een lichte lunch.
CollectiveUp organiseert deze inspiratiedag in de Hotelschool van RHIZO Kortrijk. Deze dag wordt mede gefinancierd door het Erasmus KA2 project Agile XR gefinancierd door de Europese Commissie en vormt een disseminatie-event voor het Covideos project, mogelijk gemaakt door de Provincie West-Vlaanderen.
Objective
Via dit event hebben AgileXR- en Covideos-partners het genoegen om de wereld van online projectgebaseerd leren bekender te maken door gebruik te maken van Agile Learning, Design Thinking en VR in onderwijs.
Doorheen de dag zullen enkele experts hun werk en expertise met u delen via keynotes. Alsook enkele resultaten met u delen van de twee betrokken projecten: Covideos en AgileXR. Dit event is bedoeld om beter online projectgebaseerd leren en online teamwork op scholen mogelijk te maken.
Program
10:30 Event opening [EN/NL]
Speaker: Liliana Carrillo.
Founder and Director at CollectiveUP.
10:45 Introduction to Agile XR and Covideos projects [EN]
Speaker: Joos Van Cauwenberghe.
Innovation coach at RHIZO schools
11:15 Keynote 1: werk "online en asynchroon" aan complexe vakoverstijgende problemen. [NL]
Het is vaak onmogelijk om met meerdere studententeams en vakleerkrachten samen te werken aan een project. Hoe kan je technologie inzetten om projectwerk eenvoudiger en praktischer te realiseren? In deze keynote leer je van onderwijsstrateeg en stransitiekundige Erwin Niedeveld hoe ze in Nederland hackathons opzetten door gebruik te maken van Mural/Miro en binnenkort zelf een chatbot om projectwerk te stroomlijnen.
Speaker: Erwin Niedeveld
Lead Global, Architect of learning environments, Designer of opportunities, Innovation strategist and Transition expert.
12:00 Delicious lunch and networking offered by the Erasmus+ project AgileXR. [EN/NL]
12:30 Keynote 2: XR, toekomstige pedagogische technologie in het onderwijs! [NL]
Beschrijving: Beter online projectmatig leren met Virtual Reality en Augmented Reality
Speaker: Peter De Deyn.
Emmaus Aalter secundaire school, project coordinator for the Erasmus+ project MaFEA - 'Making Future Education Accesible'
https://emmausaaltersecundair.op-weg.be/
13:00 Keynote 3: Can We Collaborate in Virtual Reality? [EN]
In this talk, AgileXR project partner Metropolia University will present their work on benchmarking virtual reality applications that aim to foster better teamwork. The core question she aims to answer is whether XR technology has the potential to foster better teamwork and thus project-based learning for students.
Speaker: Petra Lassenius.
Metropolia University.
13:30 Keynote 4: Agile values changed the Tech industry, what about Education? [EN]
Description: Agile methodologies were born in the middle of a software crisis. How can Agile methodologies transform schools after the covid crisis?
Speaker Liliana Carrillo.
Founder and Director at CollectiveUP.
(On-site)
14:00 Keynote 5: Post-covid scrum, how to better manage online project-based learning [EN]
Description: eduScrum has popularized the scrum methodology for education. What is new to support online scrumming for online project-based learning?
Speakers:
Willy Wijnands, teacher and founder of eduScrum
Kristina Fritsch, Agile in education expert, co-creator of eduScrum.
(Online)
14:30 Keynote 6: No project-based learning! Go for agile self-directed learning. The story of the ALCs (Agile Learning Centers). [EN]
Speaker Nancy Tilton.
Agile Learning expert, co-founder of Agile Learning Center Mosaic.
(Online)
15:15 Panel with experts [EN]
How to promote more interdisciplinary (online) project-based working in schools?
What are the barriers for teachers to implement more project-based learning in their day-to-day practice and how to mitigate them?
Moderator: Joos Van Cauwenberghe
Panelists:
Peter De Deyn
Erwin Niedeveld
Kristina Fritsch, eduScrum
Willy Wijnands, eduScrum
Liliana Carrillo, CollectiveUP and ALCs
15:45 VR playing, drinks, and networking (on-site)

This event is possible thanks to the financial and structural support of:
The European Union and its Erasmus+ program, under the grant agreement number 2021-1-BE02-KA220-SCH-000027889.
The Province of West Flanders through the Flanking Education Policy under the Covideos project.