About this Event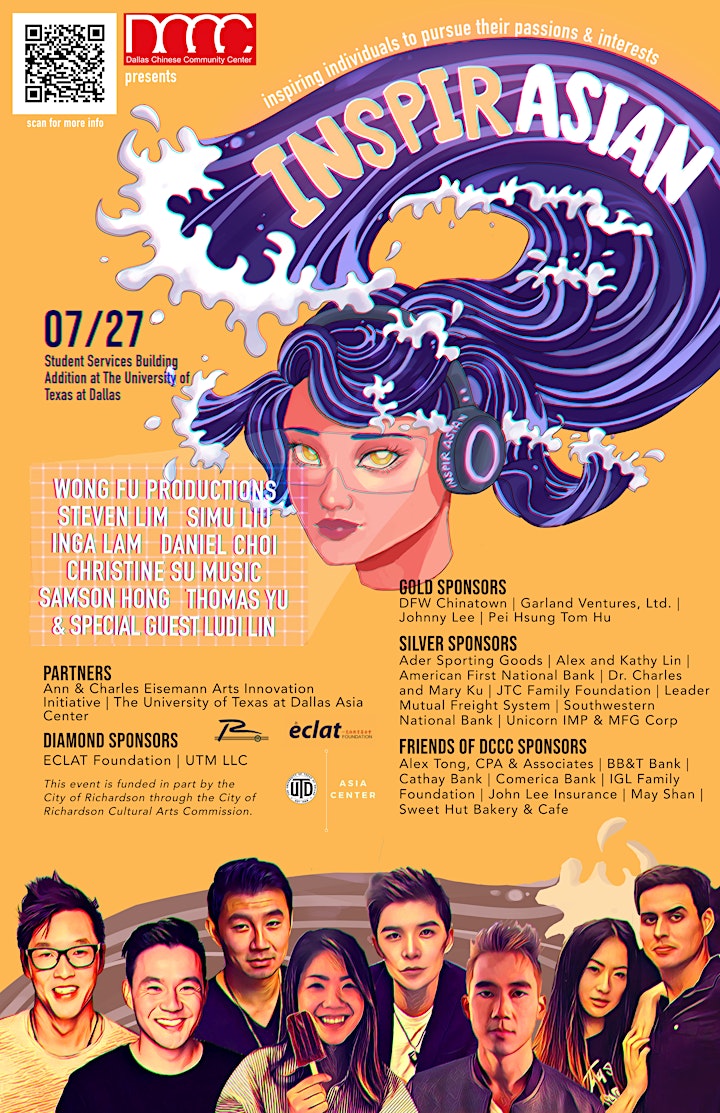 InspirASIAN
Inspire individuals to pursue their passions and interests in Arts, Music, Film, and Entertainment
Celebrate and promote Asian and Asian American culture
When: 1:00-6:00pm on July 27, 2019 for General Admission, 1:00-7:00pm on July 27, 2019 for VIP Pass holders
Doors open at 12:30pm. Seating is first come, first served for main stage events and workshops!
Where: Student Services Building Addition (SSA) at the University of Texas at Dallas (800 Campbell Rd, Richardson, TX 75080)
In the SSA Auditorium, attendees will have the opportunity to hear from the main stage guests who will perform and/or give a TED-style talk about their experience as an Asian/Asian-American in their industry. We will also have a moderated Q&A with all our main stage guests. After the Q&A, all our VIP Pass holders will be able to meet and greet our main stage guests, which includes pictures and/or autographs. Only small bags and purses will be allowed in the Meet and Greet area.
Confirmed Main Stage Guests
Workshops give the opportunity for attendees to get hands-on experience in creative, visual, and performing arts. The artists will lead a workshop for the attendees to learn more about their areas of expertise.
Confirmed Workshop Artists
Christine Su Music - Music
Daniel Choi (Take It Easy/Suicide Squad) - Breakdancing
Samson Hong - Urban Dancing / Choreography
Thomas Yu - Chinese Calligraphy
The lobby will include various non-profit organizations in the DFW region like the Dallas Chinese Community Center and the ECLAT Foundation and a Wong Fu Official Merchandise table.
More information about parking and schedule is available on our DCCC website www.dallasccc.org.
Thank you to all our partners and sponsors.
Partners
Ann & Charles Eisemann Arts Innovation Initiative
The University of Texas at Dallas Asia Center
This event is funded in part by the City of Richardson through the City of Richardson Cultural Arts Commission.
Diamond Sponsors
Gold Sponsors
DFW Chinatown
Garland Ventures, Ltd.
Johnny Lee
Pei Hsung Tom Hu
Silver Sponsors
Ader Sporting Goods
Alex and Kathy Lin
American First National Bank
Dr. Charles and Mary Ku
JTC Family Foundation
Leader Mutual Freight System
Southwestern National Bank
Unicorn IMP & MFG Corp
Friends of DCCC Sponsors
Alex Tong, CPA & Associates
BB&T Bank
Cathay Bank
Comerica Bank
IGL Family Foundation
John Lee Insurance
May Shan
Sweet Hut Bakery & Cafe