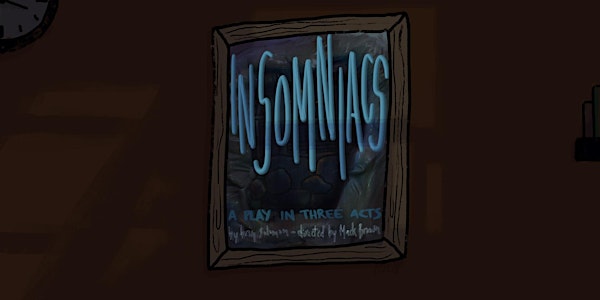 Insomniacs — Online Reading
INSOMNIACS — a new play about forgiveness, queer love, and mystical visions of the end of the world.
Refund Policy
Contact the organizer to request a refund.
Eventbrite's fee is nonrefundable.
About this event
Written by: brin solomon
Directed by: Mack Brown
Mirror Soundscapes by: Carrie Ishihara Zinky
Starring (in order of appearance):
Noor Hamdi as Samir
Bee Michael as Noah
Despoina as Aubrey
Esco Jouléy as Mae
SYNOPSIS: Noah, Samir, Aubrey, and Mae just want to have their regular weekly brunch, but Noah's hearing things behind the mirror (again), Aubrey's having visions of ominous clay, and all four are about to bear witness to a literal miracle — and not a tidy, nice, Sunday School miracle, but a chthonic, unsettling rending apart of the laws of nature, the meaning of which is anyone's guess. Insomniacs is a surreal, intimate show about a mostly trans polycule in Brooklyn fumbling and failing towards forgiveness while haunted by visions of the end of the world.
The show runs approximately ninety (90) minutes without intermission. All lines and stage directions will be subtitled. The reading will be prerecorded and will livestream on YouTube to minimize the chance of technical difficulties and maximize the quality of your viewing experience. A link to watch the performance will be e-mailed out to attendees half an hour before the show, when ticket reservations close.
CONTENT NOTES: There are several explicit jokes about sex that may not be appropriate for audiences of all ages. Despair over climate change is a topic of conversation and debate. At several points, characters deliberately lie to their partners even when confronted directly about their lies. There is one brief physical altercation between romantic partners that will be read in stage directions but not physically enacted in this production. The lines between dream, hallucination, mystical experience, and reality are quite blurry in this play; some characters embrace this blurriness while others try to pin down emphatically what is "real" and what is "not" — this tension drives much of the action of the show.