Description
Insights From Silicon Valley - AI Open Class @ GMIC Beijing 2017
---
Hosted by LabOne in conjunction with GMIC
The GMIC Beijing Insights from Silicon Valley- AI Open Class, April 28-29, will feature AI lectures and tutorials from tech leaders covering the latest artificial intelligence tools and topics. AI experts from Google, Amazon, IBM and Intel will present alongside academic leaders from Stanford, Carnegie Mellon, UC Berkeley, UCLA and prestigious universities worldwide for two days of high-level talks combined with hands-on coding. Accelerate your career and catch the wave by adding the most relevant AI skills!
4/28 - Lectures - CNCC - TBA4/29 - Full Day of Hands-On Workshop - CNCC - 307A, 307B, 311A, 311B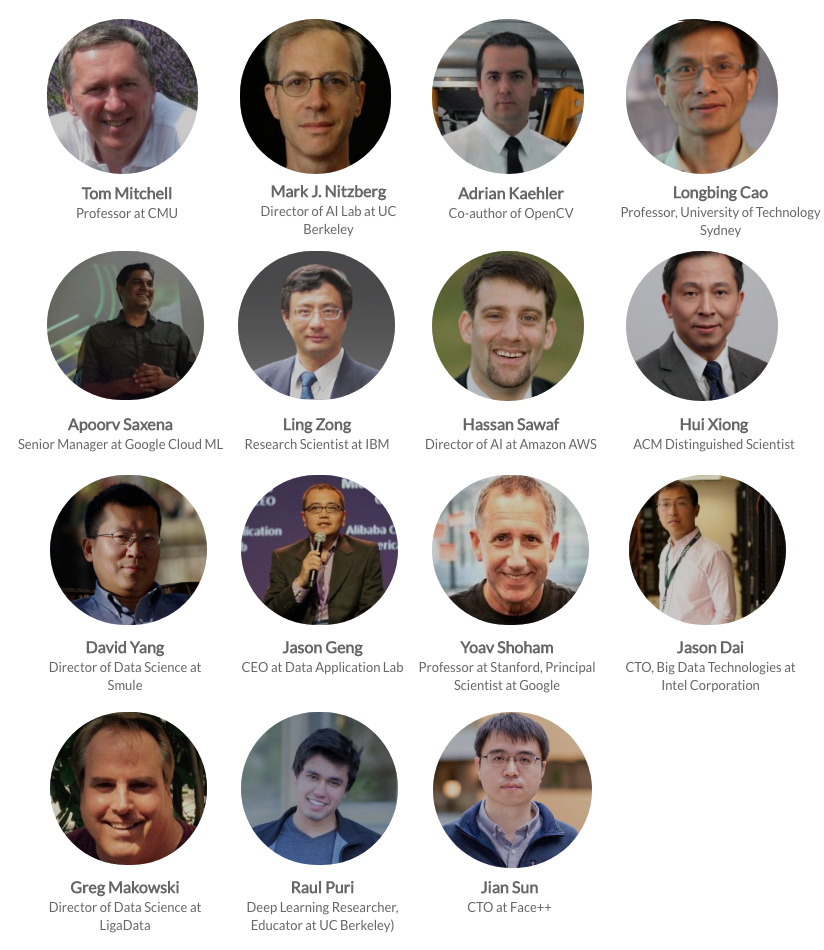 Agenda:

9:00-9:40: Registration
9:40-9:50: Welcome Speech
10:00-10:25: Open Class: The Comparison of AI Between US-China Hongjiang Zhang - Ex-CEO of Kingsoft
10:30-10:55: Open Class: Machine Learning from Conversations: Making Every Person a Programmer Tom Michell - Director of ML Department at CMU
Session 1: Self-Driving Car
11:00-11:25: Open Class: Reinforcement Learning in Self-Driving Car Mark J. Nitzberg - Executive Director of Center for Human-Compatible AI (CHAI)
11:30-11:55: Open Class: Machine Learning and Game Theory Yoav Shoham - Principal Scientist at Google, Founder of Timeful
12:00-13:00: Lunch
13:00-13:25: LabOne Training Program Introduction
Session 2: Natural Language Processing and Conversational AI
13:30-13:55: Open Class: From Chatbots to NLU Ray Sun - ML Researcher at Stanford, Head of Data Science at Banter
14:00-14:25: Open Class: From research to product: human language technology Hassan Sawaf - Director of AI at Amazon AWS
14:30-14:55: Open Class: Applications of AI at Google Apoorv Saxena - Senior Manager at Google Cloud ML
15:00-15:25: Open Class: How AI will influence Education Industry?" Jason Geng - CEO at Data Application Lab, Professor at UCLA
Session 4: Computer Vision
15:30-15:55: Open Class: Keypoints Technique in OpenCV 3.0 Adrian Kaehler - Co-founder of OpenCV
16:00-16:25: Open Class: Approaches to Intelligence Jian Sun - CTO, Face++
Session 5: Deep Learning/Cognitive Learning
16:30-16:55: Open Class: IBM Cognitive Computing and AI Ling Zong - Research Scientist at IBM
17:00-17:25: Open Class: Deep Learning-Powered Big Data Analytics Jason Dai -Sr. Principle Engineer and CTO at Intel
Instructor:Raul Puri, Deep Learning Researcher, Educator at UC Berkeley

Pattern Recognition
Neural Networks Fundamentals using TensorFlow as Example
TensorFlow for Image Recognition
Instructor:Lianfa Li, ML Professor at University of Southern California
Train your first neural network in five minutes




Use MXNet for Handwritten Digits Classification




Competition Classify real world images using state-of-art deep learning models.
Tutorial #3 Big Data Storage
Instructor: Ling Zong, Research Scientist at IBM
Big Data Storage Difficulties
Big Data Storage Bottleneck
Big Data Storage Plan
Tutorial #4 Behavior Analytics
Instructor:Longbing Cao, Professor at University of Technology Sydney
Introduction to behavior representation
Behavior modeling and representation
High impact behavior analysis
Group behavior analysis
Non-occurring behavior analysis
Tutorial #5 Big Data Analytics in Business Environments
Instructor:Hui Xiong ACM Distinguished Scientist
Data mining problem formulation
Data pre-processing and post-processing
Adaption of computational models

Tutorial #6 Data Science in R
Instructor:Greg Makowski,Director of Data Science at LigaData
Business Intelligence and Business Analytics
Perform Analysis of Variance (ANOVA)
Use various packages in R to create plots
Tutorial #7 Recommender Engine
Instructor:David Yang Director of Data Science at Smule
Why personalized service and how recommenders can help?
Mainstream recommenders: content-based, collaborative filtering and hybrid
Recent developments via deep neural networks

Tutorial #8 Natural Language Processing
Instructor:Ray-Hon Sun, ML Researcher at Stanford, Head of Data Science at Banter
NLP Tasks and Text Similarity
Tools in building AI-based messaging systems
Syntax and Parsing
Part of Speech Tagging and Information Extraction
Sentiment Analysis and Semantics
Lecture Pass: Access to the full day of lectures on April 28th
Lecture & Tutorial Pass: Access to all lectures on April 28th, plus a full-day of AI-tutorials on April 29th for hands-on coding in a classroom environment

***AI Open Class requires a separate ticket. GMIC VIP/Gold/Silver/Expo passes do not allow access to content or workshops
**AI Open Class Passes allows access to Expo Floor @ GMIC Beijing