Insights from Israel's innovative start-up culture
Description
In this interactive Creative Exchange Network meet-up, Janet Sernack from ImagineNation™ will draw on her 28 years of experience in organizational learning and development with some of Australasia's and Israel's top 100 companies to address the question:-
What is an agile business enterprise culture – and why should you cultivate one?
We will hear her key learnings from the ImagineNation™ story including 5 key insights from her 6 year immersion into Israel's entrepreneurial and innovative start-up culture and eco-system, which became the basis for creating her own successful Israeli, now Australian based start-up.
Our Guest Presenter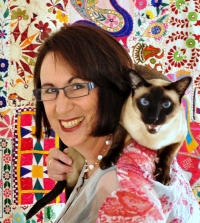 Janet Sernack is the Founder, CEO & Chief Katalyst of ImagineNation™ a global agile business enterprise innovation consulting and education company that helps people make sense of innovation, cultivate innovation agility and unlock their collective genius.
She is an entrepreneur, innovator, educator and coach who creates the safe space and permission for people, leaders and teams within business enterprises to strategically and systemically:
Develop innovation agility required to shift, flow and flourish within change and uncertainty.
Know how to be, think and act differently to make the difference they want to make in ways that people value and cherish.
Janet is an ICF ACC certified executive coach, a NLP certified presenter, trainer, facilitator and executive coach and has tertiary qualifications in Marketing, Adult Learning and Workplace Assessment and Training.
She has presented on innovation and entrepreneurship topics at the World Business an Executive Coaching Summit (WBECS) Global Women's Leadership Summit (GWALS), Ellen MacArthur's' Think Differently Festival, International Coach Federation Professional Development Programs, the Creative Innovation Conference in Australasia, the Coaching without Borders Innovation Workshop in Hungary and also at the European Innovation and Entrepreneurship Conference in Brussels.
She blogs regularly and is acknowledged as #16 in the top 20 innovation bloggers of 2016 at Innovation Excellence "the world's most popular innovation blog."
In 2010 she moved to the Middle East and joined the Start-Up Revolution and founded ImagineNation™ as an Israeli start-up. She now lives with her very patient and supportive husband and furry family in lovely Bayside Melbourne, Australia.
If you are interesting in creating an agile innovation culture, based on lessons from a global perspective, this CEN event should not be missed.