Description
Insights From A Crypto Insider
Date: 15/11/2017 (Wed)
Time: 7pm - 10pm
Fee: Rm50/pax (Meal & drink included + SURPRISE GIFT!)
LIMITED SEATS available. RSVP today.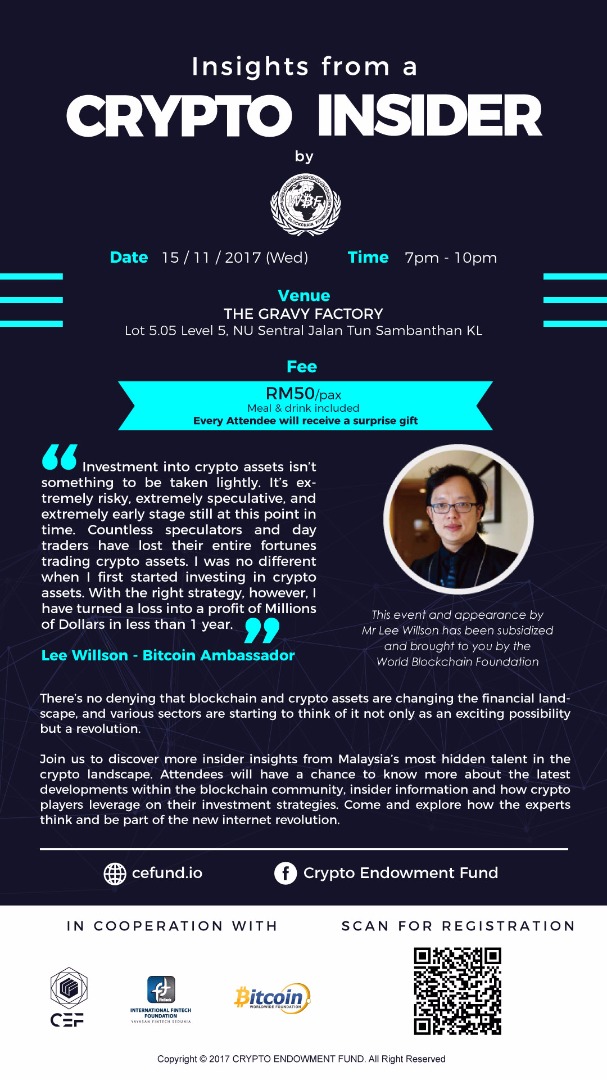 "Investment in crypto assets isn't something to be taken lightly. It's extremely risky, extremely speculative, and extremely early stage still at this point in time. Countless speculators and day traders have lost their entire fortunes trading crypto assets. I was no different when I first started investing in crypto assets. With the right strategy, however, I have turned a loss into a profit of Millions of Dollars in less than 1 year."
Lee Willson - Bitcoin Ambassador

There's no denying that blockchain and cryptocurrency are changing the financial landscape, various sectors are starting to think of it not only as an exciting possibility but a revolution.

Join us to discover more insider insights from Malaysia's most hidden talent in the crypto landscape. Attendees will have a chance to know more about the latest developments within the blockchain community, insider information and how crypto players leverage on their investment strategies. Come and explore how the experts think and be part of the new internet revolution.