Description

The InSight: Intelligent Lighting & Infrastructure event brings together some of the leading companies in the world of smart lighting and infrastructure to discuss the building environments of tomorrow.
Watch and learn as Cisco, Cree, Legrand, Superior Essex, Vertiv and WESCO present the components and strategic benefits of the Digital Ceiling, its place in the Digital Building infrastructures of tomorrow, the Industrial Internet of Things, and more.
SEATING IS EXTREMELY LIMITED. This is a FREE event. There is a two-ticket maximum per person.
Event attendees will be eligible to earn the following:
FOUR Learning Units from the American Institute of Architects (AIA)
FOUR Continuing Education Credits from BICSI
FOUR Continuing Professional Development points from BOMI International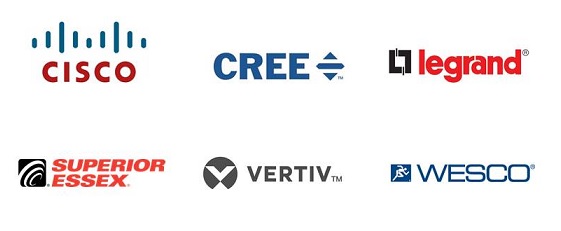 ---
FEATURED SPEAKERS INCLUDE:
Luis Suau, Technical Leader—Industries Product Group, Cisco Systems
Mr. Frederes helps Cisco lead the way in exploring the possibilities of the Internet of Things (IoT). In this presentation, he will guide you through the IoT's impact on Smart Buildings and Workforce, and give you a glimpse of how today's technology will transform every day in work places and living spaces in the future.
John Casadonte, Product Marketing Manager, Cree Lighting
Join Mr. Casadonte as he leads you through the basic topologies of tomorrow's building infrastructures. You'll learn about API Integrations, SC PoE systems, and the fundamentals of the intelligent ceiling, including their SmartCast PoE Lighting Solution.
Carol Everett Oliver, Training & Technology Manager, RCDD/ESS, Legrand
Brian Ensign, Director of Global Accounts, RCDD/RTPM/NTS/OSP/CSI, Superior Essex
IoT is driving the building infrastructure to converge onto a single, low-voltage IP-based network, and cabling and connectivity are vital components within this ecosystem. Ms. Oliver and Mr. Ensign will present cabling and connectivity solutions that will address digital data, power and light requirements. This presentation will provide insight to emerging applications, systems and solutions, as well as encompass evolving standards and best installation practices to successfully design and operate a variety of applications for today and the future.
Ivey Stewart, Regional Solutions Manager, Midwest and Southeast USA, Vertiv
Most industry observers agree that the Internet of Things is exploding and expect tens of billions of devices to be connected to networks in the next few years. PoE lighting is spearheading this trend in the enterprise office space. Mr. Stewart will discuss best practices and design ideas to facilitate the deployment and maintenance of distributed IT equipment.
Paul Kopera, Vice President—Emerging Technology, WESCO Distribution
An industry leader in trending technologies, Mr. Kopera will provide a topical overview of the day and discuss the strategic advantages of smart lighting and infrastructures today . . . and tomorrow.


---