Insight and Inclusion: Expanding Visions of American Art

Friday, May 15, 2015 at 8:30 AM

-

Sunday, May 17, 2015 at 3:00 PM (PDT)
Event Details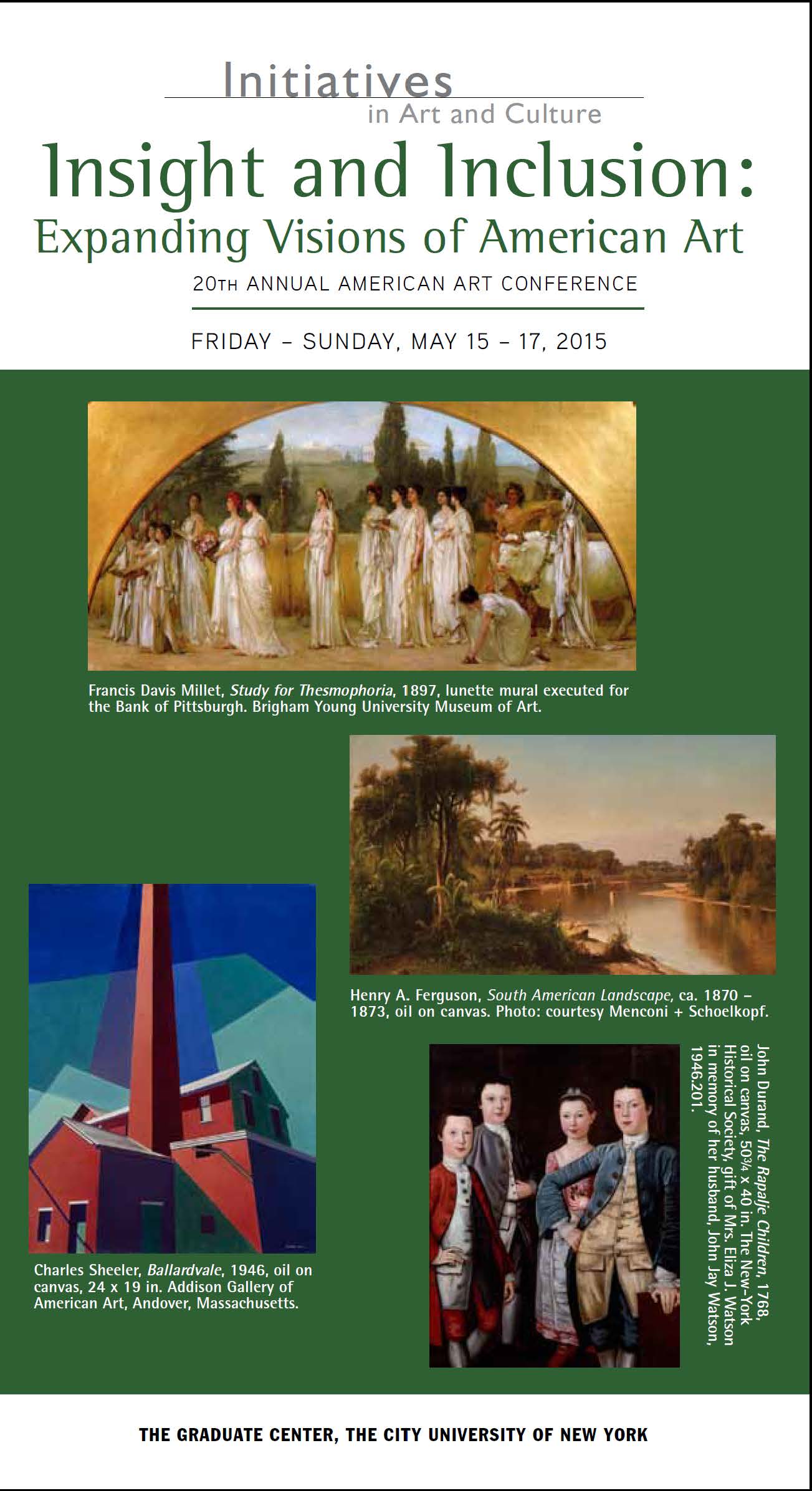 Initiatives in Art and Culture celebrates its 20th Annual American Conference, Insight and Inclusion: Expanding Visions of American Art, taking place on Friday, May 15, Saturday May 16,and Sunday, May 17, 2015. Formal sessions are held at CUNY Graduate Center, 365 Fifth Avenue (at 35th Street). These are complemented by private receptions and viewings at Gerald Peters Gallery, at Bonhams where we preview the sale, and Howard Godel & Co. Fine Art, as well as book signings.
We challenge the notion of a static canon in American art and look instead at the canon as a more fluid phenomenon, one that includes not only those who have always been seen as pillars in American art, but those once included but then perhaps excluded as time passes and tastes change. A canon, whatever it might be, whatever we might consider it, is not simply a snapshot in time, but the product of shifting series of perspectives which are affected by artists, critics, curators, scholars, gallerists, and collectors, among others. In this 20th anniversary conference, we will broaden our approach to the canonical to include and re-examine those whose work merits reconsideration, regardless of region, era, or the movement of which their work can be seen to be part.
William C. Agee, Evelyn Kranes Kossak Professor of Art History, Hunter College, CUNY
Mark Cole, Curator of American painting and sculpture, Cleveland Museum of Art
Gina M. D'Angelo, independent art historian specializing in 19th- and early 20th-century American art and the work of Francis Davis Millet
Alfred C. Harrison, Jr., owner of North Point Gallery
Susan G. Larkin, independent art historian
Rebecca Lawton, Curator of Paintings and Sculpture, Amon Carter Museum of American Art, Fort Worth,

Phyllis Magidson, Curator of Costumes and Textiles, Museum of the City of New York
Roberta A. Mayer, Professor of Art History & Visual Arts Head, Bucks County Community College

Kimberly Orcutt, independent scholar
Nancy Rivard Shaw, Curator Emerita of American Art, Detroit Institute of Arts
Suzanne Smeaton, frame historian, and Client & Visitor Services Associate, Michael Rosenfeld Gallery
Jonathan Spies, gallery director, Menconi + Schoelkopf Fine Art, LLC
Thomas Brent Smith, Curator of Western American art and Director, Petrie Institute of Western American Art, Denver Art Museum
Paul Staiti, Alumnae Foundation Professor of Fine Arts, Mount Holyoke College
Jonathan Stuhlman, Senior Curator of American, Modern, and Contemporary Art, The Mint Museum, Charlotte, North Carolina
Andrew Thompson, art dealer and scholar, specializing in late 19th- and early 20th-century American paintings
James W. Tottis, museum consultant
Leadership funding has been provided by The Richard and Jane Manoogian Foundation and The Louis and Lena Minkoff Foundation.
Funding at the Partner Level has been provided by Jonathan Boos.
We gratefully acknowledge funding from The American Art Fair, The Anschutz Foundation, Collisart LLC, Conner • Rosenkrantz, Debra Force Fine Art, Gerald Peters Gallery, Hollis Taggart Galleries, James Reinish & Associates, Inc., George Jeffords, Menconi & Schoelkopf Fine Art, LLC, Questroyal Fine Art, Jason Schoen, and anonymous donors, as well as support received from Bonhams, Christie's, Shannon's, and Sotheby's  (as of 3/1/2015).
When & Where

CUNY Graduate Center
365 5th avenue
New York, NY


Friday, May 15, 2015 at 8:30 AM

-

Sunday, May 17, 2015 at 3:00 PM (PDT)
Add to my calendar
Organizer
Initiatives in Arts and Culture (IAC) is an organization committed to educating diverse audiences in the fine, decorative, and visual arts. IAC's primary activities are conferences, publications, and exhibitions. These take an interdisciplinary approach, considering issues related to fabrication, connoisseurship, cultural patrimony, cultural preservation, and the future of culture. Particular areas of emphasis include American painting, the history of frames, the Arts and Crafts movement, the influence of Asian cultures on American fine and decorative art, and the history and future of fashion and materials. IAC's projects have been supported by a wide array of individual, corporate and foundation funders.