Insiders Industry Panel, Mixer & Master Workshop

Saturday, July 27, 2013 at 11:00 AM
Event Details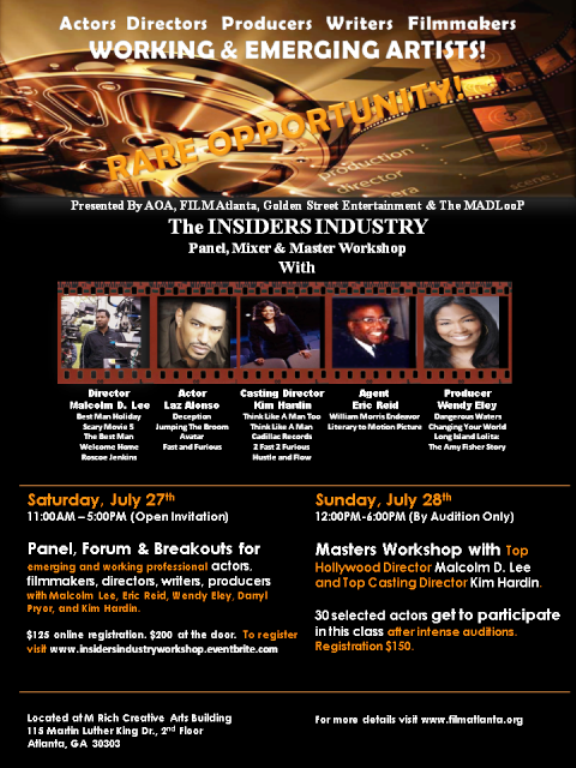 FEARLESS 30 AUDITIONS
To ensure that the best actors in the region are placed into the Master Workshop with Mr. Lee and Ms. Hardin on Sunday,  July 28th,  30 actors will be selected after enduring intense auditions, testing their fortitude and ability to deliver under pressure, mental dexterity, stamina, and stretching their instruments.  This will be a life changing, rare opportunity for 30 of Atlanta's best actors to work hands on for 5 hours with Director, Malcolm Lee (check out his new film "The Best Man Holiday" coming to theaters November 2013!) and Casting Director, Kim Hardin (just wrapped Steve Harvey's "Think Like A Man Too")  http://www.youtube.com/watch?v=3SIBEBOwhQk.  
This rare OPEN AUDITION opportunity is for every actor in Atlanta and the Southeast region.
AUDITIONS
Please bring 4 copies of your head shot and resume, prepare a 2 minute monologue and be ready to perform a cold read.
Monday/Tuesday/Wednesday
July 8th, 9th, 10th
11:00 a.m. - 4:00 p.m. 
or 6-10 p.m.
You may attend any of the dates/times listed.
CALLBACKS
Saturday, July 13th
11am -3pm or 6-9:30pm
Monday, July 15th
6-9:30pm
Tuesday, July 16th
6-9:30pm
(Monday and Tuesday callbacks evening ONLY)
·   Block out three hours  
·   Bring 3-4 head shots and resumes (cannot audition w/o one)
·   There will be a warm up before performing a 2 minute monologue
·   Must have a prepared 2 minute monologue
·   Be prepared for cold reads and improv
·   Dress to move (there will be physical activity)
If selected as one of the top 30, please use this link to register (upon notification) http://insidersindustryworkshop.eventbrite.com/.
LOCATION
M. Rich Creative Arts Building
115 Martin Luther King Drive
2nd Floor
Atlanta, GA 30303
NOTE: Actors there is a $150 registration fee required (ONLY if you make it through the auditions and are selected as one of the top 30) to attend the Master Workshop with Director, Malcolm D. Lee and Casting Director, Kim Hardin.  
THE MISSION
 The going consensus is that Atlanta does not have enough well-trained actors to support film and television projects being produced in the City.  Casting directors find themselves feeling disillusioned with local talent and end up booking actors out of state for their lead roles.
Atlanta is endowed with raw talent, emerging artists and rising stars and we are committed to reversing this reputation. FILM Atlanta and AOA Studios are dedicated and passionate about providing outstanding training in Atlanta.  We have partnered with Master Teachers from Atlanta, North Carolina, Los Angeles, New York City and London conservatories who offer extensive and comprehensive training, challenging intensives, and on-going classes for actors who are serious, dedicated and committed to their craft.   
The "Insiders Industry Workshop" is the kick-off to our mission to provide excellence in training, development, education and preparation for actors in the southern region who are willing to put in the real work to do what it takes to maximize on film and television opportunities in Atlanta. We believe that "if you build it they will come", which is why we are dedicated to provide mentoring and training from the best.  These opportunities are for Atlanta's hungriest, most talented, ambitious and dedicated aspiring actors who sincerely desire TOP TRAINING, preparation and mentoring.
When & Where
M. Rich Building
115 Martin Luther King Drive
Atlanta, 30303


Saturday, July 27, 2013 at 11:00 AM
Add to my calendar
Insiders Industry Panel, Mixer & Master Workshop