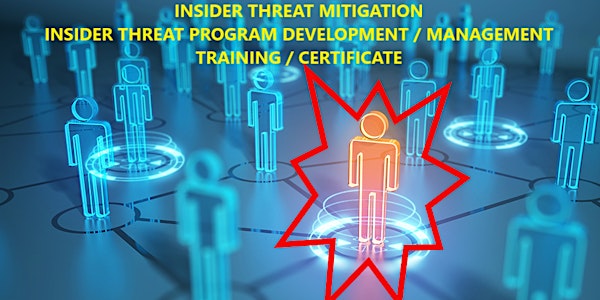 INSIDER THREAT PROGRAM DEVELOPMENT - MANAGEMENT TRAINING COURSE
REGISTRATION: INSIDER THREAT PROGRAM (ITP) DEVELOPMENT - MANAGEMENT TRAINING COURSE / ITP MANAGER CERTIFICATE / IN PERSON - CLASSROOM
When and where
Location
Johns Hopkins University Applied Physics Laboratory -- Laurel, Maryland 11100 Johns Hopkins Road Kossiakoff Center Laurel, MD 20723
Refund Policy
Contact the organizer to request a refund.
Eventbrite's fee is nonrefundable.
About this event
INSIDER THREAT DEFENSE GROUP
INSIDER THREAT PROGRAM (ITP) DEVELOPMENT - MANAGEMENT CLASSROOM BASED TRAINING COURSE / ITP MANAGER CERTIFICATE
DATES:
January 30 & 31, 2023
TIME:
8AM To 5PM
LOCATION:
Johns Hopkins University Applied Physics Laboratory
11100 Johns Hopkins Road, Laurel, Maryland, 20723
Kossiakoff Center Training Rooms
SPECIAL PRICING
Due to the demand from organizations wanting to send 2+ employees to this training, we are offering special pricing.
If an organization sends more than 1 individual to the training, the cost for the second individual will be 1/2 price. When purchasing the training on the link in this e-mail, you will be given the option for the FULL PRICE / HALF PRICE SPECIAL.
COST  PER PERSON
$1,195
2ND PERSON
$597.50
TRAINING COURSE OVERVIEW
The Insider Threat Defense Group (ITDG) offers the most affordable, comprehensive and practical ITP Development - Management Training Course available, and comes with a Money Back Guarantee.
This highly sought after and very comprehensive 2 day training course will ensure the Insider Threat Program (ITP) Manager, ITP Senior Official (Insider Threat Analyst, FSO, CSO, CISO, Etc.), and others who support the ITP (Human Resources, IT, Network Security, Etc.), have the Core Knowledge, Blueprint, Resources needed for developing, managing, enhancing an ITP / ITP Working Group.
The success of an ITP requires Key Stakeholder Commitments and Business Process Improvements. Any key stakeholder that supports the ITP will gain a much broader and deeper understanding of collaboration components required, and the many underlying and interconnected components that are essential for a comprehensive ITP. This will ensure key stakeholders are Universally Aligned from an enterprise / holistic perspective to detect and mitigate Insider Threats. This training will also cover the legal aspects and considerations for an ITP.
We provide our students with an ITP Management Toolkit. Insider Threat Mitigation (ITM) training requires more than just attending a course, reviewing PowerPoint presentations and taking an exam. The toolkit provides students with a hardcopy ITP Management Handbook, and the USB drive contains the training materials and  abundance of educational resources, templates and checklists for ITP development, management and optimization. This toolkit will provide the resources to build a comprehensive ITP / ITM Framework, and perform Insider Threat Vulnerability / ITP Maturity Assessments. All materials will be provided to the student in electronic format (USB Thumb Drive) at the beginning of the training.
Malicious Insiders Playbook Of Tactics. This training also provides insights into the mind of a Malicious Insider. We provide "REAL WORLD / EYE OPENING" examples of how easily Network Security / Insider Threat Detection Tools have been bypassed to successfully exfiltrate / steal data from organizations. This will help students find holes in their organizations security defenses, before a REAL Malicious Insider does.
This training exceeds the requirements for establishing an ITP per National Insider Threat Policy, NISPOM Conforming Change 2, and other compliance regulations requiring ITM.
This training does more then just help organizations develop, implement, manage and enhance an ITP. This training will help organizations get to the root of employee threats (Detecting, Mitigating), BEFORE they become very costly and damaging to an organization. This training is also very well suited for any organization or business that is not required to implement an ITP, but is concerned with employee threat identification and mitigation, and interested in implementing an ITM Framework.
This training will provide a clear business case for the necessary Security Investments ($$$) and C-Suite Buy-In needed for an ITP / ITM.
If you have attended other ITP related training, we are very confident that your knowledge will be further enhanced from a holistic perspective, and not just from a technical perspective.
Students who attend this training will be issued an ITP Manager Certificate. This certificate will certify to employers that the student has the comprehensive knowledge needed to develop, manage or optimize an ITP from A-Z. Students will earn 16 Continuing Professional Education Hours / Credits for attending this training.
The comprehensive nature of the training will also help students who are pursuing the Department Of Defense Counter - Insider Threat Professional Certifications.
Training Course Brochure (See Page 4 For Money Back Training Guarantee)
https://www.insiderthreatdefense.us/wp-content/uploads/2022/11/Insider-Threat-Program-Development-Management-Training-Course-Brochure-11-26-22.pdf
HOSTING A TRAINING CLASS - RECEIVE FREE TRAINING
The ITDG would like to extend an offer to any company that would be interested in hosting a training class. If your company hosts a class and allows other external companies to attend, your company will receive FREE SEATS for hosting the training.
INSTRUCTOR
This training is taught by an industry recognized ITM Subject Matter Expert.
This training is based off the Instructors (Mr. Henderson) Real World Experience (13+ Years) helping the U.S Government (Department of Defense, Intelligence Community) and businesses develop robust and effective ITP's, using a methodical approach and ability to Think Outside The Box.
Mr. Henderson is the Founder and Chairman of National Insider Threat Special Interest Group (NITSIG), and Founder / Director of the Insider Threat Symposium & Expo. The NITSIG was created in 2014 to function as a National Insider Threat Information Sharing & Analysis Center. The NITSIG Membership is the largest network (1000+) of ITM professionals in the U.S. and globally.
Complete Bio
https://www.insiderthreatdefense.us/wp-content/uploads/2021/12/insider-threat-defense-group-overview-insider-threat-mitigation-training-consulting-services.pdf
Who Should Attend?
CEO's, Executive Management
ITP Managers, Insider Threat Analysts / Investigators
Facility Security Officers
CSO's / Security Professionals
CISO's / Data Loss Prevention Administrators
CIO's / IT - Network Security Administrators
Human Resources (HR) Management / HR Professionals
Legal Dept.
TRAINING RECOGNITION
This training course greatly surpasses other traditional ITP Management Training that are more fundamental in nature, limited in the lack of knowledge gained, and in the content and resources provided.
This training was also developed with input from ITP Managers, security professionals and members of the National Insider Threat Special Interest Group.
The training provides students with the expert knowledge to ensure their organization has a holistic, comprehensive and effective ITM Framework for detecting and mitigating Insider Threats.
Over 900+ individuals have attended this training course and received ITP Manager Certificates
Our students have endorsed and given this training exceptional reviews for the comprehensive knowledge and resources provided. We encourage you to read the feedback from our students on this link.
https://www.insiderthreatdefense.us/wp-content/uploads/2022/11/ITDG-ITP-Management-Training-Course-Student-Evaluations-Comments-As-Of-10-18-22.pdf
COMPANY RECOGNITION
The ITDG is considered a Trusted Source for ITM training and consulting services to the White House, U.S. Government Agencies, Department Of Homeland Security, TSA, Department Of Defense (U.S. Army, Navy, Air Force & Space Force, Marines, ) Intelligence Community (DIA, NSA, NGA) Universities, FBI, U.S. Secret Service, DEA, Law Enforcement, Fortune 100 / 500 companies and others; Microsoft Corporation, Walmart, Home Depot, Nike, Tesla Automotive Company, Dell Technologies, Discovery Channel, Symantec Corporation, United Parcel Service, FedEx Custom Critical, Visa, Capital One Bank, BB&T Bank, HSBC Bank, American Express, Equifax, TransUnion, JetBlue Airways, Delta Airlines, Royal Canadian Mounted Police and many more.
The ITDG has provided ITM training and consulting services to over 650+ organizations.
Client Listing
https://www.insiderthreatdefense.us/wp-content/uploads/2022/11/ITDG-Client-Listing-As-Of-10-17-22.pdf
INSIDER THREAT DEFENSE GROUP RECEIVES 2022 AWARD AS TOP INFOSEC INNOVATOR IN THE AREA OF INSIDER THREAT MITIGATION (ITM)
Presented By: Cyber Defense Magazine (October 27, 28 2022 Cyber Defense Conference / Gaylord Palm Hotel, Orlando, Florida)
The ITDG did a presentation to the top CISO's in the industry, on ITM / Insider Threat Incidents and the very costly and severe impacts that can result from an JUST 1 MALICIOUS EMPLOYEE. Quite a number of CISO'S were surprised with some of our EYE OPENING examples.
The ITDG was recognized as a Top Infosec Innovator in the areas of ITM Training and Consulting Services, and the creation of the National Insider Threat Special Interest Group. One of the considerations for the award was the extensive reach the ITDG has had across U.S. government and in the private sector, and our exceptional client satisfaction levels.
Please contact me if you have any questions about our training or consulting services. E-Mail: james.henderson@insiderthreatdefense.us or Call 561-809-6800
Jim Henderson, CISSP, CCISO
CEO Insider Threat Defense Group, Inc.
ITP Development / Management Training Course Instructor
Insider Threat Vulnerability - ITP Maturity Assessment / Mitigation Specialist
Founder / Chairman Of The National Insider Threat Special Interest Group
888-363-7241 / 561-809-6800
www.insiderthreatdefense.us
james.henderson@insiderthreatdefense.us
www.nationalinsiderthreatsig.org
jimhenderson@nationalinsiderthreatsig.org