Description
Inside/Outside: Exploring Movement with Hoops
Saturday, July 30, 2016 from 1:00 to 3:00 pm
Free and open to the public
RSVP required
Event Description

"Dance is the breath made visible."
- Anna Halprin
What happens to the body when the mind is occupied? During the Inside/Outside workshop, participants will consider this question by using a hoop, which, while in motion, demands constant attention. Be prepared to problem-solve, embrace awkwardness, accept imperfection, and develop a keen awareness of the body.
Inside/Outside is inspired by Ally, The Fabric Workshop and Museum's current exhibition of art and dance by Janine Antoni, Anna Halprin, and Stephen Petronio. Each participant will also personalize a hoop using a variety of materials found in this installation, such as the brown paper in Janine Antoni and Anna Halprin's Paper Dance.
Instructor Bio

Gabrielle Revlock, dancemaker, is a native of Philadelphia and graduated from Vassar College with a BA in Art History. Her work has been presented at such notable US venues as The Annenberg Center for the Performing Arts, FringeArts, Joyce Soho, New York Live Arts, St. Mark's Church, Abrons Art Center, ODC Theater, the Kelly-Strayhorn Theater, and the Opera Company of Philadelphia. Revlock has performed in Japan, Russia, and the Netherlands and has danced for Lucinda Childs, Susan Rethorst, Christopher Williams, Katsura Kan, Mark Dendy, Isabelle Chaffaud & Jérôme Meyer, Lisa Kraus, Leah Stein, Sylvain Émard, Willi Dorner, Sean Feldman, Meg Foley, Jumatatu Poe, Myra Bazell, and Matthew Neenan. She is a current company member of the Jane Comfort & Company in New York. For Revlock's full bio visit: www.gabriellerevlock.com



About the Exhibition Ally
Instigated by visual artist Janine Antoni in collaboration with preeminent choreographer, theatre, and community artist Anna Halprin and pioneer choreographer Stephen Petronio, Ally is a series of works combining sculpture, installation, film, and performance. Through a series of unique collaborations with Halprin and Petronio, the trio investigates the translation of ideas across forms and the vast potential that lies in their relations. The encounter between these artists from distinct practices and generations becomes a means of unearthing unknown affinities and historical entwinements. In alliance the artists forge a new visual language of tactile material held within processes of transformation. These works are being created through the Artist-in-Residence Program of The Fabric Workshop and Museum.
For more information about the exhibition, performances, and related programming, please visit FWM's website.
Major support for Ally has been provided by The Pew Center for Arts & Heritage. Initial support for this project was provided by Creative Capital. Additional funding comes from the National Endowment for the Arts, The Shipley-Miller Foundation, and the Board of Directors and Members of The Fabric Workshop and Museum.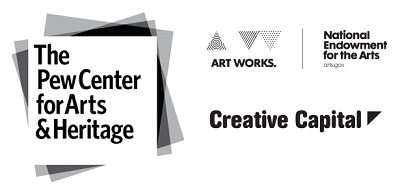 Cover Photo: Gabrielle Revlock—instructor of Inside/Outside: Exploring Movement with Hoops—performing Halo. Photo Credit: Bill Herbert.