New York Adventure Club | www.AdventureClub.com
About this event
Did you know that most of the props you spot on your favorite medieval-themed movie or TV show are not originals? Hiding inside an industrial warehouse in Queens is a renowned artist and sculptor who reproduces historically accurate medieval weapons and armor for clients ranging from movie studios to professional re-enactors — and for the first time ever, he's ready to open his workshop doors and show us 21st-century folk what 14th-, 15th-, and 16th-century craftsmanship was really all about. 
Join New York Adventure Club for an exclusive tour and demonstration at WassonArtistry, a workshop in Ridgewood, Queens that has created high-quality reproductions of medieval European weapons and armor for nearly a decade.
Led by Jeff Wasson, owner of WassonArtistry, our exploration of this new-age facility creating historically accurate old-age equipment will include:
The 101 on Jeff, and how his passion for medieval societies and Live Action Role Playing in college led him to become one of the country's most prestigious armorers two decades later
A tour of the workshop to see how a suit of armor is constructed from scratch, along with the assortment of medieval tools needed throughout the process
A close up look at the smithing process to see how armor was crafted hundreds of years ago
Hands-on opportunities with a range of different medieval equipment, from putting on different types of armor and helmets, to learning the proper technique of holding a jousting lance!
Click here to see pictures from one of our last trips to WassonArtistry!
See you there!
*All guests must wear a mask at all times when inside the workshop
**The exact location and entrance instructions into this private workshop are shared in the 'additional information' section of the confirmation email, which is sent immediately upon registration
***Please wear comfortable shoes as there are limited seats within the small workshop
****The workshop is located on the second floor of a building with an elevator accessible from the lobby, which is 2-3 steps up from street level
Disclaimer
By attending a New York Adventure Club experience, you accept our terms of service.
Categories: In-Person, Factory & Facilities Tours
Organizer of Inside WassonArtistry, Maker of Medieval European Weapons & Armor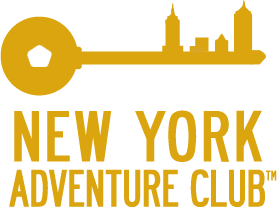 NEW YORK ADVENTURE CLUB
Unlock Your City
We give you insider access to the city's best-kept secrets. But we're so much more than a tour company.
WHO WE ARE

We are a community-driven club that curates the most unique experiences in town, with a focus on history and storytelling. We show you a city you never knew existed, and offer a community you can't live without.
You won't find our special-access tours and exclusive events anywhere else. Think after-hours tours of New York City's most celebrated spaces, themed parties in unexpected locations, and weekend excursions to incredible destinations. All of our events end with social hangouts so you can meet people who love exploring as much as you do.
THE 'CLUB' IN NEW YORK ADVENTURE CLUB

Our current community is more than 23,000 members strong and includes everyone from recent NYC transplants to lifelong residents. Whatever borough you're from (or city or country, for that matter), we'll make it easy for you to take full advantage of the unique places and great people this city has to offer.  
WHERE WE GO
To ensure a one-of-a-kind experience each and every time, we handpick events and outings specifically for the New York Adventure Club community. Recent events include:
* An after-hours tour of New York City Hall
* Special access into some of New York's most coveted private social clubs, including the Explorers Club and National Arts Club
* Petting baby kangaroos, holding sloths, and feeding leopards at Staten Island Zoo

* An NYPD Precinct tour, including a meet-and-greet with detectives and Emergency Service Unit crew members
* A tour of the Polish Consulate led by the Consul General and Vice Consul General of Poland

* A special-access tour of Brookhaven National Laboratory and its Relativistic Heavy Ion Collider (RHIC)
* A Halloween party in a historic gothic crypt, complete with a five-piece brass band
Subscribe with our newsletter to get the inside scoop on the city's most interesting events: http://eepurl.com/1cnVH
Unlock Your City with New York Adventure Club