Inside the Principal's Office Meet-Up
About this event
Are you interested in sharpening your leadership toolkit for the upcoming school year? Do you want to walk away feeling refreshed, recharged, and inspired for the year that comes ahead?
Join two experienced school principals, Charles Williams and Michael McWilliams on a day of learning, fun, networking, and leadership development. We will be streaming a live, interactive episode of Inside the Principal's Office, engage in leadership problem solving exercises, and take the opportunity to sharpen our leadership toolkit in preparation for the new school year.
A limited number of tickets are available for this intimate, interactive, and engaging session on a limited basis!
A $35 donation to SchoolRubric, a non-profit educational organization, will provide:
A full day of learning and networking activities on Saturday, July 31 (9 AM - 4 PM)
Light refreshments and lunch
A conference T-Shirt
Happy hour social events on Friday, July 30 and Saturday July 31 evenings (optional, will be held close to hotel)
Group hotel accommodation rates are available and will be shared with confirmed registrants. Please email InsidePrincipal@schoolrubric.com for more details or any questions.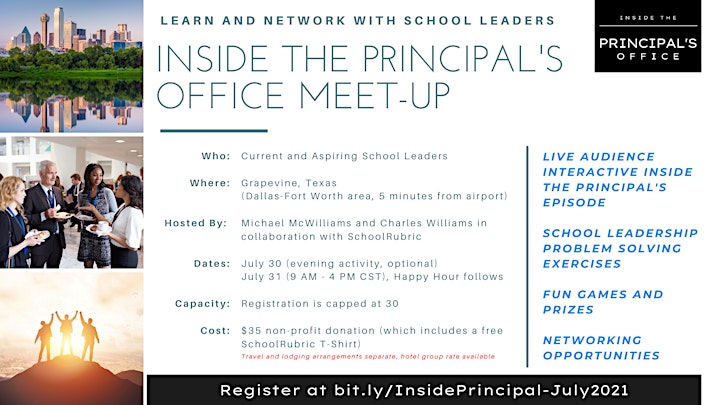 Organizer of Inside the Principal's Office Meet-Up Registration (July 30-31, 2021)