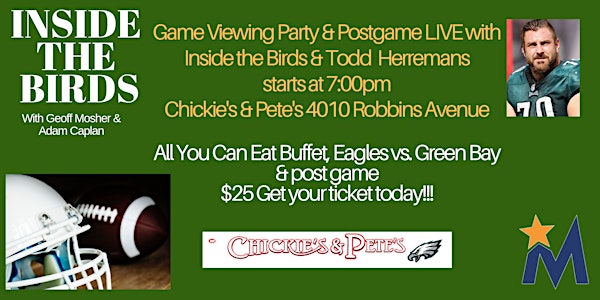 Inside the Birds Eagles Game Watching Party & Postgame Live from Mayfair
When and where
Location
Chickie's and Pete's Robbins Avenue 4010 Robbins Ave Philadelphia, PA 19135
Description
Join the Mayfair Business Improvement District for a fun filled evening watching the Eagles play the Green Bay Packers starting at 7:00pm. Kickoff is at 8:20pm! Watch and discuss the game with insiders Geoff Mosher & Adam Caplan. Enjoy an all you can eat buffet, including Chickie's and Pete's famous crab fries, chicken cutlets, fried mozzarella, roast beef and roast pork sandwiches plus take advantage of drink specials. Stick around for the live post game podcast with the Inside the Birds team of Geoff Mosher & Adam Caplan.
Watch the game with Special Guest, Eagles alumnus offensive lineman, TODD HERREMANS, plus get photos and autographs.
Win prizes, including $150 gift cards from Rosnov Jewelers in Jenkintown and Mayfair Businesses.
Admission and food just $25! Space is limited reserve your spot today!