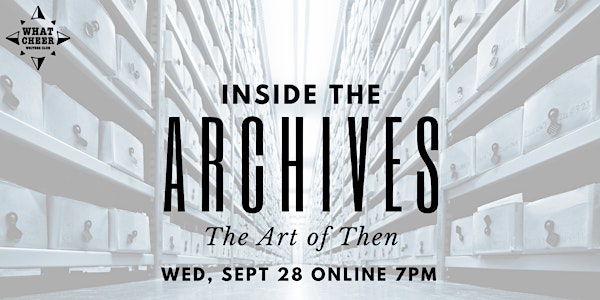 Inside the Archives: The Art of Then
Learn how to access Rhode Island archives for stories of solidarity & sources of inspiration for your creative projects.
Refund Policy
Contact the organizer to request a refund.
Eventbrite's fee is nonrefundable.
About this event
How can stories from the past inspire today's activist storytelling? Join What Cheer Writers Club for Inside the Archives: The Art of Then online Wed, Sept 28 at 7pm to learn how to access sources of inspiration in Rhode Island's collections. Archivists from Rhode Island Black Heritage Society, Rhode Island Historical Society, Rhode Island State Archives, Tomaquag Museum, and Wanderground Lesbian Archives/Library will showcase artifacts from our state's activist movements and offer insight into their collections, including how local writers can access materials to support, inspire and substantiate their creative projects.
The Panelists
Anthony M. Belz has been the Tomaquag Museum's Archivist since January 2017, while adding the title of Collections Manager in January 2018. He has an Associate in Arts from Heartland Community College (2002); Bachelor of Science degree in Anthropology from Illinois State University (2004) and a Master's degree in Library and Information Studies from the University of Rhode Island (2012). Before becoming an archivist, he spent working as an archaeologist and has a total of over 14.5 years experience in the museum field. His research interests include: archaeology and history, folklore, oral history, ethnomusicology, writing, research and preservation science.
Since the early 1980s, Mev Miller has developed an extensive library of Lesbian/feminist publications – nearly 3,000 volumes and counting. She had been an active participant in the Women in Print Movement as a bookseller, editor, writer, reviewer, promoter, and more. She's currently the Lesbrarian /Instigator creating Wanderground - a community-based Lesbian Archive/Library in Rhode Island for the New England region.
Richard Ring is Deputy Executive Director for Collections and Interpretation at the Rhode Island Historical Society. Originally from Columbus, Ohio, he majored in English at The Ohio State University and worked in an array of bookshops for several years. He holds an MLS from Indiana University, specializing in rare books librarianship, and his former professional positions were at the John Carter Brown Library, the Providence Public Library, and the Watkinson Library at Trinity College in Hartford, Connecticut.
Ashley Selima (CA) serves as State Archivist & Public Records Administrator for Rhode Island. Ashley holds a Master's Degree in Library and Information Science, and a Master's Degree in Public Administration. As a native Rhode Islander, Ashley is passionate about connecting others to local history, cooking, and her chickens.
Theresa Guzmán Stokes is President of the 1696 Heritage Group and Executive Director of the Rhode Island Black Heritage Society. Ms. Stokes has a professional background that includes magazine editor and published writer focusing on ethnic American history. In addition to her nonfiction, she often uses her research to inspire her fiction writing. Ms. Stokes has participated in and supervised dozens of historic preservation, genealogical and cultural resource investigations throughout New England and Virginia, with an expertise in African American, Latin American, and Jewish history and genealogy. She also has years of experience designing and creating websites and social media promotions tailored to historical, genealogical, and creative (Arts, Literature & Music) presentations.
Accessibility
What Cheer Writers Club is actively committed to cultivating a community that values and reflects diversity, equity and inclusivity and to providing programming that is accessible to all attendees. Please let us know about any accommodations we can make to allow you to participate fully in this event.
This event was made possible through a grant funded by the National Writing Project as part of the National Endowment for the Humanities' American Rescue Plan: Humanities Grantmaking program.