Description
Join us for our September webinar -
Inside Look: The Mystery of IT Compliance
"Compliancy" - a word that used to bring images of large corporations and mountains of documentation. Most small businesses didn't think it applied to them. Independent financial advisors have been living with FINRA regulations for a long time. The health care industry has been completely transformed and in a large part because of the HIPAA regulations. Today, every small business has some level of compliancy requirements. Does your company accept credit cards? PCI compliance affects any business taking credit cards (which is pretty much everyone).
But, what does it all mean? As a small business, can I afford to meet these regulations? Can I afford not to? What are the risks to non-compliancy? We will give you an inside look by breaking down all of the technical jargon and explain what you really need to do to protect your business and be compliant.
And even if compliancy requirements aren't affecting your business directly, what about your clients? Are they asking you to take extra measures to secure their data and ensure their compliancy requirements are met by you, their partner? Sure, you can decide not to do it, but will that cost you the business?
This webinar is for business owners, CEOs, CIOs, CTOs, IT managers, and legal.
Webinar presenters include Cheryl Nelan, Owner and President of CMIT Solutions of Monroe and Evan Stein, Owner of CMIT Solutions of Wall Street and Grand Central.

Register above for viewing details (Limited availability).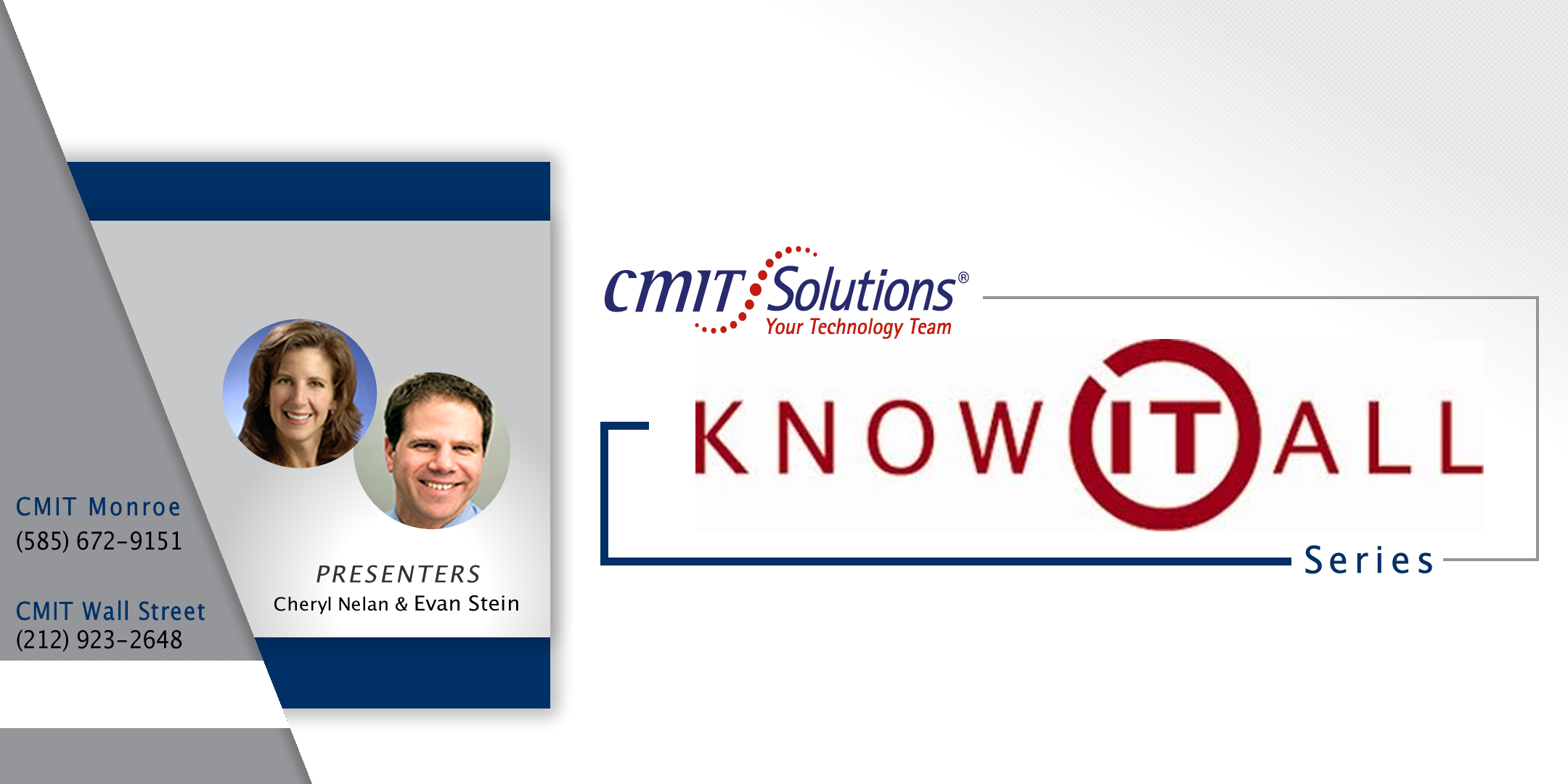 We believe your focus should always be on growing your business. And, as expert outsourced IT consultants, our goal is helping you maintain your focus. We would like to share our extensive knowledge of practical technical solutions designed to cut your downtime in half, keep your users productive, and protect your data. That's why we've created the CMIT Know IT All Series. This event series is a combination of specially designed webinars and seminars that offer you technical advice with practical solutions. We will equip you with the resources that get real results and drive a higher return on your technical investments. The mission of each event is to educate you on how to develop your technology to protect and grow your business.