Description
TO RSVP FOR INSIDE JEWISH INDIA:SAN FRANCISCO
PLEASE GO TO
www.insidejewishindiasf.eventbrite.com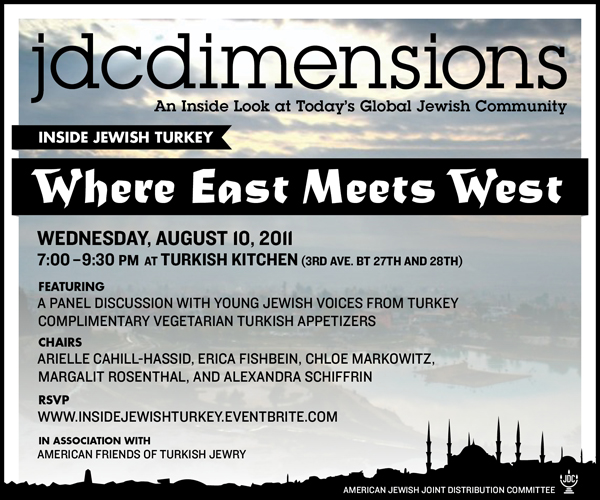 JDC Dimensions presents…
Inside Jewish Turkey: Where East Meets West
Wednesday, August 10, 2011 7:00 – 9:30 PM
Turkish Kitchen (386 Third Ave.)
Featuring:
Young voices from the Jewish community of Turkey
Complimentary Vegetarian Turkish appetizers + wine
Chairs:
Ariel Cahill-Hassid, Erica Fishbein, Chloe Markowitz, Margalit Rosenthal, and Alexandra Schiffrin
In association with:
American Friends of Turkish Jewry
Organizer of Inside Jewish Turkey: Where East Meets West
JDC Entwine is building a generation of young Jews who lead and live a life of action with global Jewish responsibility at its core. We offer transformative global service & travel experiences, innovative educational programs, and tailored leadership development opportunities through which young adults explore, find meaning, and take action. Learn more at jdcentwine.org.