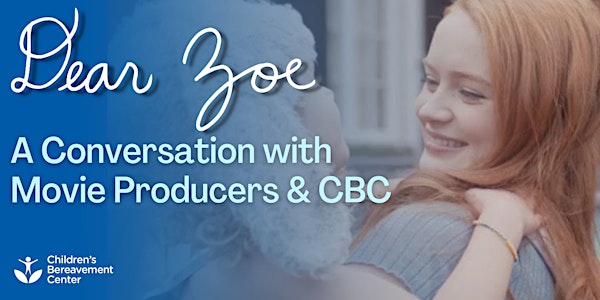 Inside Dear Zoe: A Conversation with CBC & Movie Producers
Meet the Screenwriters and Movie Producers of Dear Zoe during this live online event as we talk about Dear Zoe the movie.
About this event
Join CBC for a Conversation with the Movie Producers of Dear Zoe, a film that focuses on love, loss, grief and resilience.
Thursday, November 17th
7:00 - 8:00pm
Live on Zoom
Watch the Movie First: Beginning November 4th, Dear Zoe will be available to watch on multiple On-Demand platforms - https://www.dearzoemovie.com/howtowatchdearzoe
Meet the Producers / Screenwriters as we have a conversation with them on Zoom
On Give Miami Day, November 17th, CBC also shines light on Children's Grief Awareness Day, leading up to our annual Steps for Healing 5K Remembrance Run/Walk www.stepsforhealing.org.
Learn more about the movie and check out the trailer: https://www.dearzoemovie.com/trailer
~
ABOUT DEAR ZOEDear Zoe is a powerful coming-of-age story of love, loss, grief, and resilience and follows Tess (Sadie Sink), her mother Elly (Jessica Capshaw), stepfather David (Justin Bartha), and little sister Emily (Vivien Lyra Blair) in the aftermath of the unimaginable loss of Tess's other little sister, Zoe (Mckenzie Noel Rusiewicz).
Struggling with a sea of emotions, Tess embarks on a journey where she finds support from surprising sources: her biological father Nick (Theo Rossi) a lovable slacker from the wrong side of the tracks, and the charming juvenile delinquent next door, Jimmy (Kweku Collins). Nick and Jimmy provide Tess the time and space she needs to breathe, live life, have new adventures, and ultimately to be in a better place to deal with the loss of little Zoe.
Adapted from Philip Beard's award-winning novel, Dear Zoe, with a screenplay by Pittsburgh native, Marc Lhormer and Pittsburgher, Melissa Martin (A Wedding for Bella), the feature film is directed by Gren Wells (The Road Within, A Little Bit of Heaven, Life Happens) and is produced by Zin Haze Productions' Brenda Lhormer and Marc Lhormer (Bottle Shock). The movie was shot entirely in Pittsburgh, PA in the Fall of 2019.