Multiple Dates
#INSEADAI – Artificial Intelligence & Machine Learning Festival
Description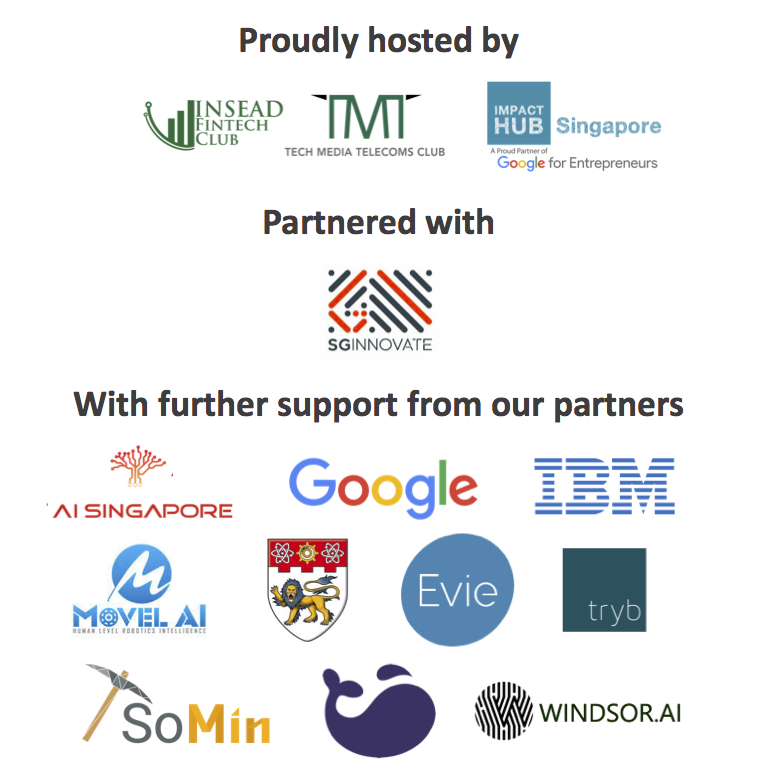 INSEAD and Impact Hub Singapore partnered with SGInnovate are proud to host a three-day event focused on two key areas in today's world – Artificial Intelligence & Machine Learning.
Artificial Intelligence and Machine Learning (AI & ML) have a wide range of applications that are already changing the way companies design their products and do business. According to Elon Musk in 2017, he said: "Whoever becomes the leader in this sphere will become the ruler of the world."
Although the event will not focus on world domination, we would like to invite you to join us and to hear from the experts about the fairly enigmatic space of AI & ML, the trends in today's world, the companies that utilize AI & ML, and see real-life applications of AI & ML.
Day 1 (4 December 2017); Venue: INSEAD
6.00pm to 6.30pm – Registration & Refreshments
6.30pm to 6.45pm – Opening remarks
6.45pm to 7.05pm – Demystifying AI: How Do We Train Machines?
Professor Phil Parker, Chaired Professor of Management Science, INSEAD
7.05pm to 7.35pm – AI & ML @ Google
Samuele Saini, Head of Strategy & Insights, Google Singapore
7.35pm to 8.00pm – Recent Trends in AI & Applications Across Industries
Sushil Anand, ASEAN Cognitive Lead, IBM
8.00pm to 8.15pm – Break
8.15pm to 8.40pm – State of AI in Singapore
Laurence Liew, Director, AI Industry Innovation @ AI Singapore
8.40pm to 9.15pm – Panel Discussion: The Next Big Thing in AI?
Assistant Professor Pham Quang Cuong, Nanyang Technological University
Sushil Anand, ASEAN Cognitive Lead, IBM
Jason Strimpel, Head of Platforms, tryb Group
Laurence Liew, Director, AI Industry Innovation @ AI Singapore
Day 2 (5 December 2017); Venue: Impact Hub (128 Prinsep Street, #01-01, Singapore 188655)

6.00pm to 8.00pm – Fireside chat: startups in AI field discuss their business models and are getting challenged by a leading VC
Moderator:

Gabriel Lundberg, Operating Partner, SeedPlus
Panelists:
Saleswhale - AI-driven automated lead qualification for sales and marketing-driven organisations. Investors include Gree Ventures, Monk's Hill Ventures, Wavemaker Partners
Somin.AI - the Big Data Analytics Platform that aims to bridge the gap between Social Media Users, Business, and the Big Data
Windsor.AI - A platform, optimizing marketing ROI with integrating data and using advanced attribution modelling for better insights
Evie.AI - The company behind evie, the artificially intelligent assistant for the 99%
Day 3 (6 December 2017); Venue: SGInnovate (32 Carpenter St, Singapore 059911)

6.00pm to 9.00pm – "See it to believe it" : Workshop-based demonstration of how AI and ML are used in real-life, followed by a networking event and drinks.
*Please bring your own laptops for a hands on session*
Movel AI - A deep technology startup building next generation robot navigation solutions, based on advanced computer vision and sensor fusion. We enable robots to run everywhere.
IBM workshop led by Abhishek Kaul, Cognitive Studio Leader
In this tutorial, you will be building a Telegram-based Watson Conversation Agent using IBM Bluemix to greet users and act as a language translator.
You will learn more about the following tools/technologies incrementally:
- Node-RED on IBM Bluemix
- Watson Conversation Service
- Watson Language Translator Service
Organizer of #INSEADAI – Artificial Intelligence & Machine Learning Festival
LONGHASH Singapore
LONGHASH's mission is to accelerate the development and understanding of blockchain technology. Our reach: We currently have offices in Tokyo, Singapore and Hong Kong. Our goal is to eventually be in 10 major cities around the world Our network: Online and offline including incubators and an independent media and data analysis platform. 
Blockchain Zoo
Blockchain Zoo is an association of proven Blockchain experts and technology professionals ready to take on new projects. These Blockchain Zoo Associates are organized through a novel reputation-scoring and task-delegation system. This system is itself powered by a Blockchain, allowing project requirements, deliverables and compensation to flow between experts across the globe with unparalleled flexibility, transparency and security.
Website: www.bcz.ooo
Fenbushi Capital 
Founded in 2015, Fenbushi Capital is the first China-based venture capital firm that exclusively invests in Blockchain-enabled companies. Our mission is to accelerate the inevitable future of Blockchain economy by supporting as many companies as possible.We strongly believe Blockchain technology will play an important role bringing much more transparency, efficiency, and robustness into the global economy. With our experienced partners in both traditional finance and the blockchain technology and many startup companies, we hope to bring this vision into fruition.
Website: fenbushi.vc 
INSEAD
As one of the world's leading and largest graduate business schools, INSEAD offers participants a truly global educational experience. With campuses in Europe (France), Asia (Singapore) and Middle East (Abu Dhabi), and alliances with top institutions, INSEAD's business education and research spans around the globe. Our 145 renowned faculty members from 40 countries inspire more than 1,400 students in our degree and PhD programmes. In addition, more than 11,000 executives participate in INSEAD's executive education programmes each year.
INSEAD's innovative programmes are internationally recognised. Of particular note, the Financial Times has ranked INSEAD as the #1 MBA programme in the world for two years in a row (2016 & 2017).
Website: https://www.insead.edu
thebridge
thebridge brings together an inspiring workplace community through the intermingling of knowledge workers across Asia. An innovative ecosystem where inspiring minds co-work on new ideas and find new ways to shape the future.
This is a nexus of partnerships between different industries based in our science and business parks across Asia connected via seamless technology platform helping them grow, nurture and facilitate performance in a flexible co-work environment.
Website: https://thebridge-asb.com/