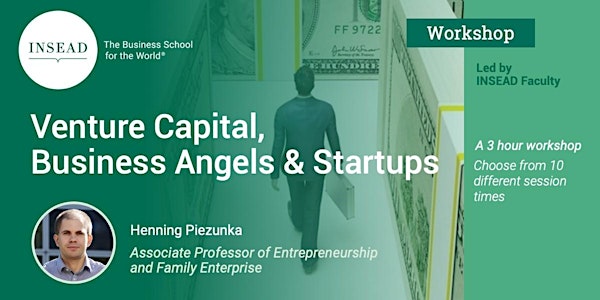 Multiple dates
INSEAD Workshop: Venture Capital, Business Angels, and Starts Ups
INSEAD Workshop: Venture Capital, Business Angels & Start Ups
Date and time
July 25, 2020 · 2am - October 4 · 9am PDT
About this event
In the workshop we look at Venture Capital, Business Angels and Startups. If you are (or want to be) an venture capitalist or a business angel, you learn how to identify high-performing start-ups and how to help them to become successful. If you work (or want to work) in a startup, you learn how to get offers from venture capitalists, how to choose among these, and how to ensure you get the most out of the relationship with your investor.
The workshop is free to attend.
The workshop is for people who are active or interested in the domain of venture capital, business angels, and startups.
The workshop is offered multiple times. You should only sign up for one using the 'Select A Date' link above.
About Professor Henning Piezunka
Henning Piezunka is a Professor at INSEAD and Visiting Professor at Wharton. He is a successful entrepreneur, a prize-winning teacher, and a highly accomplished scholar.
Before joining academia, Henning successfully founded and managed a web design company with 25 full-time employees, serving customers in over 80 countries before delivering an exit via sale to a strategic investor in 2015.
Henning's webinar on Venture Capital has been attended by over 25,000 participants. He was awarded the "Best Teacher Award" at INSEAD for four years in a row.
His research focuses on collaboration, competition, and crowdsourcing. His work has been published in leading scientific journals, including the Proceedings of the National Academy of Sciences, Academy of Management Journal, Administrative Science Quarterly, Strategic Management Journal, and Organization Science.Henning holds a Ph.D. from Stanford University, a Master's from the London School of Economics, and a Diploma from Universität Mannheim.
Discover more about Professor Henning Piezunka's research and teachings by visiting his personal website or his INSEAD faculty profile.