About this Event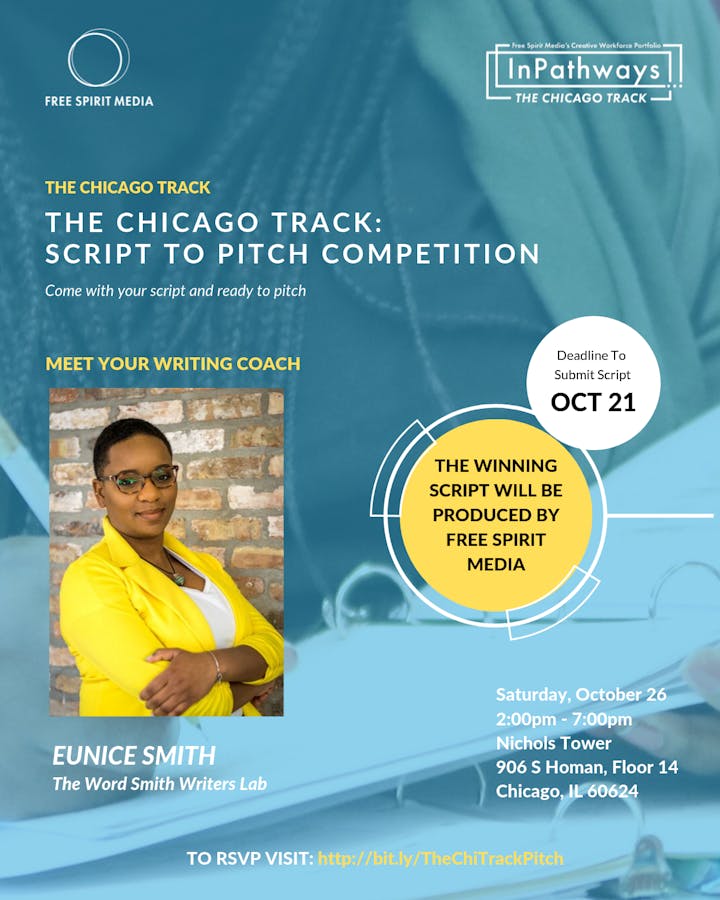 The Chicago Track: Script to Pitch Competition will connect inspiring screenwriters with industry professionals who will help them develop their script.
During this two-part workshop, participants will learn storytelling concepts from Eunice Smith, founder of The Word Smith Writers Lab. Part one will be a 60 minute hands on workshop that will cover script development, creating a log line, and how to pitch.
In part two, participants will pitch their scripts to a panel of judges during a 90 second public pitch competition. Following the pitch, two winners will be chosen.
First place will have their script produced by Free Spirit Media during our 2020 cohort. Second place will get a one-on-one consultation with an industry professional.
REQUIREMENTS:
Must be 18 years old or older
The script must be for a short film and between 10 to 12 pages
In order to participate in the pitch component, you must submit your script to pathways@freespiritmedia.org by Monday, October 21st
ABOUT THE CHICAGO TRACK:
The Chicago Track is a series of industry workshops and master classes for emerging creatives seeking opportunities in film, media and television.
ABOUT INDUSTRY PATHWAYS:
Free Spirit Media Industry Pathways program supports emerging filmmakers by providing access to opportunities, resources and professionals who can help them further their professional and creative goals. Are you 18-25? Join Industry Pathways! Click here.
The Chicago Track is powered by Free Spirit Media's Industry Pathways. To learn more visit freespiritmedia.org/inpathways