Description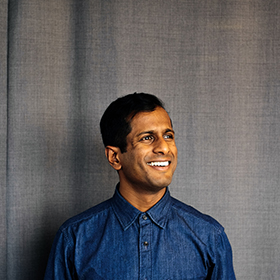 Do you have a great business idea? Beyond hard work, passion and perseverance, what does it take to get a business started? Joshin Raghubar, 2016 Yale Greenberg World Fellow and African media, marketing, and technology entrepreneur, will discuss practical steps for turning your idea into a business. He will share startup stories and practical tips from several of his ventures.
Josh is the founder of iKineo, a Pan-African customer engagement agency; Sprout, South Africa's leading digital media performance firm; and Explore Sideways, a leading online purveyor of wine tourism experiences. Joshin serves as the chairperson of the Bandwidth Barn, Africa's largest non-profit incubator and accelerator for technology businesses; non-executive director of the Cape Innovation & Technology Initiative (CITi), the public/private sector agency tasked with development of the region as a technology and innovation cluster; and non-executive director of Enke, a non-profit organization that works to empower youth to develop social innovations in their communities.
*Special note: All attendees who attend at least 6 YEI workshops are eligible for YEI Membership. Details here!