Innovative Selling Solutions: Insights to Crush Your Competition
Description
To effectively increase your business register for our micro-learning webinars. Each webinar will be 30-45 minutes and laser focus on a single topic.
Learning shouldn't be a one-time event. Instead, it should be an innovative, transformative, and adaptive process that creates a unique and personalized experience. We know you are time-poor but want insights that can accelerate your business skills and results so our team has created Micro-Learning Webinars that focuses on ways to magnify your chances of winning in a competitive world.
THIS MICRO-LEARNING WEBINAR WILL DELIVER THE KNOWLEDGE YOU NEED, IN A FORMAT YOU WANT!
In less than one hour we will examine the true advantages and emotion that your product or services have to offer and motivate people to buy it.

Here's our promise.
We won't waste time talking about something you can download and review outside of the webinar.

We understand that you are intelligent. We will never

talk down to you or add insincere dialogue.

We will always provide a question or two for your consideration so that our content can address it.

We will keep all content within 30-45 minutes and then open up to questions.

We will always record the session and offer a video link only to those that have registered.
Our first Shift Happens!® Micro-learning Business Asset (MBA) offers tested, useful tools, tips, and resources to increase your ability to control the outcome of a sales presentation.
---
IT'S NOT WHAT YOU PUT INTO YOUR PRESENTATION OR SALES EFFORTS...
IT'S WHAT THEY GET OUT OF IT THAT LEADS THEM TO SAY YES.
---
Anyone that wants to persuade others should attend this insightful and resourceful presentation that will take you from 'let me think about it' to 'where do I sign?'.
Discover some powerful concepts that are quite effective when properly implemented. Just one of these triggers could change the way you sell your products or services.
Before the webinar....

Ask yourself DO YOU COMMAND ATTENTION AND ACHIEVE MASSIVE SUCCESS?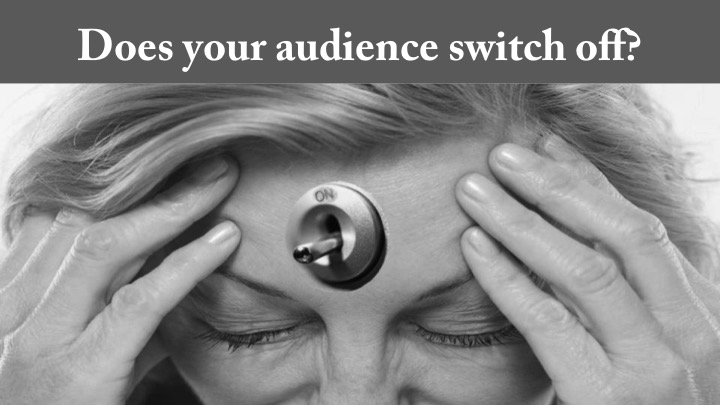 Learning outcomes
Create ways to simplify complex ideas.

Create an engaging Communication style.

Become more Confident in asking for the sale.

Learn how to control the mind of your Prospect.

Discover how small commitments can lead to large sales.
This is one of a series of Shift Happens!® MBAs that can change the way to present your ideas and made more useful in the selling process.
If you want...
an almost unfair advantage over your competition then join us.

to learn trigger points for purchasing then join us.

to discover the essentials of how to think, not what to think then join us.
Normally $97 Investment The first hundred that sign up, we will waive the fees. Your cost -$0-
==================================================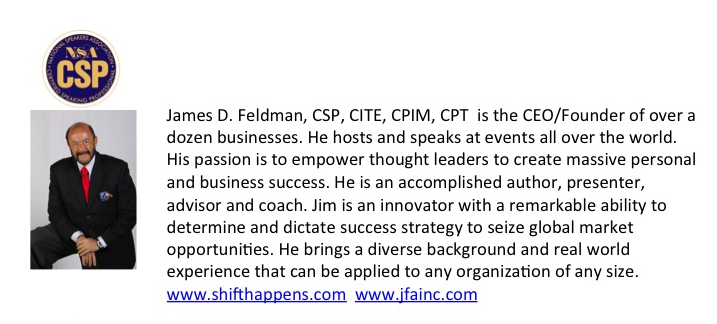 ©2017 James Feldman Associates, Inc. All Rights Reserved.
FAQs
Are there any technical requirements?
Yes, you must download a free copy of zoom.us to your tablet, phone, desktop, or laptop. You will also need speakers or headphones.
Where can I contact the organizer with any questions?
312 527-9111 jfeldman@shifthappens.com
Can I update my registration information?
Yes
Will this be recorded?
YES but only available to those that have registered for the webinar.