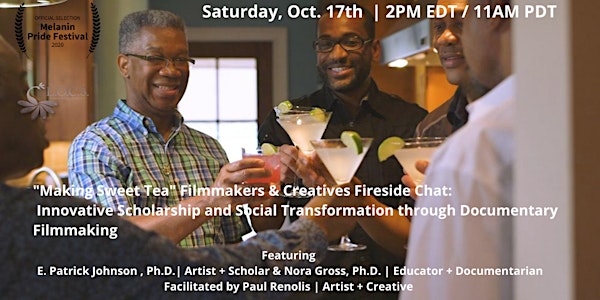 Innovative Scholarship + Social Transformation through Documentary Films
A conversation with artist, author and scholar, E. Patrick Johnson, Ph.D. and Documentarian and Educator, Nora Gross, Ph.D.
By The Lesbians of Color Symposium (LOCS) Collective, Inc
Date and time
Saturday, October 17, 2020 · 11am - 12pm PDT
About this event
"Making Sweet Tea" Filmmaker & Creative Fireside Chat: Innovative Scholarship and Social Transformation through Documentary Filmmaking
An engaging, in-depth conversation with the creators and crew of the film Making Sweet Tea - a feature length documentary about the lives and loves of southern gay black men. We will explore the need for visual storytelling about the LGBTQ+ BIPOC experience and the importance of reinventing scholarship to support this work through documentary filmmaking.
Featuring:
E. Patrick Johnson, Ph.D. , Artist and Scholar; Johnson is Dean of the School of Communication and Annenberg University Professor of Performance Studies and African American Studies at Northwestern University and a 2020 inductee into the American Academy of Arts and Sciences.
Nora Gross, Ph.D. , Documentarian, Scholar and Educator; Core Fellow / Visiting Assistant Professor of Sociology at Boston College where she teaches courses in the University Core Curriculum related to race, gender, violence, and social inequality. Her research focuses primarily on under-explored sources of educational inequality, particularly at the intersection of adolescent students' racial identities, gender identities, academic identities, emotionality, and future orientation. As a documentary filmmaker, Dr. Gross is committed to using visual and participatory methods as part of my scholarly research practice.
The conversation will be facilitated by Paul Renolis, a black queer artist and creative from San Francisco. He is a professional actor, choreographer/dancer, and is a drag queen performer in the local Bay Area queer nightlife and entertainment scene. Having been a professional educator for nearly a decade, Paul is dedicated to creating art and entertainment that tells a story, is socially conscious, and illustrates self-love.
"Making Sweet Tea" Boston Premiere is available October 9th 12AM through October 18th 10PM via Melanin Pride Festival Xerb.tv channel.
About the Film: Making Sweet Tea, the film, combines footage from the productions of the play with documentary moments from the lives of both Johnson's interview subjects from the book ("Sweet Tea – Black Gay Men of the South, An Oral History") and the author's own life, depicting both his research process and the complexities of his relationships with the men in the study. The film engages questions about how we represent portions of other people's life stories and how those stories impact researchers, audiences and, more importantly, the people whose stories are represented. It also engages questions about what it means to blur the boundaries between art and science, scholarship and activism, and what is gained or lost by such boundary blurring. Sweet Tea attempts to place these interconnected themes and questions in critical and creative conversation, while also providing a space for the interview subjects to play an active role in how their stories are told and shared.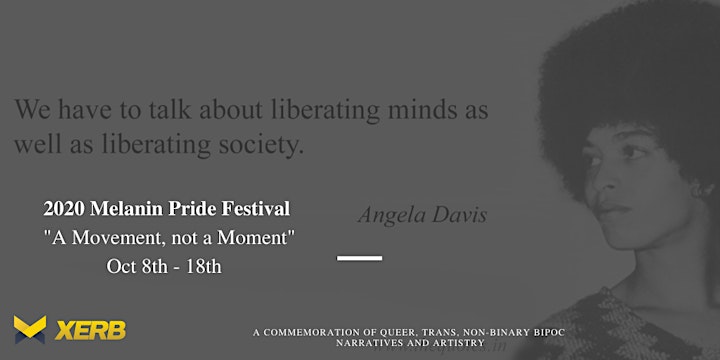 About the organizer
Established in 2012, The Lesbians of Color Symposium (LOCS)  Collective is an nonprofit grassroots organization dedicated to building community and cultivating resources for LBTQ+ women and non-binary people of color and our allies.  In addition, we host an annual symposium to foster social innovation and ignite community organizing to effect systemic change.