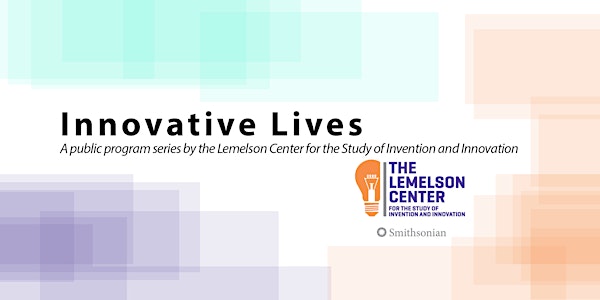 Innovative Lives 2022
The 2022 program series features inventors and entrepreneurs from the Washington, D.C. region.
About this event
In 2022, Innovative Lives programs will focus on the Washington, DC region as a place of invention. Famous for lawmaking, lobbying, taxation, and regulation, the nation's capital is usually seen as the antithesis of innovative. Yet, as the telegraph, the binder clip, and Go-Go music document, areas ranging from communications to office management to music have all benefitted from inventive residents of the national capital region. Join us as we meet today's inventors who are shaping the future.
MAY 11: Martine Rothblatt
Join us for the final 2022 program featuring Dr. Martine Rothblatt, Founder, Chairperson, and CEO of United Therapeutics based in Silver Spring, MD. United Therapeutics is the first publicly traded biotech or pharmaceutical company to take the form of a public benefit corporation. Their purpose is "to provide a brighter future for patients through (a) the development of novel pharmaceutical therapies; and (b) technologies that expand the availability of transplantable organs." Not only is Dr. Rothblatt a co‑inventor on eight of the company's patents, she also previously created the satellite radio company SiriusXM. Join moderator Dr. Arthur Daemmrich, Director of the Lemelson Center, as he talks with Rothblatt about her innovative life and career.
Past events in this series:
FEBRUARY 9: Nathaniel Mathis
The 2022 series kicks off with Nathaniel "The Bush Doctor" Mathis, an inventor, barber-stylist, and winner of international hairstyling competitions. Maryland-based Mathis popularized Afros and Cornrows, hairstyles that are synonymous with Black identity and empowerment. He also patented several useful tools for barbers, including a specialized apron and utility shelf. This lively discussion during Black History Month will be moderated by Fath Davis Ruffins, National Museum of American History (NMAH) Curator in the Division of Cultural and Community Life who specializes in African American history.
MARCH 9: Kavita Shukla
Join us during Women's History Month to meet Kavita Shukla, Founder and CEO of The Freshglow Co. and the inventor of FreshPaper, a simple innovation taking on the massive global challenge of food waste. She holds four patents and is the youngest woman to receive the biennial INDEX Design to Improve Life Award–the world's largest prize for design. Her story of simple beginnings, belief, and empowerment was the subject of a short film by Hollywood director Bryce Dallas Howard. Lemelson Center Associate Director Monica Smith will interview Shukla about her inspirations and innovations.
APRIL 13: Warren Shadd
Meet Warren Shadd, the first African American piano manufacturer, who is an inventor and CEO of Washington, DC-based SHADD Pianos and Keyboards. Shadd is a second-generation piano technician and third generation musician, who has performed and toured worldwide as a jazz drummer. Recently, Warren has been developing augmentations for the SHADD piano to assist individuals with neurodevelopmental disabilities including those on the autistic spectrum, deaf/hard of hearing, and blind/hard of seeing. This engaging discussion with Shadd will be moderated by Dr. Krystal Klingenberg, NMAH Curator in the Division of Cultural and Community Life who specializes in music.