Innovative Energy and Climate Solutions for the Built Environment 2021
The International Symposium on Innovative Energy and Climate Solutions for the Built Environment 2021 (InBuilt 2021) on 13-14 November 2021
About this event
Online International Symposium
13-14 November 2021
Bangkok, Thailand
Hosted by Faculty of Architecture, Silpakorn University. Supported by The Reinventing University System, Ministry of Higher Education, Science, Research and Innovation.
Climate change is unequivocal. The 2020 global surface temperature was 1.2 °C warmer than pre-industrial levels. 2020 was one of the warmest years on record. In fact, the last seven years have been the warmest seven years. (NOAA, 2021)
Climate change is a significant global issue. To reduce climate change, actions from every sector are required. The building sector has great potential to increase its use of clean energy, to use energy more efficiently and thus reduce its contribution to greenhouse gas emissions for climate change mitigation. The building sector also plays an important role in promoting the resilience to climate change of people, buildings and cities. The International Symposium on Innovative Energy and Climate Solutions in the Built Environment will be a platform to exchange innovative ideas and technologies for buildings and cities to reduce negative impacts on the environment and climate. The symposium is organised by Silpakorn University with sponsorship from the Ministry of Higher Education, Science, Research and Innovation.
International symposium on innovation for energy and climate solutions in the built environment will be held from the 13th to the 14th of November 2021 in Bangkok and hosted by Silpakorn University. Silpakorn University is one of Thailand's prominent universities in architectural education and research. The symposium will be a two-day, online event. Presentations will be in English with a Thai translation service and in Thai.
Objectives
The objective of this symposium is to bring together international and local experts working in the areas relevant to the built environment. It aims to provide an international platform for the exchange of ideas, experiences and knowledge between scientists, researchers and practitioners in the building sector, focusing on recent innovations and solutions for energy and climate change. The symposium will emphasize the efficient use of energy and other resources, reduction of greenhouse gas emissions in the scale of buildings and cities to mitigate the effects of climate change. Also it will address concerns about energy, environment and climate and promote ideas to help people, communities and the building industry to adapt to the consequences of climate change.
Scope of the symposium
Efficient use of energy and other resources in the built environment
Use of clean energy in the built environment
Sustainable materials, technologies and constructions
Reduction of greenhouse gas emission in buildings and construction
Low-carbon planning and mitigation of the urban heat island
Low-carbon infrastructure
Sustainable environment
Resilient design and planning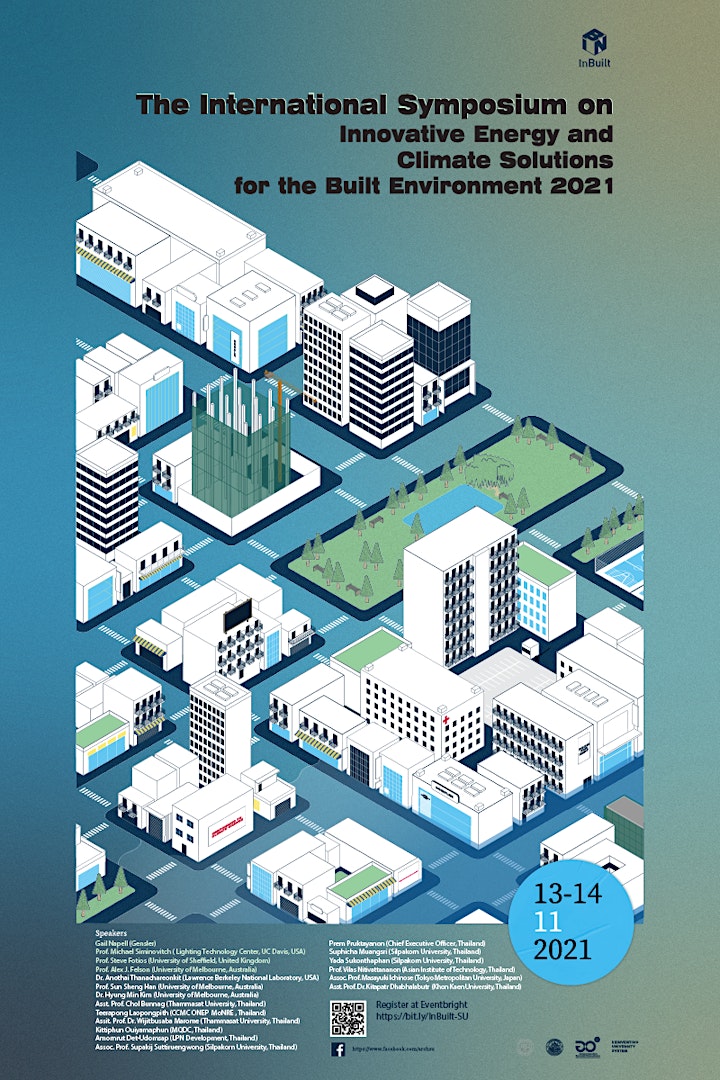 Speakers
Prof. Michael Siminovitch (California Lighting Technology Center, UC Davis, USA)
Prof. Steve Fotios (University of Sheffield, United Kingdom)
Prof. Alexander J. Felson ((University of Melbourne, Australia)
Prof. Sun Sheng Han (University of Melbourne, Australia)
Prof. Vilas Nitivattananon (Asian Institute of Technology, Thailand)
Dr. Anothai Thanachareonkit (Lawrence Berkeley National Laboratory, USA)
Dr. Hyungmin Kim (University of Melbourne, Australia)
Assoc. Prof. Masayuki Ichinose (Tokyo Metropolitan University, Japan)
Assoc. Prof. Supakit Suttiruengwong (Silpakorn University, Thailand)
Gail Napell (Gensler, USA)
Teerapong Laopongpith (Office of Natural Resources and Environmental Policy and Planning, Thailand)
Prem Pruktayanong (Green2Get, Facebook Page ลุงซาเล้งกับขยะที่หายไป, Thailand)
Kittiphun Ouiyamaphun (MQDC, Thailand)
Amornrut Det-Udomsap (LPN Development, Thailand)
Asst.Prof.Wijitbusaba Marome (Thammasat University, Thailand)
Asst. Prof. Dr. Kitapatr Dhabhalabutr (Khon Kaen University, Thailand)
Prof. Chol Bunnag (Thammasat University, Thailand)
Supicha Muangsri (Silpakorn University, Thailand)
Yada Sukonthaphan (Silpakorn University, Thailand)
For more information, please contact Dr. Tharinee Ramasoot,
Faculty of Architecture, Silpakorn University, Na Pralan Road, Bangkok 10200, Thailand
Email: ramasoot_t@silpakorn.edu
Facebook: www.facebook.com/archsu
Register at: bit.ly/InBuilt-SU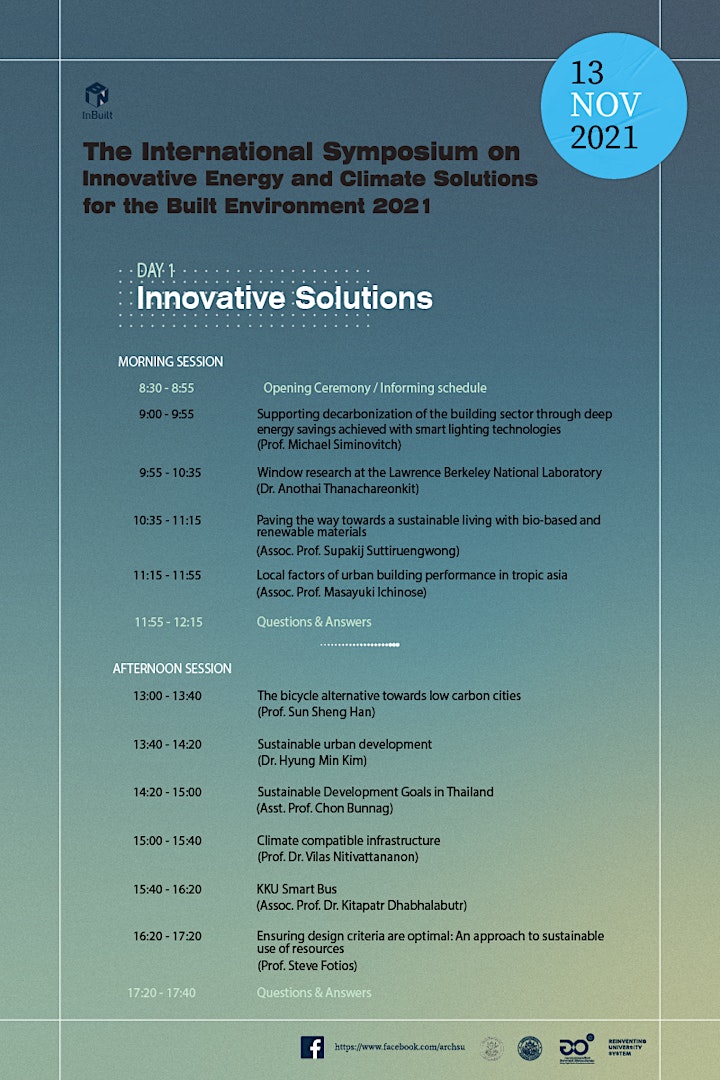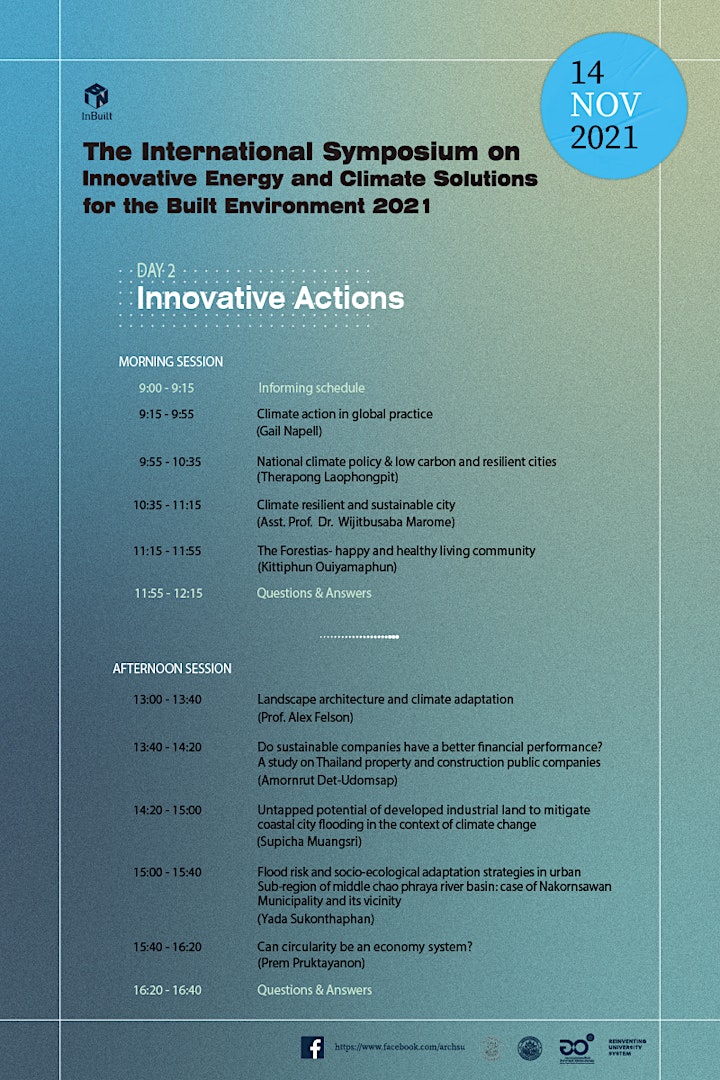 Organizer of Innovative Energy and Climate Solutions for the Built Environment 2021