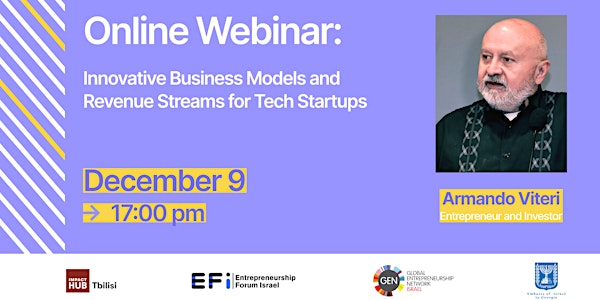 Innovative Business Models and Revenue Streams for Tech Startups
Innovative Business Models and Revenue Streams for Tech Startups (17:00 - Israel time)
About this event
Regardless of how good your product, service, or app is, it's only useful when you can get it into the hands of your target customers.
But once you've got a finalized offering, selling it should be easy, right? Not really.
Reaching your target economic buyer and then offering your product or service in a way most attractive to them is all important. There are a number of factors that need to be taken into account when you set out to bring your product to market, like the industry you're in, whether you're selling a web-based product or physical hardware, the channels you use to attract your customers, etc.
Speaker: Armando Viteri - Entrepreneur and Investor, CEO of Neubloc, Partner in the Investment Body Ameritege Technology Partners.
Mr. Viteri has been involved with AI since his university days at MIT, in the early formation of Sun Microsystems, Symbolics and Thinking Machines. Today he is a founder of a well recognized AI consultancy whose companies include various Global 500 companies.
Mr. Viteri is also active in the seed stage investment community and heads up Keiretsu Forum's AI Special Interest Group based in Silicon Valley, which is the most active seed stage technology investment group, having 55 chapters worldwide. He has investments in a number of companies who utilize AI techniques in their product.
Mr. Viteri has a solid track record as CEO of different startups to get investments during their early stage. He had been involved in two startups that became two companies that went public - one as a founding principal.
Mr. Viteri earned a B.S. in Electrical Engineering from the Massachusetts Institute of Technology.
Link to the webinar: shorturl.at/mqEQX
Passcode: 744273