Innovations of Sustainable Communities
Description
Event Description
Innovation of Sustainable Communities is a unique symposium organized by students who are passionate about sustainability. Anyone who shares the same passion with them, is welcome to attend! The symposium will open with a keynote speaker, followed by two panel discussions: "Campus-Driven Innovation" and "Sustainable Innovation in Industry." The symposium also features a student research poster session in the afternoon, the three best posters receiving awards. The event is sponsored by the New Jersey Higher Education Partnership for Sustainability (www.NJHEPS.org), an organization that promotes sustainability on college campuses, and the NJHEPS Student Leaders. Stevens Institute of Technology has been a member of NJHEPS for many years. The Symposium will be hosted at Stevens Institute of Technology in Hoboken, N.J. with support from departments and students across the institution.
Graduate and undergraduate students are welcome to submit their abstract proposals by Monday, March 21, 2016. Submissions can be made at Student Sustainability Symposium Poster Submission.
If you are a student is registering for a poster submission, we kindly ask you to register as a "Poster Presenter".
If you are a Speaker/ Panelist, we kindly ask you to register as a "Speaker/ Panelist."
There is no fee to attend this symposium, but registration is required. REGISTER NOW by clicking the upper right green button that says "Register".
*Make sure you bring your own reusable water bottle*
_____________________________________________________________________________________________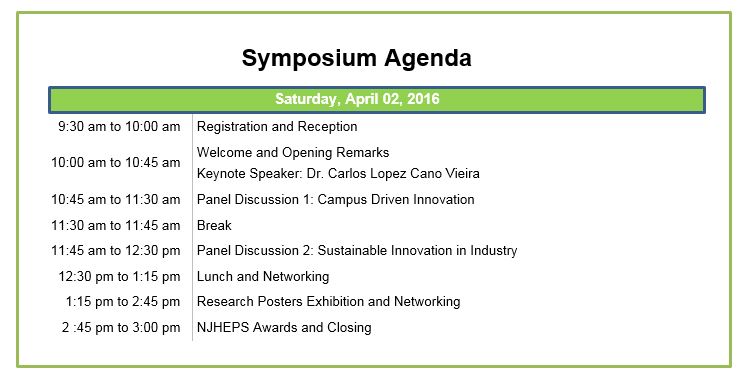 _____________________________________________________________________________________________


Keynote Speaker
Dr. Carlos Lopez Cano Vieira, who is of Peruvian origin, a professor at the Universidad de Algarve in Portugal and of the International Program of the Global Village at Lehigh University in Pennsylvania, will participate as the Keynote speaker in Students Sustainability Symposium, which will be attended by students and professionals around the N.J and N.Y. área.
The last 5 years he has been traveling and offering conferences and seminars related to business strategy in Europe, U.S.A., and Latin America. He has gained a lot of experience by getting exposed to different cultures and people. His vision of strategy has changed from year to year. He would like to share all his ideas and feelings with his audience all over the world. Finally, one of his specialties is to understand and motivate the soul of team work groups.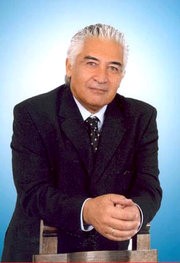 _____________________________________________________________________________________________
Campus Driven Innovation Panelists
Name: Matt Polsky
Title: Adjunct Professor at Montclair State University, NJIT, and FDU
Short Bio: Matt Polsky is an Adjunct Professor at Montclair State University, NJIT, and FDU. He's a long time sustainability change-agent, named August, 2014 "Sustainability Hero of the Month" by Sustainable Jersey. He writes a column pushing the bounds of sustainable business for Sustainable Brands. Matt has a BA in psychology from Rutgers College, and an MBA in economics and MA in Humanities & Social Thought from NYU.
Name: Elizabeth Fassman-Beck, Ph.D
Title: Assistant Professor, Civil, Environmental, and Ocean Engineering, Stevens Institute of Technology
Short Bio: Dr. Elizabeth Fassman-Beck is a civil engineer who specializes in urban stormwater management using green infrastructure. She has lead award-winning research on living (green) roofs, co-authored the technical reference Living Roofs in Integrated Urban Water Systems, and created technical specifications for regulatory agencies in Auckland (NZ), North Carolina and New Jersey.
Name: Matthew McNicholas
Title: Sustainability Science Undergraduate
Short Bio: Matt McNicholas is a Senior in his final semester of the Sustainability Science major at Montclair State University. He is also an active member of the Environmental Club on campus. As part of this organization, he has spearheaded the waste-to-compost program. His combined pursuit in sustainability and earth systems science has peaked his interest in applying soil science to composting as well as hydrology to green infrastructure.
Name: Amy R. Tuininga, PhD
Title: Director, PSEG Institute for Sustainability Studies, Montclair State University
Short Bio: Amy R. Tuininga, PhD, is the Director of Montclair State University's PSEG Institute for Sustainability Studies. She grows partnerships among academics, government agencies, corporations, and community groups to solve sustainability problems and build resilient communities. Dr. Tuininga earned her BS from the University of Washington, MS from Oregon State University, and PhD from Rutgers.
Name: Ashwani Vasisthth
Title: Associate Professor of Sustainability Planning, PhD
Short Bio: Ashwani Vasishth is Associate Professor in Sustainability Planning and Director of the Center for Sustainability at Ramapo College of New Jersey. He is currently engaged with urban ecology projects from within a social-ecological-systems perspective, and is involved with the post-Rio+20 Sustainable Development Goals planning process at the United Nations. His pedagogy is focused on Education for Sustainability from within an interdisciplinary framework.
Sustainable Innovation in Industry Panelists
Name: Jason Kliwinski, AIA, LEED™ Fellow®
Title: LEED Fellow, CEO/Founder Green Building Center
Short Bio: Jason is a highly recognized and accredited professional in the field of Sustainable Design. As a practicing Architect, he has been greatly involved in the restoration, preservation, and adaptive reuse/renovation of existing facilities as well as the creation of new environmentally responsible buildings for over fifteen years. In 2012 Jason was named a LEED Fellow by the US Green Building Council, one less than 200 in the country, which is the highest professional accreditation through peer review of an applicant's work.
Name: Jenna Agins
Title: Energy & Sustainability Specialist, NYU Langone Medical Center
Short Bio: Jenna Agins, MBA, MS, LEED GA, is the Energy & Sustainability Specialist for NYU Langone Medical Center where she oversees the health system's sustainability program. She provides leadership for the integration of sustainability into the organization's culture, goals, operations, architectural design and policies across a portfolio of locations spanning more than six million square feet and 25,000 employees. Over her career and graduate studies, she has helped several leading hospitals and universities find ways to align sustainability strategies with their overarching mission, vision and values. Jenna earned her MBA and Master of Science from the University of Michigan and a BA from Washington University in St. Louis.
Name: Zak Accuardi
Title: Research Analyst at Transit Center
Short Bio: Zak's background in urban sustainability policy and engineering gives him a diverse toolkit that he applies to his research at TransitCenter, a foundation committed to improving urban mobility. Zak has consulted on cities and climate change with The World Bank, modeled climate change mitigation potential for Project Drawdown, and reduced energy use in buildings with Gotham 360, an NYC-based energy consultancy. He has a BS in earth and environmental engineering from Columbia University, and a MS in technology and policy from MIT.
Name: Clarke Snell
Title: Assistant Professor of Product Architecture Engineering
Short Bio: Clarke Snell has a background in low-tech, high performance building systems with interest and experience in applying original research to the design and construction of low-impact residential scale buildings and homesteads. He has written two books and numerous articles on alternatives to currently standard construction methodologies. He holds a Master of Architecture from the University of North Carolina Charlotte and is currently on the faculty of the Product Architecture Engineering program at Stevens Institute of Technology. Clarke's pastimes are flying kites and working to drastically reduce the worldwide carbon footprint of human industry.
Name: Sonia Mantzouridou Onasi
Title: Sustainability Student Organizer
Short Bio: Sonia Mantzouridou-Onasi is a Graduate student at Stevens in Mechanical Engineering and a Co-founder of the New Generation Sustainable World (NGSW) team. She had a couple of internships during her undergraduate studies at Stevens, including an Energy Consulting company, Gotham 360, and the one of the largest combined electric and gas companies in the United States, PSE&G. Her interest in sustaining a healthy mind and body is what lead her into Yoga and the urge to show people how to build a Sustainable World.
_____________________________________________________________________________________________
Please find Information regarding your Transportation to campus here: http://www.campustravel.com/university/stevens/index.html