Event Information
Refund Policy
Refunds up to 7 days before event
Description
September 17th, 6:00 PM - Evening Reception
Start the party early! Come on out and meet your section leaders, presenters, and exhibitors and get to know the AWHONN NY membership at an evening networking reception on September 17th at 6:00 pm – 8:00 pm, in the hotel, room TBA. Light refreshments will be served along side a cash bar. RSVP when you register.
September 18th
Breakfast at 7:30 AM, conference begins at 8:00 AM. Lunch will be served.
LONG ACTING REVERSIBLE CONTRACEPTION (LARC): AN OPPORTUNITY FOR CONTRACEPTIVE SUCCESS SUSAN PECK
MINIMIZING PERINATAL RISK FOR MOTHER, FETUS AND YOU! CYNDY KRENING
HUMAN MILK FOR NEW YORK BABIES JULIE BOUCHET HOROWITZ
MATERNAL MENTAL HEALTH IN NEW YORK & BEYOND MARY LYNN BRASSIL
BURN BRIGHTLY WITHOUT BURNING OUT** KIM RICHARDS
WHEN MY SKIN BARRIER IS BROKEN: UPDATES IN NEWBORN SKIN CARE CATHERINE HILL
AWHONN STAFFING: ONE HOSPITAL'S STORY AMY IMOSSI, JOY PAVSIC
**Bring a an item or photo that represents self-care to you!
STOP BY THE POSTER SESSION AND EXHIBITION HALL DURING BREAKS FOR ADDITIONAL CNE AND RAFFLE TICKETS!
*Official agenda to follow.
7.50 Contact Hours will be awarded.
Nyack Hospital is an approved provider of continuing education by the Northeast Multi-State Division,an accredited approver of continuing Nursing education by the American Nurses Credentialing Center's Commission on Accreditation.
Maine, New Hampshire, New York, Rhode Island, Vermont Nurses' Associations are members of the Northeast Multi-State Division of the American Nurses Association.
Approved Provider #NY08-09/2017-01
For information about contact hours, contact Rosemarie Sullivan at sullivanr@nyackhospital.org
Westchester Marriott Hotel:
A block of rooms is reserved for AWHONN NY attendees at the discounted rate of $169 - $179 depending on room type. Reserve here by August 27th for the discounted rate, or call and let the hotel know you are attending the conference.
Phone: (914) 631-2200
GIVING BACK TO OUR COMMUNITY
Did you know that….?

That is 5.3 million babies who do not have enough clean diapers!
Join AWHONN NY as we partner with the National Diaper Bank Association and Huggies to provide diapers and wipes to New York families. Each pack of diapers or wipes you donate at the conference will qualify you for extra raffle tickets for our grand prize!
...AND HUGGIES WILL MATCH US DIAPER FOR DIAPER ON ALL DONATIONS!!!
Do you prefer to support AWHONN's Healthy Mom&Baby Campaign to Wipe Out Diaper Need by donating dollars for diapers? One dollar buys 6 diapers at wholesale cost. You can contribute here.
Do you prefer to use Amazon to donate diapers directly to a local diaper bank? You can donate here.
Bring your receipts to conference registration for raffle tickets and matching.

SHARE YOUR KNOWLEDGE
We want to learn from your good work! Please submit an abstract, description, or PDF of your poster to Aviva.kleinman@nyumc.org. Projects and case studies are welcome. Posters will be displayed in the exhibition hall and will contribute toward earned contact hours.
Below: NY members presenting a poster at Convention in New Orleans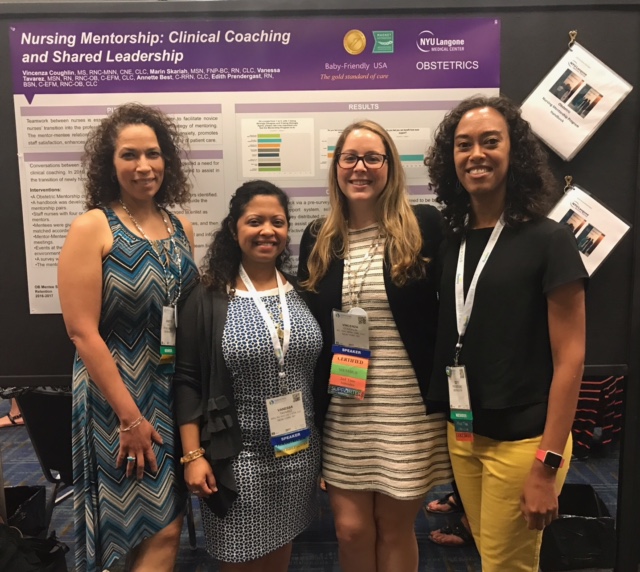 Date and Time
Location
Refund Policy
Refunds up to 7 days before event