Description
Are you an after-school program director looking for new, innovative programs? Are you running or thinking of launching your After School Program or Summer Camp? Then this event is for you. Join us for a soiré of networking and learning from some of Silicon Valley's top After School Vendors, and gain insights on how to optimize your program for the Silicon Valley Schools.

Want your after-school program or start up featured at our event? Email support@chefkoochooloo.com with some information about your program!
Diverse Silicon Valley After School and Summer Camp providers are excited to announce the first ever Silicon Valley symposium focused on developing creative After School and Enrichment programs.

Sweet and savory crepes and sangria provided by Chef Koochooloo!


This event is intended to be a convening of After School coordinators and Providers. This gathering focuses on the innovation that occurs every day in expanded learning sites across Silicon Valley. Topics to be covered may include Continuous Quality Improvement (CQI), effective site leadership, inspiring, recruiting and supporting line staff, school and district partnerships, marketing and innovative practices related to the Quality Standards for Expanded Learning in Silicon Valley; as well as cutting edge topics such as Summer Learning, Social-Emotional Learning (SEL), and Science, Technology, Engineering and Math (STEM). Multiple levels of leadership are encouraged to attend and participate in a leadership track focused on effective strategies to support the success of Site Coordinators, K-12 and expanded learning partnerships, partnerships supporting SEL, family engagement, and alternative funding sources.

WHO WILL PRESENT?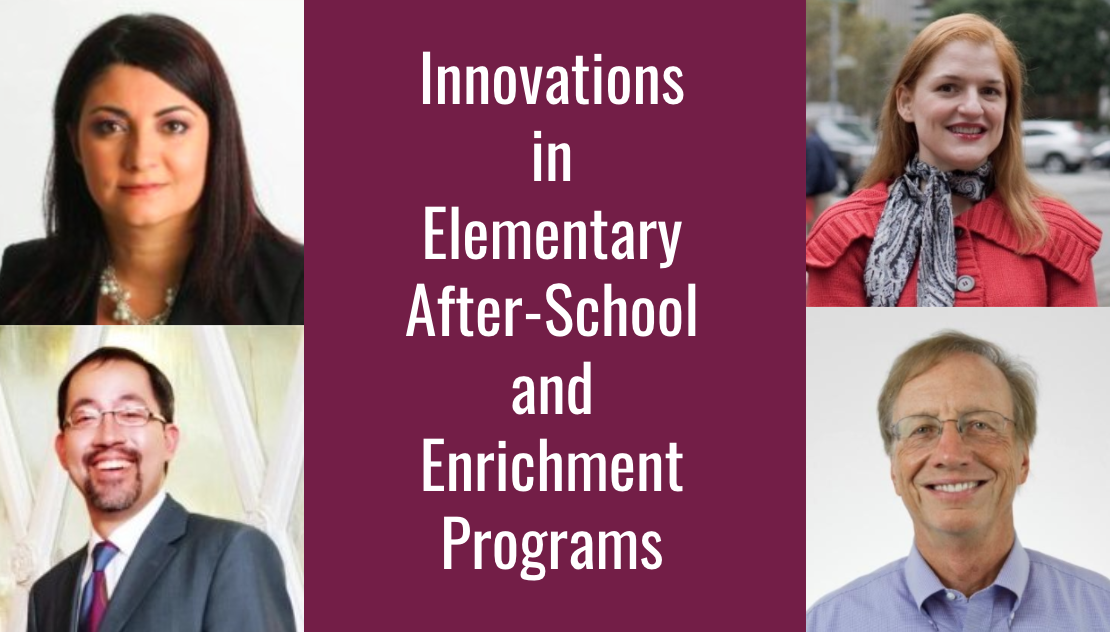 Clockwise from left-Moderator: Layla Sabourian. Speakers: Gabrielle Durana, Jim Connor, and Avery Lu.

Jim Connor:

A member of the Sand Hill Angels, CEO of First Focus Learning Systems and Producer/Host of the talk show Game Changers Silicon Valley ( http://www.GameChangers.TV ). He serves as a board member on Liftopia, Tabtor, KMVT Silicon Valley Media, the Angel Capital Association and Startup Learning,

First Focus Learning Systems provides curriculum and course content to schools, After-School programs, tutors, and parents. The First Focus Reading Program is a phonics based method to establish and develop a complete set of reading skills for K-4 students and is utilized in addressing a wide range of issues in teaching reading.

Jim has been involved as an investor and advisor to emerging technology companies since 2007, currently serves as President of First Focus Learning Systems and is the Producer and Host of Game Changers Silicon Valley, a weekly technology interview about innovation.

Avery Lu:

Avery Lu, is Co-founder & CMO at Palo Alto Scientific, Inc., a sports science analytics and wearable tech company whose disruptive profileMyRun™ smartphone app + shoeSensor™ system enables runners to improve their running technique in real time, leveraging the company's patented forceSense™ & machine-learned app technologies.

Mr. Lu serves as an advisor & mentor to early stage IoT & wearable technology startups, and has organized large industry symposiums, keynoted at various conferences, and been quoted in market research reports on IoT & Wearables.

Gabrielle Durana:

Gabrielle Durana is the founder, president, and executive director of Education Francaise Bay Area/French Education Bay Area (EFBA). This program is a new model of affordable part-time school to make bilingual education accessible for families who can't afford tuition at international school. Her program has been granted accreditation by the Western Association of Schools and Colleges (WASC) as a part time school. In total, they serve over 1000 families from the San Francisco Bay Area. Their goal is to create more opportunities for students to develop bi-literacy, prepare for International Baccalaureate (IB) or the French AP, and become well-rounded citizens.
Layla Sabourian:
Layla Sabourian is the founder and CEO of Chef Koochooloo, an after-school, interdisciplinary cooking program that teaches students about science, math, and social science through exploring the cuisines of cultures around the world. For three years, Chef Koochooloo has taken over 2,000 children on international culinary journeys, supported by an app that includes hundreds of easy to follow recipes and educational materials. In addition to her work with Chef Koochooloo, Layla is a seasoned international entrepreneur with a background in product management, partner marketing, digital media and community development. She has worked for leading tech and media consumer brands in US and global markets, including SAP, where she worked in Global Product Marketing.

All levels of leadership will share best practices in maximizing the impact of expanded learning programs in all settings, including: district, community-based, and summer learning programs.

WHO SHOULD ATTEND?

Site Coordinators, Program Directors, Grant Managers, Technical Assistance Providers, District and County Office of Education staff, Community Based Organization leaders, and all stakeholders committed to helping young people flourish in expanded learning programs.

Pricing: $10 for Advanced tickets $20 at the door.