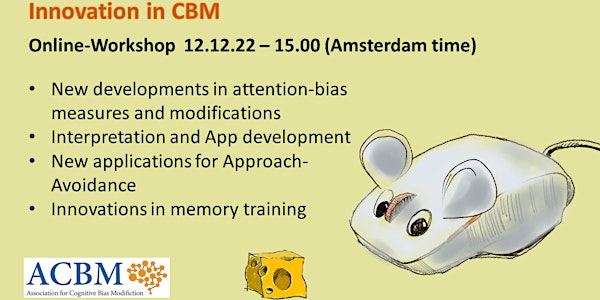 Innovations in Cognitive Bias Modification
This workshop will explore new developments in the field of cognitive bias modification
About this event
Cognitive biases – voluntary and involuntary preferences/styles of information processing – are implicated in the development of many mental health disorders. There is consequently an interest in these biases as potential treatment targets. In this workshop we present exciting innovations in the field of cognitive bias modification research.
The workshop will involve four expert-teams. Each team will first give a short plenary talk about innovations in their area. This will be followed by each team leading a "show and tell" or "tutorial" in breakout rooms e.g. demonstrations of programs, apps etc., tutorials on how to construct tasks. The workshop will end with brief wrap up session.
This event is free to attend for members of the Association for Cognitive Bias Modification. Non-members are welcome to join the association here to also attend for free, or alternatively can register for the event for a fee of $25.
Workshop Teams
Attentional Bias
Presenter: Dr Ben Grafton, University of Western Australia
"Two probes, two videos… endless possibilities: Methodological advances in the assessment of attentional bias"
In recent years, several investigators have raised concerns about the low psychometric reliability of conventional attentional bias assessment tasks, such as the attentional probe task. In this workshop, I will describe the development of a new 'dual probe' attentional assessment approach, which consistently demonstrates high psychometric reliability, and can sensitively detect anxiety-linked attentional bias to negative information. As will be discussed, the dual probe approach readily permits the presentation of video content. I will highlight how the use of stimuli has the capacity to greatly enrich the attentional bias field, by enabling testing more precise hypotheses concerning the attentional basis of elevated anxiety vulnerability, and indeed other dimensions of individual difference (e.g. depression, chronic pain, substance misuse, maladaptive food consumption). I will provide recommendations concerning how to implement the dual probe approach, and how to create video stimuli for presentation when using this approach.
Three things attendees will learn:
The evidence-base supporting the dual probe approach
How best to implement the dual probe approach (and what to avoid)
How to create dual videos to capitalise on the capacity to the dual probe approach to investigate novel hypotheses concerning the attentional basis of different dimensions of individual difference.
Approach Avoidance
Presenters: Mike Rinck, Radboud University Nijmegen; Jens Blechert, Universität Salzburg
Mike Rinck will first give an overview of existing tasks that are used to measure and to modify approach-avoidance tendencies. Applications, advantages and disadvantages of different tasks will be described very briefly. In the breakout room, Jens Blechert will first report on recent experiences with different tasks, explaining them in more detail and showing them live and in videos. Mike and Jens will then be available to answer questions participants may have, for instance around these topics: For which stimuli, topics, emotions, and disorders should you study approach-avoidance tendencies? Which tasks are most reliable? Which are more suitable for assessment versus for modification, which can be used in online research? Should you use direct or indirect instructions? And of course any other question that may arise! Participants can join the breakout room at any time while it is open.
Things attendees will learn:
Are approach-avoidance tendencies relevant for my research?
Which approach-avoidance tasks are there?
Which task should I chose for my particular goal?
Interpretation
Presenter: Simon Blackwell, Ruhr-Universität Bochum
"Imagery-based cognitive bias modification for interpretation"
Imagery-based CBM for interpretation (imagery CBM-I) refers to variants of CBM-I that have been adapted to have a particular focus on the generation of mental imagery as a central active ingredient of the training. Clinical applications of imagery CBM-I have predominantly been in the context of depression, but more recently there have also been successful applications in the context of anhedonia and generalized anxiety. The talk will introduce CBM-I paradigms and briefly review the current state of research, highlighting promising developments and future directions. The workshop will provide a demonstration of the training, including desktop and internet-based applications, using publicly-available versions that researchers can freely re-use and modify. Practical aspects of applying the training will be discussed, including development of training scenarios, different modes of delivery (e.g. including face-to-face contact vs. fully automated), and methods for enhancing participant engagement in, and adherence to, imagery CBM-I interventions.
Three things attendees will learn:
What imagery CBM-I paradigms are and the most promising recent developments
Practical aspects of assembling an imagery CBM-I intervention (from training scenarios to training schedules)
How to enhance participant engagement in imagery CBM-I interventions
Memory
Presenters: Professor Ernst Koster, Ghent University; Dr. Janna Vrijsen, Radboud University Medical Centre
"From CBM to digital mental health: growth opportunities for CBM?"
Experimental psychopathology researchers are amazing in creating strong and creative CBM paradigms. After a decade of defining and developing CBM, the field is moving more and more towards implementation. This includes different stages of treatment (augmentation) and prevention, with an ultimate aim to impact upon mental health in people's daily life. How do and can our CBM innovations reach the status of e/mMentalHealth tools? How do we yield the strongest impact on (vulnerable) individuals' lives? In this workshop we will present frameworks that can help us reach implementation and provide examples of CBM as digital mental health tools. Possible roadblocks and opportunities will be discussed with the attendees.
Three things attendees will learn:
Different models for working towards implementation of CBM in clinical care and prevention.
The importance of user engagement, co-creation, and co-production with IT partners.
Understanding key barriers and opportunities within the iterative process of developing e-mental health interventions
Host organisation
The Association for Cognitive Bias Modification (ACBM) aims to refine assessments of cognitive biases associated with dysfunctional psychological processes, optimise training procedures to modify cognitive biases, and leverage the understanding of these mechanisms to maximise their therapeutic benefits. The ACBM is committed to improving CBM research and application in a manner that reflects scientific rigour, clinical integrity, and dissemination of evidence-based assessment and therapeutics.
You can follow the ACBM on twitter (@CbmAssociation). For more information about the ACBM, contact details, and to join the association please visit our website.