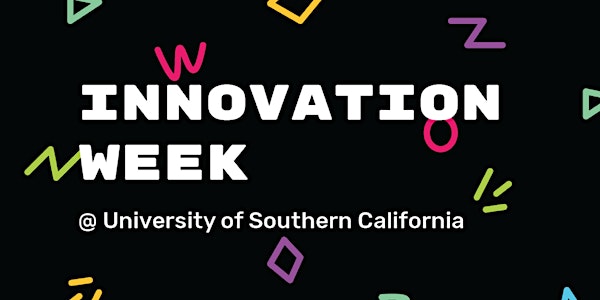 Innovation Week @ USC
When and where
Location
University of Southern California FRI 11/3, 8PM: TCC Ballroom, Lower Level Ballroom Los Angeles, CA 90089
Description
USC's inaugural student-entrepreneur collaboration project.

Innovation Week @ USC aims to facilitate discussions and solutions regarding 3 Grand Challenges in innovation: Human Health, Blockchain and Sustainability.
In association with Blackstone Launchpad at USC, Innovation Week aims to host the strongest voices in these respective industries through both industry experts and student researchers in order to discuss and educate those in attendance.

Trojan students, alumni and the general LA public can attend to network and meet our speakers...
Human Health Night
Monday, October 30th - 7:00-8:30pm, JFF LL 105
Undergraduate Student Speakers
Blockchain Night (TCC 450, The Forum at 4th Floor Ronald Tutor Campus Center)


Wednesday, November 1st - 7:00-8:30pm, TCC450 (The Forum)
Greg Gilman, Co-Founder of Science, Inc. for Blockchain
Nick Vyas, Executive Director and Co-founder of USC Marshall's Center for Global Supply Chain Management
Jack Finio, Founder of Fund3 Blockchain
Professor James Healey,

USC Blockchain Professor, USC Marshall MBA Program
Undergraduate Student Speakers
Brian Anglin, Co-Creator of Toothpick, Student Speaker
Miles Albert, Co-Founder of Hashgraph, Student Speaker
Sustainability Night (JFF LL 105, Fertitta Hall Lower Level, 8:00pm)
Thursday, November 2nd - 8:00-9:30pm, JFF LL 105
Gunnar Lovelace, Founder of Thrive Market
Professor Adlai Wertman, USC Brittingham Social Enterprise Lab
Shea Rouda, Founder of Drops
Michelle Wolzinger, Founder of Radiant Roots
Undergraduate Student Speakers
Maddi Eckert, Co-Founder of Nom Noms, Student Speaker
Kevin Kassel, CEO at Aqus, LLC, Student Speaker
Impact Night (TCC Ballroom, Lower Level Ronald Tutor Campus Center)
Friday, November 3rd - 8:00pm-10:00pm, TCC Ballroom
Your chance to share projects in a social setting, connect with students and experts, and form collaborations stemming from Innovation Week events.
Robin Farmanfarmaian, Angel Investor + VP at Invicta Medical, Author of The Patient as CEO, Keynote Speaker
Amanda Daflos, LA Mayor's Director of Innovation
Albert Lawrence, Correspondent, CBS Innovation Nation
Robbie Cabral, Founder of Benjilock
Brian Shepard, Associate Dean for Academic Affairs at the USC Iovine & Young Academy, Moderator
And many more...


Transportation + Ticketing + Info
Want 20% Off your Lyft to the event? Register here or use the code in the Lyft app "INNOVATIONWEEK17"
Lyft must be called to 610 Childs Way (USC Fertitta Hall)
Alums, Faculty, General Admission: Purchase of 1 ticket allows access to all week-long events.
Students: must register for each night attended, tickets (free)
Attire: casual
For more information: http://www.innovationweekusc.com/ 

For all inquiries, email innovationweekusc@gmail.com.