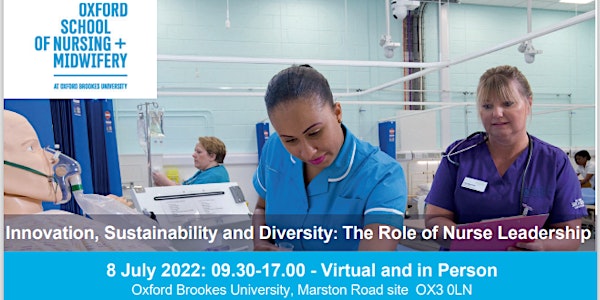 Innovation, sustainability and diversity: The role of nurse leadership
Location
Faculty of Health and Life Sciences - Oxford Brookes University
Lecture Theatre
Jack Straw's Lane
Marston
OX3 0FL
United Kingdom
Refund policy
Refunds up to 7 days before event
Eventbrite's fee is nonrefundable.
Join Phi Mu Chapter (Sigma Nursing) in our annual conference discussing nurses' role in innovation, sustainability and promoting diversity
About this event
This conference will be held in person (Marston Road Campus, Oxford Brookes University) and online. Please join online via the zoom link which will be provided once you registered.
PROGRAMME
09.00-9.40 REFRESHMENTS AND REGISTRATION
09.50-10.00 Welcome note
10.00-10.40 Innovations in Healthcare - Megan Morys-Carter (Director @ The Hill, Founder of OxLaunch, Supporting entrepreneurs)
10.40-11.20 Resilience and sustainability in the Nursing workforce: message from the Cov-ed Nurse project - Prof Mary Malone (Vice Dean Education and Professor of Nursing in Faculty of Nursing, Midwifery & Palliative Care)
11.20-11.40 REFRESHMENTS AND CAKE
11.40 - 13.10 Parallel presentations - join our speakers for parallel presentations (some of the speakers and their topics are listed below)
Ria Betteridge (Nurse Consultant, Tissue Viability and Doctoral Student) - A nursing journey in wound care
Emma Leveridge (Nursing student, 3rd year) - Barriers and facilitators to nurses attendance at ward and board rounds: a quality improvement project
Emma Pascale Blakey (Chief sustainability Officer Clinical Fellow) - Nurses' role in tackling climate change, improving health and help the NHS reach net zero ambitions
James Brown (Director of Engagement, Involvement & Communications at Gloucestershire Hospitals NHS Foundation Trust)- Voice or Choice? How is Public Involvement used to influence decision-making within NHS?
Paula Shepherd (University Practice Learning Advisor @ Bournemouth University) - Speaking out, a professional skill
Dr Sharon Holland introducing student nurses: Lindsay Silsby - Ventilation in the Clinical Environment; Jade Miller - Inclusivity; Gabrielle Fisher - Deskilling and under-utilising foreign nurses)
Claire Dosdale (Senior Lecturer in Adult Nursing @ Northumbria University) - Experiences of Rape Disclosures in Nursing Practice: A Descriptive Phenomenological Study
Claire Leader (Senior Lecturer in Adult Nursing @ Northumbria University) - How do nursing and midwifery managers influence the wellbeing of NHS nurses and midwives?
13.15 - 14.00 LUNCH
14.00 - 14.45 Live interview by Dr Ruth Oshikanlu MBE with Dr Charmagne Barnes on inclusion and diversity
14.45 - 15.30 The Role of Nurse Leadership in Supporting Healthy People and Healthy Places. Professor Viv Bennett (Chief Public Health Nurse, Head of World Health Organisation Collaborating Centre for Public Health Nursing and Midwifery, Office for Health Improvement and Disparities, Department of Health and Social Care)
15.30 - 16:00 2021 Phi Mu Chapter award winners presentations; Michele Croston and Yasna Palmeiro-Silva; Announcement of 2022 award winners; Session Chaired By Dr Janet Scammell
16.00 -16.30 Induction of new members
16.45 - 17.45 Afternoon Tea with the Chapter
COVID PRECAUTIONS:
We are taking every precaution to adhere to Covid-19 safety advice in order to keep us all safe:
- hand gel sanitiser will be available at registration desk and around the venue
- windows will be kept opened
- please DO NOT ATTEND if you, or anyone you live with has tested positive or has the following symptoms: cough, fever, loss of taste or smell
VENUE:
Main Lecture Theatre
Oxford Brookes University - Marston Lane Campus, Jack Straw Lane, Marston, Oxford, OX3 OFL
Due to the limited parking options in Oxford, we strongly suggest travelling by public transport.
For more details, visit:
https://www.brookes.ac.uk/about-brookes/contacts-maps-and-campuses/headington-campus/ (follow the instructions for Marston Road!!!)
CONTACT DETAILS (for more info contact the organiser on)
Raluca Oaten: 07592490400
ralucaoaten@gmail.com