Innovation Support Network (ISN Hubs), Nigeria's largest community of Innovation Hubs
About this event
Innovation Support Network (ISN Hubs), Nigeria's largest community of innovation, technology, and entrepreneurship hubs is focused on creating linkages with corporates, development partners, academia, and government to catalyze Nigeria's innovation ecosystem.
As part of the annual calendar of activities, this year's Annual Gathering is themed "Beyond Incubation - Hubs as Collaborators in Solving Societal Challenges," and seeks to stimulate conversations among stakeholders including Hub owners and managers, startups, investors, development partners, Corporates, policymakers, and advocates across the innovation ecosystem around mapping and executing strategies for developing visionary innovations in Nigeria.
The Annual Gathering would host panel sessions to explore innovation as a national strategy, the role of the innovation ecosystem in driving inclusive and sustainable development as well as the part the government needs to play to ensure that we achieve sustainable socio-economic transformation in the near future.
Other conversations at the event will include the state of the Nigerian innovation ecosystem, the challenges faced as a community seeking to innovate sustainably, and the way forward.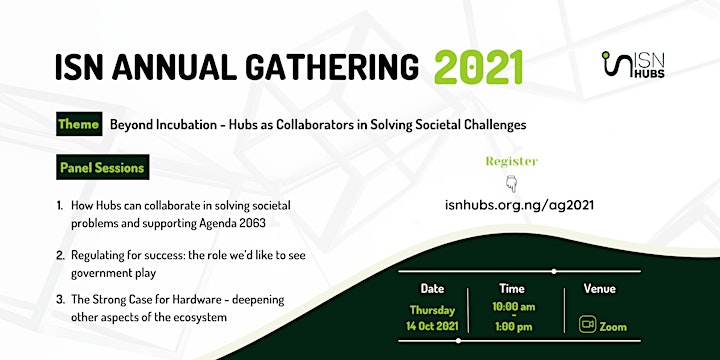 Organizer of Innovation Support Network - Annual Gathering 2021