Description
Where innovation meets opportunity!
It is time for KCKCC's Innovation Showcase! The Showcase Expo will begin at 4pm. Come see the latest in innovations and services; talk with the entrepreneurs; consider purchases and investing! Vote on your cell phone for your pick!
Investors and representatives from venture capitaist firms will be present and active!
Get your ticket now!
Entrepreneurs will pitch their "why didn't I think of that" idea in front of venture capitalists, investors, manufacturers, other entrepreneurs, business leaders, and the community.
To signup to pitch to the investors, CLICK HERE
Email or call with any questions you have: 913-288-7571 or jenglish@kckcc.edu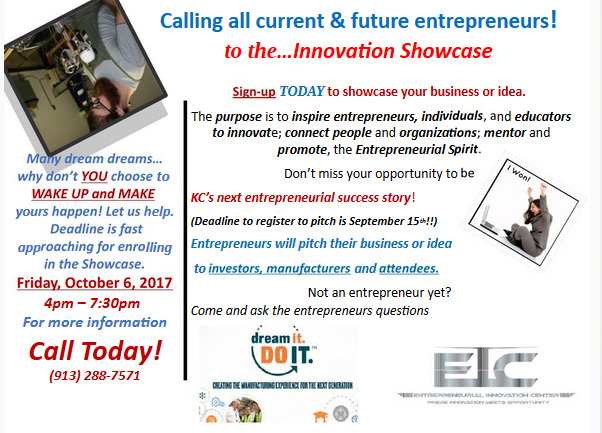 This event will connect, engage, and grow innovators and entrepreneurs.
To pitch your idea at the event, contact us for the special registration link. You must complete your registration to pitch by September 15, 2017 to be in the competition. Make sure friends and family get tickets today!
Get your ticket to attend TODAY here! Enroll to pitch TODAY your idea by clicking here!