Description
Participate in this open and energizing roundtable series. Expertly moderated to spark business insights, action steps and professional connections - you'll spend time with a room of Innovators and Leaders from various industries in the Nashua/Greater Boston area.
---
DECEMBER ROUNDTABLE EVENT
Dec 20th // 12 noon to 1pm
Topic: Collaboration
Everyone is a collaborator! It seems like a good thing to claim. Remember the "gets along with others" on your Kindergarten report card? But how does collaboration really work? Do different personalities matter? In this roundtable discover:
When is Collaboration very different from "getting along"?
Doesn't collaboration only become an issue when there is a large team?
Beware the HiPPO in the room.
Identifying the VP of NO.
Collaboration vs. Democracy
REGISTER TO ATTEND
SCROLL DOWN FOR THE FULL 2017 EVENT LINE-UP
---
YOUR MODERATOR:

Robert Rosentel
Bob helps businesses embrace their futures. A product innovator and agent of change, he has developed scores of solutions & strategies with major companies, such as AT&T, CBS News, Viacom, SONY, Cablevision, AOL and Bell Labs, as well as smaller organizations such as Channel One News and Gist.com.
"Multi-lingual" in marketing and engineering, Bob is an experienced leader of business transformations in evolving technology environments. He provides strategic leadership in the radical product design and deployment – creating a structure which keeps the entire team focused on what customers need, what engineers can build, and what businesses can monetize.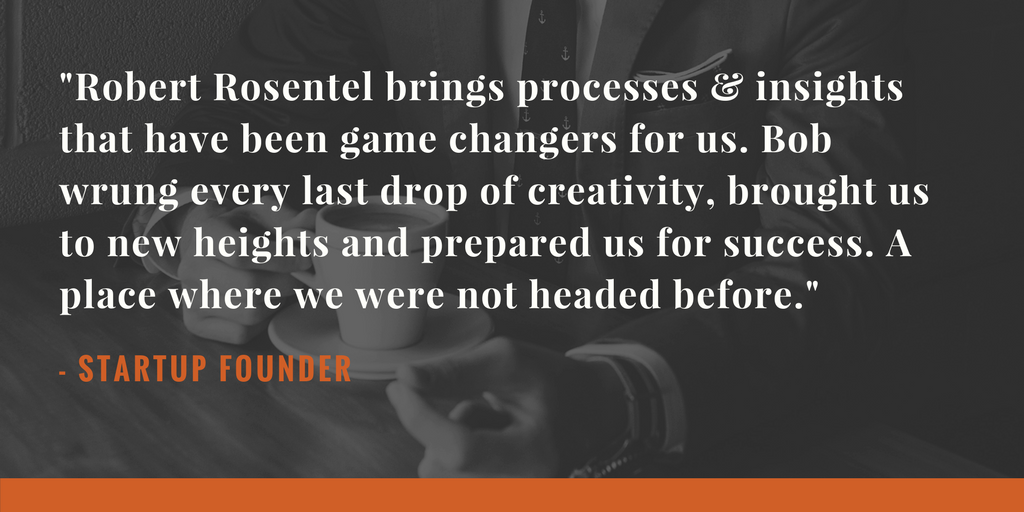 ---


THE FULL 2017 INNOVATION ROUNDTABLE EVENT LINE UP:


Date: June 28th // 12 noon to 1pm
Topic: Innovation & the Art of Defining Boundaries
Every engineering use case starts with boundaries, but they are not limited to technical implementations alone. Your entire team needs to learn the advantages of working with Boundaries, and why something that seems like a limitation can be the best tool to lead to success. In this roundtable explore:
What are the Boundaries of your project, product or company itself?
Why do Boundries matter?
Do Boundries ever get changed? (or violated?)
Date: July 26th // 12 noon to 1pm
Topic: Personas, Identifying the Customers
Who is the buyer? Who is the user? Are you building for both? Focus on the real user of your product, and not the imaginary one dreamed up by the team members. In this roundtable discover:
The "anyone who will pay" syndrome
Why is your Engineer not your average American?
Crack the customer mind to go beyond surface demographics and into driving motivations
Date: Aug 30th // 12 noon to 1pm
Topic: Customer Journey Mapping that Transforms Business
How do you gauge the behavior of the customer? Understand the mental processes that lead a buyer to become your buyer. What are they searching for (not just in the Google sense)? What problem do they have to solve and how are you helping them? In this roundtable identify:
The steps & thoughts that the customer has before / during / and after interaction with your product
What is their problem? Do they know they have a problem? How do you solve their problem?
Case Study: the UBER Customer Journey
Date: Sep 27th // 12 noon to 1pm
Topic: Innovating With a Purpose
Everyone on your team has their eye on the target, but are the envisioned targets in each person's mind the same (or even close)? In this roundtable get everyone focused and in alignment on where to shoot:
Why do people have different visions?
How do you get them on the same page?
How does the experience of the customer relate to each team member?
Date: Oct 25th // 12 noon to 1pm
Topic: Hitting the Target
Now that your team agrees on what the target is, how do they work together to get to that target? What are the obstacles that cause well-intentioned, experienced people to miss the mark? In this roundtable determine:
How do you marshal resources in the right direction and at the right time?
What are the best ways to manage the product through its development stage?
When do you know it is time to pause and regroup?
Date: Nov 29th // 12 noon to 1pm
Topic: Alternatives and Competitors
Discuss this very hot topic and identify strategies and plans that can make your company's offering succeed in the marketplace. In this roundtable explore:
Why "we have no competitors" is a BIG red flag
Do you want to be the Competitor or beat the Competitor?
When is an apparent competitor not a competitor at all?
Dec 20th // 12 noon to 1pm
Topic: Collaboration
Everyone is a collaborator! It seems like a good thing to claim. Remember the "gets along with others" on your Kindergarten report card? But how does collaboration really work? Do different personalities matter? In this roundtable discover:
When is Collaboration very different from "getting along"?
Doesn't collaboration only become an issue when there is a large team?
Beware the HiPPO in the room.
Identifying the VP of NO.
Collaboration vs. Democracy