Description
With the Collision technology conference and its 25,000 international attendees descending upon Toronto between May 20th and May 23rd there is no better time to showcase the Canadian innovation community.
Take advantage of this opportunity, by taking an Innovation Roadtrip to the City of Hamilton.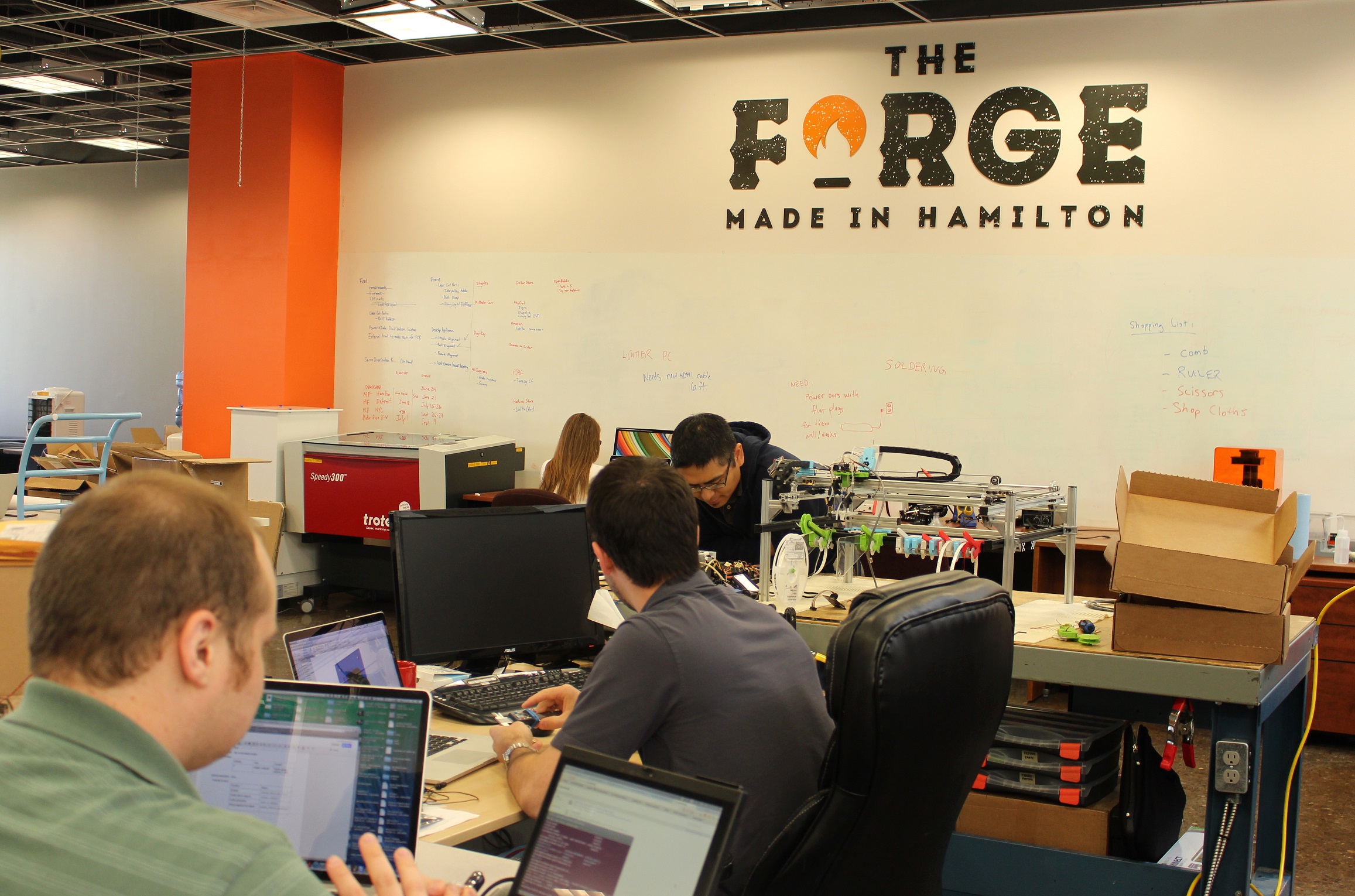 Hamilton is Home to Tech and Innovation
Hamilton Profile: http://investinhamilton.ca
Just 45 minutes away from Canada's largest city (Toronto) where one finds the bulk of Canada's tech and finance businesses, is a city with a friendly and collaborative startup scene, amazing heritage architecture, a rich history of art, music and film, and enjoys the ranking of North America's Fastest Growing Restaurant Scene. A city older than the nation of Canada, a city that claims to be the "Waterfall Capital of the World" and a city that the Huffington Post calls "Canada's Brooklyn." That city? Hamilton, Ontario, Canada.
Although historically known across the land as Canada's "Steel City"- a manufacturing leader for over a century- Hamilton has effectively transitioned to include other key economic sectors such as life sciences, agri-tech/food and beverage production, information and communications technology, creative industries and goods movement. In fact, Hamilton's economy is ranked the "Most Diversified Economy in Canada" and for the past seven years has exceeded $1 Billion in building permit values.
On this tour, you will learn more about one of Canada's strongest economies and in particular its leading status in areas such as life sciences research and commercialization, North America's largest university program focused on the electrification of vehicles, Hamilton's burgeoning autonomous vehicle scene, and a short visit to McMaster University and Mohawk College- the most Research-Intensive University and College in Canada.
Hamilton is home to innovative companies and applied research centres like Pipeline Studios who does animation work for Disney, Nickelodeon and Nelvana, Stryker Canada one of the world's leading medical technology companies, and Fraunhofer- Europe's largest application-oriented research organization who recently opened their new Canadian operation in Hamilton.
Come learn why they chose to invest in Hamilton and what keeps them here. Whether it's the fact that talent is abundant because Hamilton is surrounded by 21 of the nation's top post-secondary institutions, or the fact that Toronto AND the US Border is reachable in less than an hour, or that millennials are now the largest percentage of Hamilton's population and starting new ventures every day, you'll learn more, see more, experience more, and want more!
Oh, and did we mention the fact that Oprah Winfrey's former personal chef chose to relocate to Hamilton and continue his culinary business?
The world is coming to Hamilton because we all know you don't need to be in the big city to be a big success.
C'mon out for a tour of Brooklyn north and see why so many are saying, "Hamilton is home!"
Tour Program:
The City of Hamilton is excited to show you some of the innovative and exciting projects happening in Hamilton. Our tour will also feature a city tour, opportunities to connect with our startup companies, local employers, and experience our thriving food and beverage scene.
Tour Agenda:

9:00am
Bus leaves MaRS, downtown Toronto, for Hamilton
10:00 – 11:30am
Tour of Mohawk College's dedicated applied research centres, tradeshow with startup companies
11:30 – 12:30pm
Concurrent City Tours offered highlighting Local Industry leaders: Stryker Canada and Pipeline Studios
12:30 – 1:30pm
Taste of Hamilton Lunch
1:30 – 3:00pm
McMaster Innovation Park - Featuring local SME's, Innovation Factory, the new Garage@MIP, The FORGE@MIP, Synapse Life Sciences Consortium and the new Centre for Integrated Technology & Mobility
3:00pm
Bus leaves Hamilton for MaRS, downtown Toronto.

Tour site profiles:
Mohawk College – IDEAWORKS, Surge, Joyce Centre for Partnership & Innovation
Mohawk College educates more than 17,000 full-time and apprenticeship students at three campuses in Hamilton. Recognized as a leader in health and technology education, Mohawk has achieved the highest student satisfaction scores among all colleges in the Greater Toronto and Hamilton Area for four consecutive years. Mohawk College is home to IDEAWORKS which fills the space between research and solutions by delivering customized support to organizations. An active hub of applied research and innovation, IDEAWORKS provides industry and community partners access to faculty and staff expertise, an inspired student workforce, exceptional facilities and top technology. At SURGE, in addition to helping Mohawk students and alumni become entrepreneurs, they also help develop the entrepreneurial mindset of Mohawk students in all programs of study. And the Joyce Centre for Partnership & Innovation as the region's first net-zero institutional building comprises state-of-the-art technology, labs and industry training centres to support the success of students, city and region.
McMaster Innovation Park
McMaster Innovation Park (MIP) is quickly becoming an internationally recognized focal point for innovation, creativity, learning and research excellence aligned with the research strengths of McMaster University. Entrepreneurs, firms, researchers, industry partners, business mentors and support facilities can connect and facilitate commercialization through their award-winning research and innovation park. The Atrium@MIP is a hub of innovation within the park with an eclectic mix of over 50 tenants ranging from small business start-up accelerators to advanced research labs that are linked to the research strengths of McMaster University Canada's most research-intensive university. MIP has a strong Automotive focus combined with CanmetMATERIALS (Canada's largest laboratory focused on materials science) and the McMaster Automotive Resource Centre (MARC).
Innovation Factory
Innovation Factory (iF) is a not-for-profit Regional Innovation Centre funded by the Ontario Network of Entrepreneurs and located in Hamilton, Ontario since 2011. iF ignites innovation through workshops, programming, one-on-one mentoring and aiding with access to funding; we help start-ups commercialize their ideas and small/medium enterprises innovate within their organizations. iF has expanded to the GARAGE@MIP a new 10,000 square-foot innovation space operating along side the FORGE@MIP Hamilton's leading accelerator. In addition, iF includes the Synapse Life Sciences Consortium facilitating collaboration to drive global health innovation and the Centre for Integrated Technology & Mobility aimed at accelerating the development of connected and autonomous, multi-modal and integrated mobility technology solutions or business models. All this makes Innovation Factory is the place where innovation accelerates in Hamilton.
Employer site visit profiles:
Pipeline Studios
Pipeline Studios is Hamilton's premier animation studio producing a staggering 1,500 minutes of animation each year for companies like Disney, PBS Kids, Netflix and CBC Kids. Shows on the studio's roster include Bubble Guppies, Star vs. The Forces of Evil, Paper Port and Sunny Day, which is Nickelodeon's number one ranked preschool show worldwide. Pipeline is at the forefront of the medium, blending traditional 2D elements with 3D animation, to create work that's shown in dozens of languages in 87 countries the world over.
Stryker Canada
Stryker is one of the world's leading medical technology companies. They offer innovative products and services in orthopaedics, medical and surgical, and neurotechnology and spine that help improve patient and hospital outcomes. As a stakeholder in Hamilton's life sciences ecosystem, Stryker works closely with our research-intensive institutions and hospital network supporting commercialization programming. For the 17th year in a row, Fortune has included Stryker on the World's Most Admired Companies list, placing No. 5 in the Medical Products & Equipment Industry category. Stryker Canada calls Hamilton home making a $100-million commitment in their new LEED Silver-certified 100,000 square foot building.
Link to a printable pdf:
https://www.dropbox.com/s/p3vnn79qj1qip7r/Hamilton%20Tour-%20Collision%20-%20March8%20FINAL.PDF?dl=0