Description
REGIONAL TOURS FOR INTERNATIONAL COMPANIES ONLY
Priority is for International companies to attend over local attendees, thus registrants will be contacted closer to the date to confirm whether they will be provided a ticket.


NOTE: SECOND BUS ADDED

Due to overwhelming demand

we are adding a second bus

and have a very limited number of seats available for the Hamilton ecosystem tour. If you are interested in joining the Hamilton ecosystem tour, please contact Tammy Hwang at Tammy.Hwang@hamilton.ca
with your name, company, email and mailing address, and we will get back to you with more information. We are limiting the number of tickets per company to two. International company attendees will be given priority.
Here is the agenda for the second bus tour:
---
With the Collision technology conference and its 25,000 international attendees descending upon Toronto between May 20th and May 23rd there is no better time to showcase the Canadian innovation community.
Take advantage of this opportunity, by taking an Innovation Roadtrip to the City of Hamilton.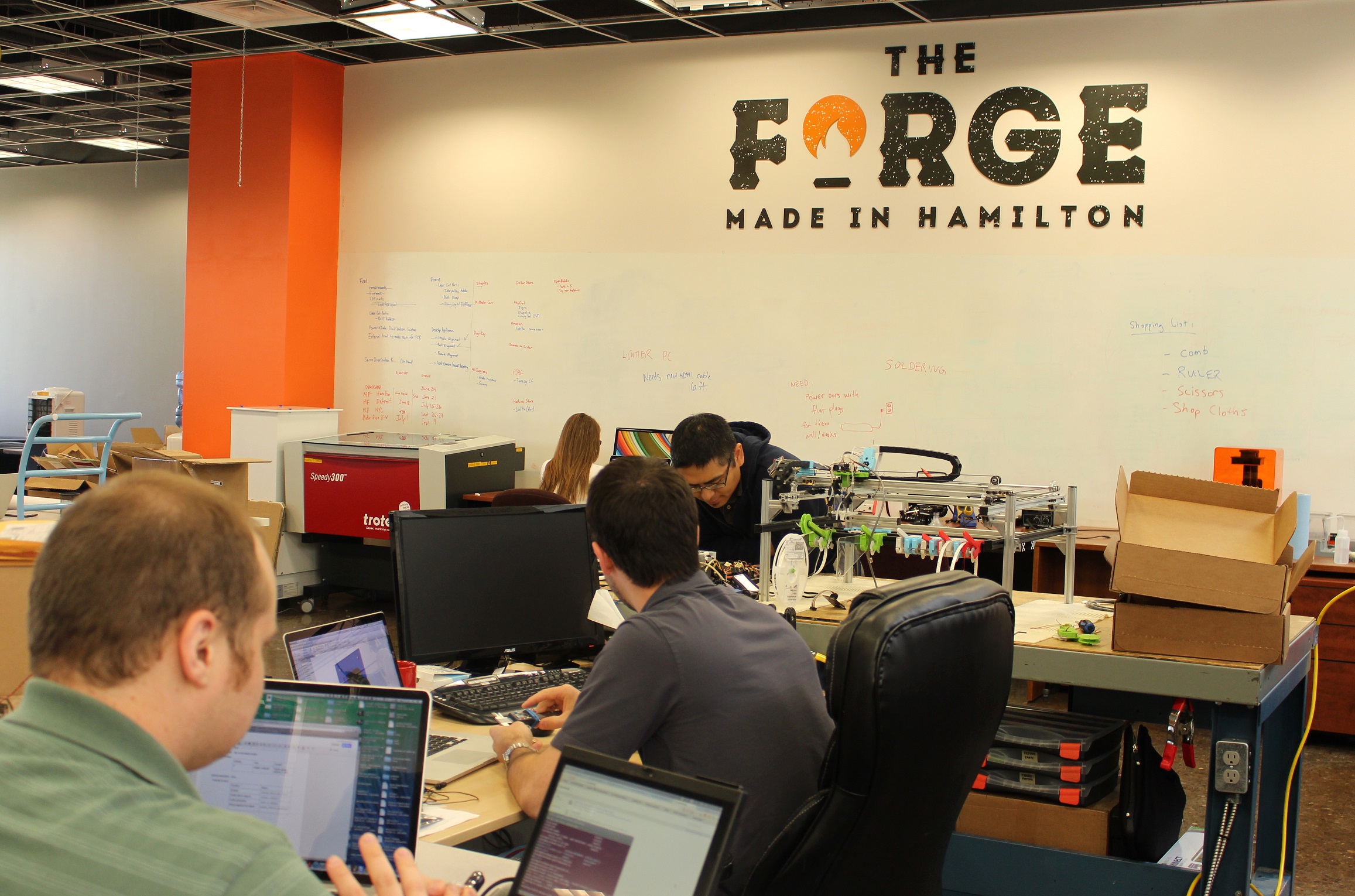 HAMILTON: WHERE INNOVATION GOES TO WORK
Hamilton Profile: http://investinhamilton.ca
Hello! We look forward to welcoming you to Hamilton, Ontario, Canada… the city where innovation goes to work. Hamilton stands apart as the place where advanced manufacturing brings cutting edge innovation to market, rapidly.
Our collaborative and interconnected community brings together world-class research, a century of expertise in advanced manufacturing across numerous sectors including bio-tech, aerospace, advanced materials, and much more, along with educational powerhouses, market-minded innovation centres and a proactive and supportive government to help you bring your science to market, today. Knowledge, skill, experience, and a business mindset come together fast, with just enough fun, music and sport to make us a destination not to miss.
Hamilton is at the centre of Canada's preeminent innovation, industry, and finance ecosystem, nestled perfectly between Toronto, Waterloo, and the Niagara region, with close access to the U.S. border. Our city is the ideal location to establish or relocate a factory, production centre, corporate division, or office. Hamilton is home to Ontario's largest port, connecting $6 Billion in economic activity and 38,000 jobs in Ontario. Our industry-friendly airport (John C. Munro) is home to Canada's busiest overnight express cargo airports.
Hamilton is historically known as "the steel city" with a 100-year legacy of advanced manufacturing excellence- over 60% of the steel produced in Canada comes from Hamilton. Throughout the years, Hamilton has grown to excel in other key economic sectors including bio-tech, aerospace, automotive, life sciences, agri-tech, food and beverage production, information and communications technology (ICT), creative industries, and goods movement. Hamilton's economy is ranked the "Most Diversified Economy in Canada" and for the past seven years has exceeded $1 Billion in building permit values.
Hamilton is home to McMaster University, the nation's most research-intensive University and #1 in corporate research income; McMaster Innovation Park, the bridge between academic research and industry that brings ideas to market rapidly through entrepreneurial programming, and introductions to capital and partners to accelerate commercialization; and Mohawk College, Canada's most industry-research-intensive college.
Hamilton is home to innovative companies and applied research centres like Stryker Canada, one of the world's leading medical technology companies; Pipeline Studios who produce animation for Disney, Nickelodeon, and Nelvana; CANMET, the largest research centre in Canada dedicated to fabricating, processing and evaluating metals and materials; MARC, one of Canada's leading research facilities in electric and hybrid vehicles; and Fraunhofer, Europe's largest application-oriented research organization, who recently opened their new Canadian operation in Hamilton. We are also home to world-class names including Arcelor Mittal Dofasco (AMD), L3 Wescam, and Siemens Canada.
Hamilton is also a great place to live, relax, and have fun! Our friendly and collaborative community celebrates our local music, art, and film through monthly festivals. We showcase Canada's largest Royal Botanical Gardens, the beautiful Niagara Escarpment, over a dozen golf courses across the city, and a wealth of walking trails and nature at your doorstep. We enjoy the ranking of North America's Fastest Growing Restaurant Scene, with food trucks, craft beer, and of course donuts- with Hamilton being the proud home of the very first Tim Horton's coffee and donut shop -- a beloved Canadian treasure! We are a city older than the nation of Canada, a city known to be the "Waterfall Capital of the World" and a trending city that the Huffington Post calls "Canada's Brooklyn."
Looking for something different? On this tour, we will bring the city to you! Your first destination will be McMaster Innovation Park, which will serve as host to displays and presentations by the best the city has to offer in research, industry, and commercialization. Your second stop will be our award-winning college, Mohawk College where you'll have an opportunity to see the innovative technology available to you and your business to grow and succeed.
Join us in Hamilton on May 24, 2019 at McMaster Innovation Park and Mohawk College.
Take a souvenir beer back with you.
Talk with us.
Discover what the city can do for you.
Hamilton is #WhereInnovationGoestoWork.
Tour Agenda:

8:30am
Bus leaves Toronto for Hamilton
10:00am
Arrive at the Atrium @ MIP (McMaster Innovation Park)
See the "city on display" at the various booths and stations
Meet companies looking to hire, government agencies, entrepreneurs, and start-ups
Learn how Hamilton is changing and evolving Canada's industry and innovation landscape
The Atrium@MIP experience will be available all day
11:30am – 12:30pm
Enjoy lunch and B2B meetings with some of our local companies to build partnerships and lead generation opportunities
1:00pm – 2:45pm
Tour of Mohawk College including IDEAWORKS, Surge, Joyce Centre for Partnership & Innovation – experience Mohawk's augmented reality and virtual reality capabilities.
2:45pm - 3:00pm
Closing remarks, gift bags, and a souvenir: a locally crafted beer, to-go!
3:00pm
Board the bus back to Toronto
Tour site profiles:
Mohawk College – IDEAWORKS, Surge, Joyce Centre for Partnership & Innovation
Mohawk College educates more than 17,000 full-time and apprenticeship students at three campuses in Hamilton. Recognized as a leader in health and technology education, Mohawk has achieved the highest student satisfaction scores among all colleges in the Greater Toronto and Hamilton Area for four consecutive years. Mohawk College is home to IDEAWORKS which fills the space between research and solutions by delivering customized support to organizations. An active hub of applied research and innovation, IDEAWORKS provides industry and community partners access to faculty and staff expertise, an inspired student workforce, exceptional facilities and top technology. At SURGE, in addition to helping Mohawk students and alumni become entrepreneurs, they also help develop the entrepreneurial mindset of Mohawk students in all programs of study. And the Joyce Centre for Partnership & Innovation as the region's first net-zero institutional building comprises state-of-the-art technology, labs and industry training centres to support the success of students, city and region.
McMaster Innovation Park
McMaster Innovation Park (MIP) is quickly becoming an internationally recognized focal point for innovation, creativity, learning and research excellence aligned with the research strengths of McMaster University. Entrepreneurs, firms, researchers, industry partners, business mentors and support facilities can connect and facilitate commercialization through their award-winning research and innovation park. The Atrium@MIP is a hub of innovation within the park with an eclectic mix of over 50 tenants ranging from small business start-up accelerators to advanced research labs that are linked to the research strengths of McMaster University Canada's most research-intensive university. MIP has a strong Automotive focus combined with CanmetMATERIALS (Canada's largest laboratory focused on materials science) and the McMaster Automotive Resource Centre (MARC).
Innovation Factory
Innovation Factory (iF) is a not-for-profit Regional Innovation Centre funded by the Ontario Network of Entrepreneurs and located in Hamilton, Ontario since 2011. iF ignites innovation through workshops, programming, one-on-one mentoring and aiding with access to funding; we help start-ups commercialize their ideas and small/medium enterprises innovate within their organizations. iF has expanded to the GARAGE@MIP a new 10,000 square-foot innovation space operating along side the FORGE@MIP Hamilton's leading accelerator. In addition, iF includes the Synapse Life Sciences Consortium facilitating collaboration to drive global health innovation and the Centre for Integrated Technology & Mobility aimed at accelerating the development of connected and autonomous, multi-modal and integrated mobility technology solutions or business models. All this makes Innovation Factory is the place where innovation accelerates in Hamilton.
Employer site visit profiles:
Pipeline Studios
Pipeline Studios is Hamilton's premier animation studio producing a staggering 1,500 minutes of animation each year for companies like Disney, PBS Kids, Netflix and CBC Kids. Shows on the studio's roster include Bubble Guppies, Star vs. The Forces of Evil, Paper Port and Sunny Day, which is Nickelodeon's number one ranked preschool show worldwide. Pipeline is at the forefront of the medium, blending traditional 2D elements with 3D animation, to create work that's shown in dozens of languages in 87 countries the world over.
Stryker Canada
Stryker is one of the world's leading medical technology companies. They offer innovative products and services in orthopaedics, medical and surgical, and neurotechnology and spine that help improve patient and hospital outcomes. As a stakeholder in Hamilton's life sciences ecosystem, Stryker works closely with our research-intensive institutions and hospital network supporting commercialization programming. For the 17th year in a row, Fortune has included Stryker on the World's Most Admired Companies list, placing No. 5 in the Medical Products & Equipment Industry category. Stryker Canada calls Hamilton home making a $100-million commitment in their new LEED Silver-certified 100,000 square foot building.
Link to a printable pdf of the full Tour Program:
https://www.dropbox.com/s/9rbvsf249whu20r/Hamilton%20Tour-%20Collision%20as%20of%20April9%20FINAL.pdf?dl=0