Event Information
Location
Various Locations
Shreveport-Bossier, LA 71111
Description
WHAT IS INNOVATION NORTH LA?
An initative that formed in 2017 to showcase that North Louisiana is a region full of opportunities for anyone from entrepreneurs to innovators alike. Each year, regional partners come together to highlight our greatest strengths and bring attention to the vast advancements that are being made along the 1-20 corridor.
HOW DOES THIS BENEFIT OUR REGION?
Innovation North LA benefits each of our communities by serving as an educational initiative. The biggest challenge in our region is the knowledge of the local resources we have available as it relates to start-ups, business development, relocation incentives and the like. Innovation North LA is a way to educate the region and in essence build our brand of being a competitive region and hub of innovation.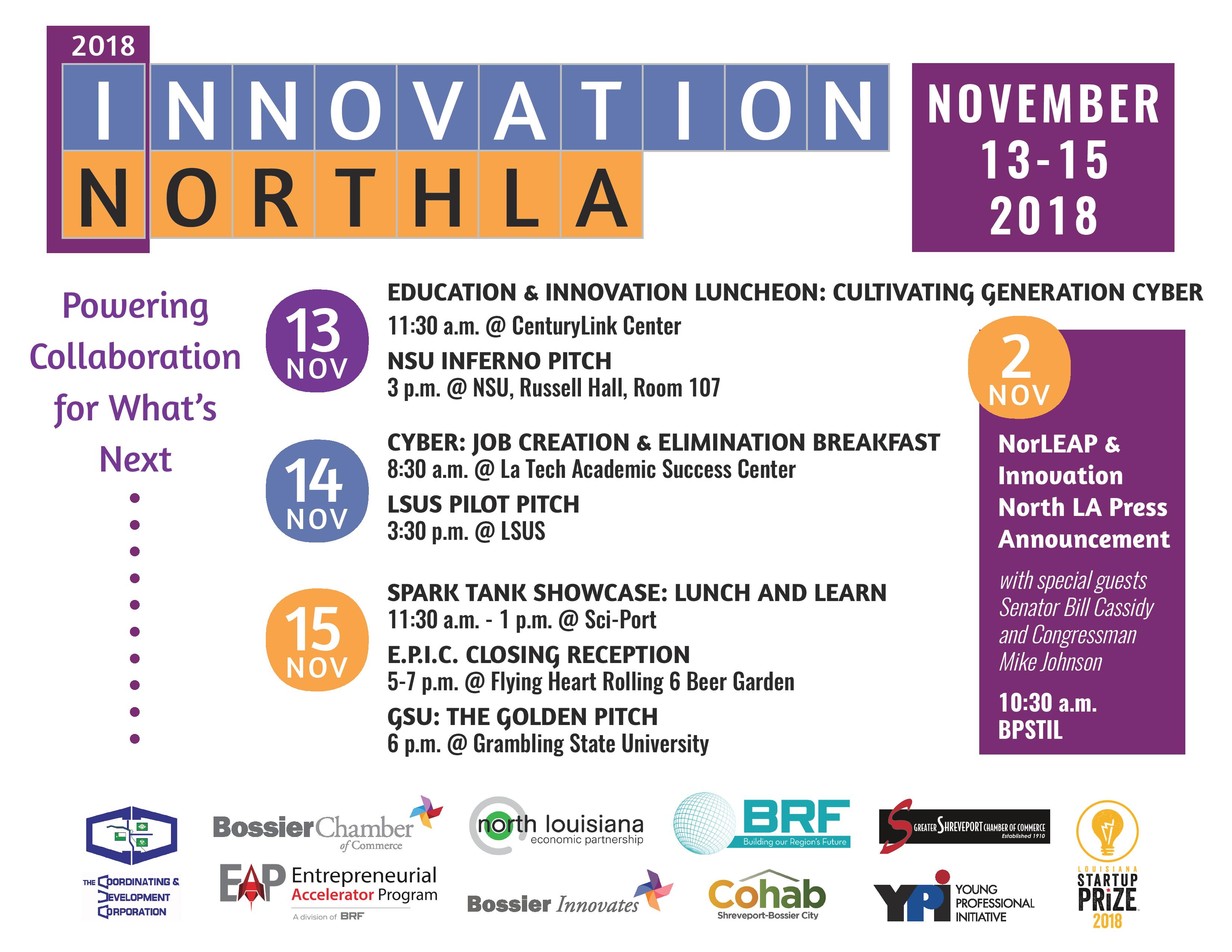 TICKETED EVENTS:
Tuesday, Nov 13
Education & Innovation Luncheon: Cultivating Generation Cyber
11:30 a.m. - 1 p.m.
CenturyLink Center
2000 CenturyLink Center Drive
Bossier City, LA
Wednesday, Nov 14
Cyber: Job Creation & Elimination (Breakfast)
8:30 a.m.
Louisiana Tech Academic Success Center
6220 E Texas Street, Backside of Building H
Bossier City, LA
Thursday, Nov 15
Spark Tank Showcase
"How the utilization of continuous process improvement sparks everyday innovative thought process
for the airman at Barksdale Air Force Base..."
11:30 a.m. - 1 p.m.
Sci-Port Discovery Center
820 Clyde Fant Pkwy
Shreveport, LA
Date and Time
Location
Various Locations
Shreveport-Bossier, LA 71111
Refund Policy